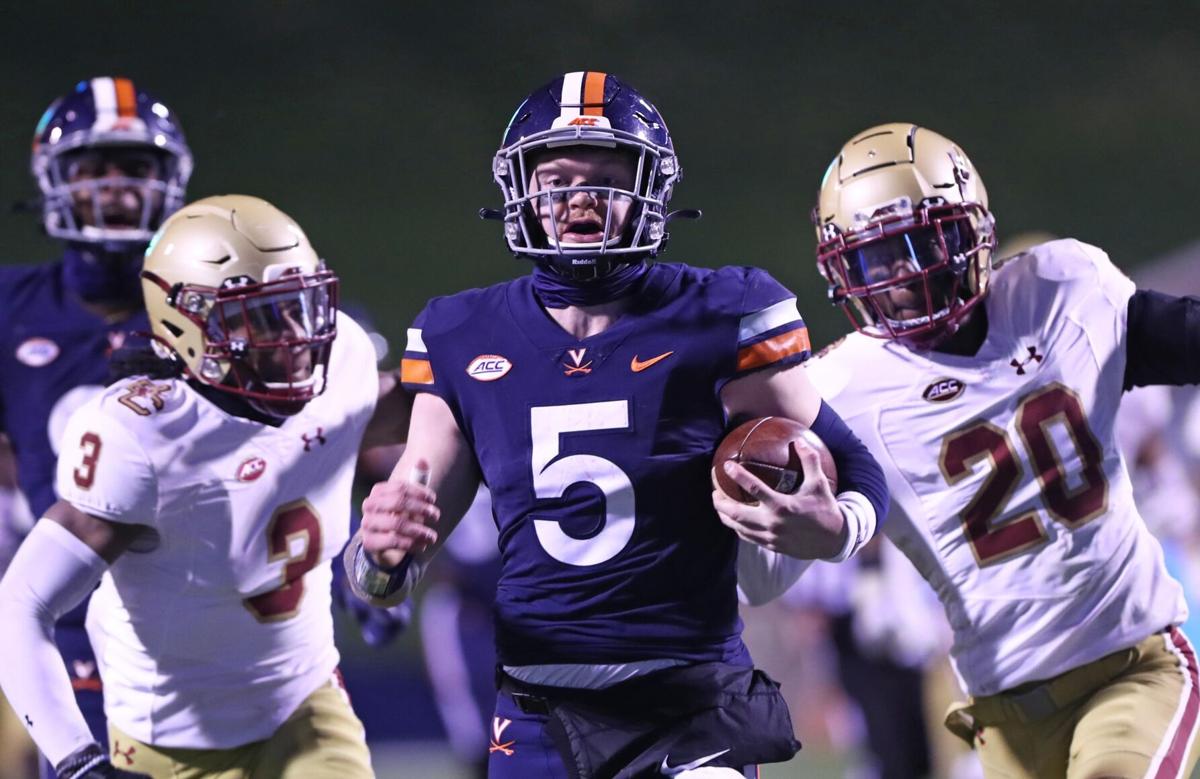 CHARLOTTESVILLE — As barren as Scott Stadium has looked from the inside this season, it's been a castle for the Virginia football team.
Fans didn't storm the field as they did following a long-awaited victory over Virginia Tech in the 2019 regular-season finale but that's because there were none.
There was ample satisfaction with a 43-32 victory over Boston College that made the Cavaliers bowl eligible at 5-4, courtesy of their current four-game winning streak.
Counting a season-opening win against Duke, Virginia was 4-1 at home.
The Cavaliers went into Saturday's game as a 6 1/2-point favorite but, really, there wasn't much to differentiate the teams. UVa was 4-4 overall and 3-4 in the ACC, while BC was 6-4 and 5-4.
The Eagles were 26-22 losers to then-No. 17 North Carolina in October and played No. 1 Clemson to a 34-28 decision at Clemson.
One week before coming to Charlottesville, Boston College had lost starting quarterback Phil Jurkovec to a knee injury and had turned to Dennis Grosel, who one week earlier had led a late rally that lifted the Eagles to a 34-27 victory over Louisville.
It appeared that Grosel might be leading BC to another comeback victory Saturday when the Eagles scored 10 points in the final 1:07 of the first half, trimming a 20-7 deficit to 20-17 at the half.
Grosel had some staggering numbers, finishing 32-of-46 for 520 yards and four touchdowns.
Still, it didn't appear that Grosel was having the same impact as UVa quarterback Brennan Armstrong.
Passing the ball, Armstrong finished 19-of-27 for 287 yards and one touchdown. But he had more rushing attempts than any of the UVa running backs. He finished with 417 yards in total offense, including 130 on the ground.
Those were the kind of numbers that Armstrong's predecessor, Bryce Perkins, put up. Big plays abounded Saturday as Armstrong ran 60 yards for a touchdown, connected with Ra'Shaun Henry on 47-yard touchdown pass.
Armstrong had 17 rushing attempts, and nobody else had more than nine.
Offense hasn't been a problem for Virginia during its winning streak. Defense was nothing to brag about Saturday but that's been the case for a while. You can't afford to give up 513 yards in total offense, as the Cavaliers did Saturday, and expect to keep winning.
Expect upcoming opponent Virginia Tech to notice Grosel's 520 passing yards and prepare its own aerial barrage for Virginia's porous secondary.
In the Cavaliers' defense, top pass-rusher Charles Snowden has been lost for the season and second-leading sacker, Noah Taylor, was not in uniform Saturday.
Veteran safety Joey Blount was in uniform and started Saturday on Senior Day, but statistics still indicate that Virginia's pass defense is among the worst in the country.
Whether it's the defensive backs or the pass rushers, or maybe because Virginia has faced some of the best quarterbacks in the country, but the Cavaliers came into the day ranked 116th out of 119 FBS teams in passing yards allowed.
Nonetheless, Virginia can take satisfaction in being 5-4 after a 1-4 start and the Cavaliers ended a streak along the way, beating Boston College for the first time in their seven-game history.
Prior that, Virginia had ended a 16-game losing streak with a 39-30 victory over Virginia Tech last year in Charlottesville but there's still a nine-game road losing streak in Blacksburg to consider.