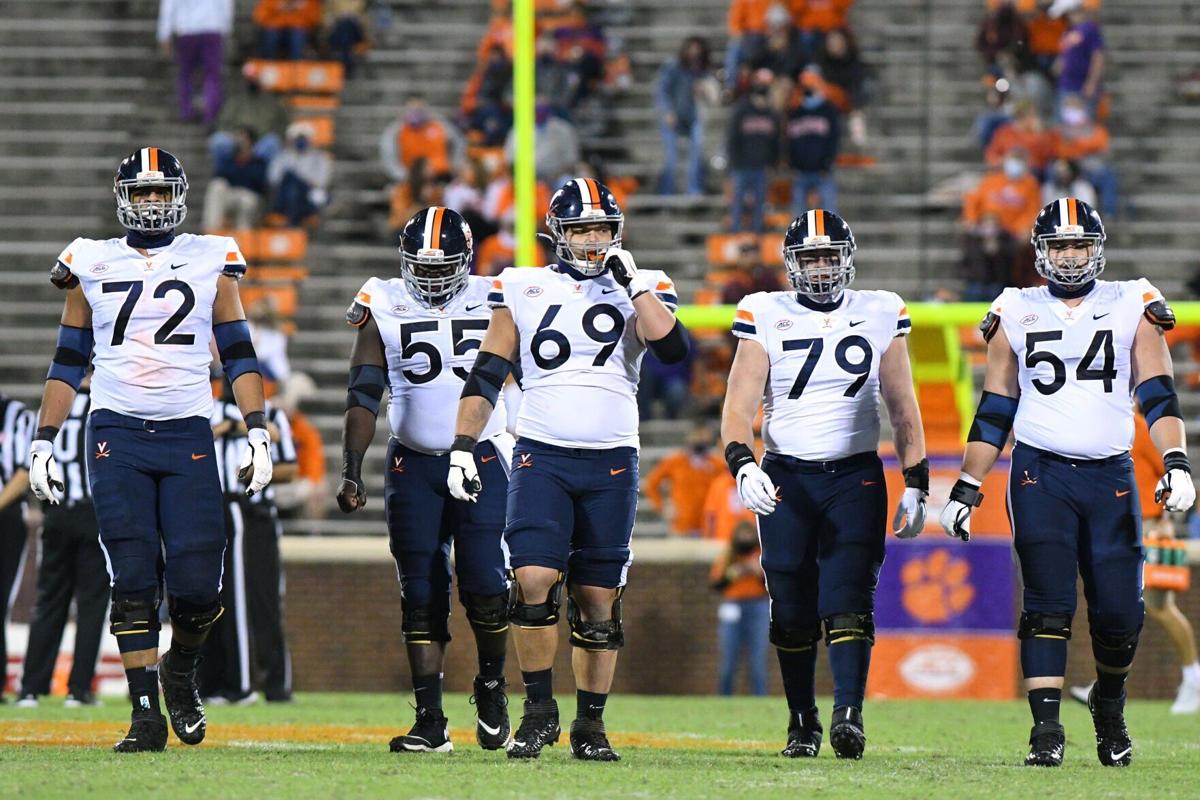 CHARLOTTESVILLE — The Cavaliers are counting on their experiences to serve as a guide against the onslaught of various disruptions likely headed toward them on Saturday.
"Across the board we've all started so many games," Virginia fifth-year senior right tackle Ryan Swoboda said of UVa's offensive line, "that there's no blitz or twist or anything that we haven't seen."
The Cavaliers can take the edge in the Atlantic Coast Conference Coastal Division race during their 3:30 p.m. road bout with No. 20 Pittsburgh at Heinz Field in the Steel City.
A win for UVa (6-4, 4-2 ACC) gives sixth-year coach Bronco Mendenhall's squad the right to control its own destiny in the division and clinch it with a win next week at home against rival Virginia Tech. A victory for the Panthers (8-2, 5-1 ACC), though, gives them the division crown and a trip to next month's conference championship game.
"Every game is a chance to show off and show what you're able to do to achieve your final goal," Pittsburgh defensive end Habakkuk Baldonado said. "We just have to play with that mindset."
Baldonado's eight sacks are the third most in the ACC, and he's the linchpin for a smothering, pass-rushing Pitt defense that is always determined to get to the opposing quarterback.
The Panthers rank third nationally in sacks, averaging 3.6 per game, and their ability to create problems in the backfield doesn't end there. Their 7.3 tackles for loss per game is eighth most in the country.
"They probably bring some of the most pressure in all of college football," Mendenhall said, "meaning numbers. They certainly aren't afraid to use six rushers and six rushers is, yeah, about the most you can bring consistently. Pitt makes that kind of commonplace. They do it really well."
So that's the challenge for Swoboda and company in this all-important Coastal tilt. The Cavaliers start five seniors on their O-line and those five have a combined 162 starts between them. Senior left guard Ryan Nelson tops the group, having made 47 consecutive starts.
But the UVa front line was tested last week when Notre Dame opted to blitz more frequently than it had in the past since the Cavaliers were forced to start true freshman quarterback Jay Woolfolk.
He was sacked seven times by the Irish. And whether Woolfolk or junior starter and All-ACC candidate Brennan Armstrong (ribs) plays, UVa is not expecting Pitt to change its defensive ways. Armstrong is a game-time decision, according to his coaches.
"They want to execute through putting pressure on," Swoboda said of Pitt, "whether that's them trying to win one-on-ones or create pressure through confusion, so we've got to be ready for it."
Said UVa offensive coordinator Robert Anae: "That whole approach is built on the third down, and the third-down havoc and chaos, and they're really good at it."
Anae said to help Woolfolk — if Woolfolk starts for a second straight week — the OC wants to slow the game down for his freshman signal-caller even if that means not doing as much offensively as UVa typically does when Armstrong suits up.
Armstrong has thrown for an ACC-leading 395.2 yards per game to go along with 27 touchdowns, and if he plays, Swoboda and his fellow offensive linemen want to keep Baldonado and other big-bodied Pitt defensive linemen away from the just-returning quarterback. Panthers defensive tackle Calijah Kancey has five sacks this fall.
Mendenhall said there's ways the Cavaliers can try to block and avoid Pitt's pass rush.
"Every team in the country has different protection plans," Mendenhall explained. "Some teams have their offensive front or their center identifying, some have their quarterback identifying it and certainly, the running back is in the loop as well.
"And based on how many you choose to protect with to combat the blitz, that's the next issue," he said. "So, some teams free release backs and try to get the ball gone before pressure arrives. Some max-protect, which includes using tight ends and backs. … It's a coordinated effort between the offensive front, the quarterback and the running backs in our system, and diagnosing is really important."
Swoboda said the protection has to be there if UVa is going to upend the Panthers and have a shot at another Coastal title. The Cavaliers won it in 2019, and with last year's division-less season, they haven't had the chance to defend it until now.
Pitt won the Coastal last in 2018, so it can be the division winner for the second time in three chances.
"Saturday is the Coastal championship," Swoboda said. "Winner is going to the ACC championship, so when I go to bed, I'm thinking about winning this game and when I wake up, I think about winning this game. It's all I want to do. I can't think of any better opportunity."