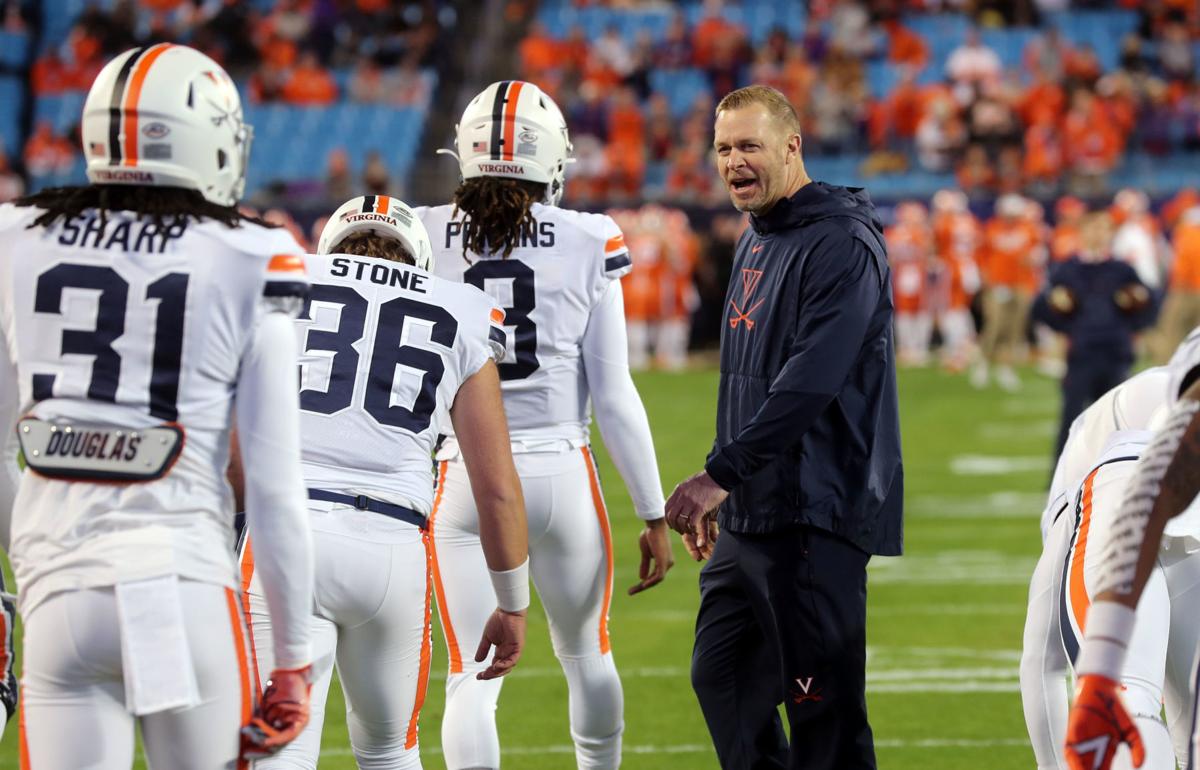 Voluntary workouts for returning University of Virginia football players will begin July 5, the school's athletic department announced Friday.
Required activity will begin July 15 and allow players to work for no more than eight hours, including weight training, conditioning and film review.
That will increase to 20 hours from July 26-Aug. 8, with fall camp to start one day later. There will be an acclimatization period before a 25-day fall practice period gets under way.
Virginia's season begins Sept. 7 against Georgia in Atlanta.
"Protocols and plans for student-athletes' return have been coordinated through the UVa Health System, which has collaborated with officials at the local, state and national levels," the UVa news release stated.
Athletes and staff will receive COVID-19 education and will undergo COVID-19 testing, with positive results to be reported to the Virginia Department of Health and all testing results reported to UVa team physicians.
Seymour, Taylor turn pro and win awards
It has been a big week for Virginia Tech standouts Ian Seymour and Carson Taylor.
Each signed with the team that recently drafted him — and each picked up a major state award as well.
Seymour has been named the state Division I pitcher of the year by the sports information directors of Virginia colleges, while Taylor was chosen the state Division I player of the year.
Seymour was picked by Tampa Bay in the second round of the Major League Baseball amateur draft on June 11. He signed with the Rays on Thursday, according to the Tampa Bay Times. He received a $1,243,600 signing bonus, the newspaper reported.
He went 3-0 with a 2.21 ERA and 40 strikeouts in the abbreviated 2020 college baseball season.
Taylor was picked by the Los Angeles Dodgers in the fourth round. He reached agreement with the Dodgers on Sunday, according to MLB.com, and reaped a $400,000 signing bonus.
He batted .431 with seven doubles and 20 RBIs.
Virginia center fielder Chris Newell (.407, four homers, 20 RBIs) was named the state Division I rookie of the year.
UVa's Brian O'Connor was chosen the state Division I coach of the year. He guided UVa to a 14-4 record before the season was cut short in March.
Seymour, Taylor and Newell were joined on the Division I all-state first team by Radford's J.D. Mundy, a Northside High School graduate who signed with the Baltimore Orioles as an undrafted free agent last week; Radford's Colby Higgerson; VMI's Will Knight; and UVa's Griff McGarry, Andrew Abbott, Stephen Schoch, Max Cotier and Zack Gelof.
Washington and Lee outfielder Zach Perkins (.382) has been named the state small-college rookie of the year by the sports information directors of Virginia colleges.
W&L's Jason Volpicelli and Jackson Gazin made the small-college all-state first team.
Nick Bitsko has chosen pro ball over college baseball.
The Tampa Bay Rays signed Bitsko, a UVa signee, on Tuesday. Tampa Bay had drafted the Pennsylvania high school standout in the first round on June 10.
Bitsko received a $3 million signing bonus, according to MLB.com.
WHITE SULPHUR SPRINGS, W.Va. — Blacksburg's Frank Thompson saw his bid to claim the American Clay Court Nationals 18-under singles division end with a 7-6 (7-1), 4-6, 6-4 quarterfinal loss to Eric Li of Skillman, New Jersey.
Ryan Colby of Alexandria won the event Thursday with a 2-6, 6-0, 6-4 victory over Liam Krall of Bronxville, New York.
Amelia Honer of Newtown, Pennsylvania, captured the girls championship by stopping Kavya Patel of Roswell, Georgia, 7-6 (7-1), 6-4 in the final.
PH's Harrington recognized
Patrick Henry junior Ricardo Harrington was named the Roanoke Valley Wrestling Association's wrestler of the year during a drive-up awards ceremony Thursday night.
Harrington finished 49-0 and won the VHSL Class 5 state championship at 170 pounds.
Salem's Lawrence VanLiew was chosen coach of the year after the Spartans went 12-1 in dual matches and placed second in Region 4D.
The Roy Stanley Outstanding Achievement Award went to Mark Daroshefski from Cave Spring. He went 35-8 and took fourth in the Class 3 state tournament.
The Sonny Boyd Assistant Coach of the Year Award was given to Michael Bryant of William Byrd.
Ken Shelton Memorial Scholarships in the amount of $1,000 each were awarded to Jeremy Muncy of Salem and Zach Figart of William Byrd. Muncy placed fourth in Class 4, while Figart was the Class 3 runner-up at 220 pounds.
Stan Parker Memorial Scholarships in the amount of $1,000 each were awarded to Justin Mutter from Staunton River, Brian Richards from Franklin County, Caleb Shipwash from James River and Hunter Tallman from Covington.
Be the first to know
Get local news delivered to your inbox!