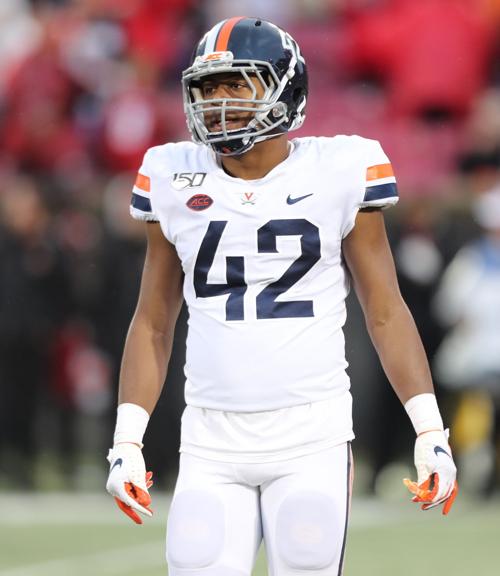 A connection dating back to the 1980s has resulted in one of the bright spots for Virginia's 1-4 football team.
The Cavaliers' leading tackler is Nick Jackson, a sophomore linebacker from Atlanta who had 16 tackles, eight unassisted, in the Cavaliers' 19-14 loss Saturday at Miami.
"Nick Jackson (6 foot 1, 235 pounds) is currently our best defensive football player in terms of his production, his consistency and how he's playing," UVa head coach Bronco Mendenhall said earlier this week.
"He's dynamic. He's fast. He's assignment-sound. He's an excellent tackler. Nick's jump from last year to this year has been the most significant [of] any player on our team this year. He's making lots and lots and lots of plays.
"So, I really am impressed."
As a senior at the Lovett School in Atlanta, Jackson was rated the No. 58 prospect in Georgia by 247Sports and the No. 64 Georgian by rivals.com. He was listed with ACC offers from Boston College, N.C. State and Syracuse, but he was not the object of a nationwide recruiting battle.
And that was fine for the Cavaliers, as well as the Jackson family. His father, Doug Jackson, was a Virginia graduate with ties to the program through his UVa fraternity brother, Tony Covington.
Covington was a defensive back on the 1990 Cavaliers' team that was ranked No. 1 in the country and currently serves as an analyst on radio broadcasts of UVa games.
Covington was a fourth-round pick of the Tampa Bay Buccaneers during a period in 1991 when Doug Jackson was working in that area.
"I was there when Nick was born and held him in my arms when he was a baby," Covington said, "so, I've known him pretty much all of his life and followed his career.
"When it came time to pick a college, I remember him coming up to a game and, at that point, Virginia hadn't offered him. He may have had one scholarship offer.
"He was standing on the sideline and I said, 'Look, you control what happens on Friday night [at high-school games]. That's it. You can't worry about all the other stuff. His dad said a light switch went off when I told him that.
"He was like a man possessed on Friday night and scholarship offers just came from everywhere."
The campus visit to Charlottesville was not a first for Jackson, whose father had been bringing him to UVa games, off and on, for years.
"I harbor a lot of love for the institution," said Doug Jackson, who was from Washington, D.C., originally. "We'd been taking [Nick] down there since he was a toddler.
"I've got pictures of him when he was a baby with UVa bibs and UVa T-shirts. It was in his blood. He certainly had been exposed to it. At the end of the day, it was his decision. I just wanted him to go to a place that had good academics and have a good experience as well."
Clearly, times have been tough for the Cavaliers in the season's first month. When they return to Scott Stadium on Saturday night, a 15th-ranked North Carolina team will be awaiting them.
"We're all capable of more," Nick Jackson said. "We all know that there's more in us and we've got to keep pushing to get out of this losing streak."
Be the first to know
Get local news delivered to your inbox!