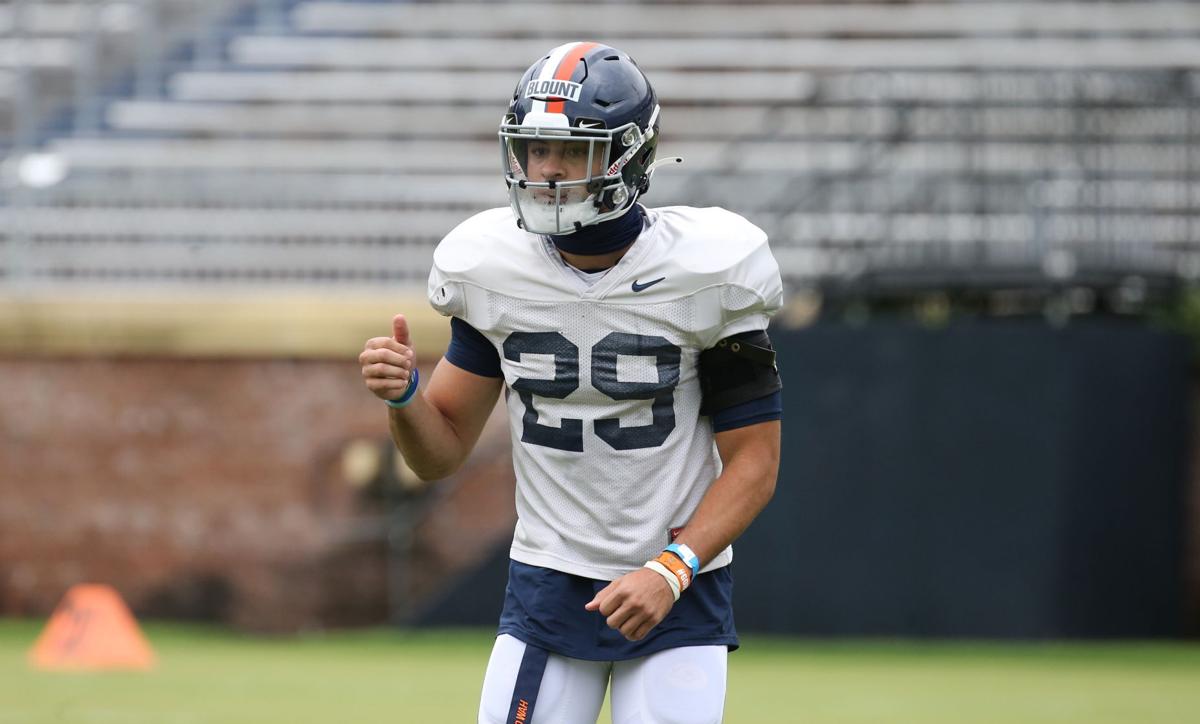 CHARLOTTE, N.C. — Thank goodness for Mac.
That rescued pitbull/bulldog mix doesn't know his own strength. Without Mac, University of Virginia safety Joey Blount would have spent the 2020 a lot more miserable than he was.
A pandemic. On-field injuries. Missed games. Those things frustrated Blount, as they would anyone.
Luckily, Mac would intervene.
"Those dark days I had at night or the long days I was not happy, I would look at him and he'd be wagging his tail, looking at me," Blount said at the ACC Football Kickoff. "I was just like, 'There's more to life than being sad.'
"Just going outside with him, letting him run around, letting him cuddle up next to me on the couch — he's brought me out of a lot of sad moments, and he's very faithful. I think everyone should experience having a pet, at least, but a dog is a special creature."
Blount's pretty special, too. That's why the Cavaliers are thrilled that he decided to return to school for a fifth season as the leader of their secondary.
Blount, a third-team all-ACC pick in 2019, missed only two games in his first three seasons at UVa. Last year, a lower-body injury kept him out for five of UVa's 10 games and limited his production in the ones he did play.
Blount has never redshirted, so he wouldn't have been able to come back without the NCAA granting an extra year of eligibility for all players because of the pandemic. He's thankful for the opportunity and viewing this season with enhanced urgency.
"I embrace it as there's no second chances," Blount said. "I got lucky with one, but now this is it. This is the final hurrah, I guess, for myself. If I really want to get to the next level, I want to win a championship. I want to win the Coastal again. I want to beat Virginia Tech. If I want to do it, this is the last year for me to do it."
A big season for Blount would be a much more appropriate capper for a career that's exceeded many expectations. A two-star recruit coming out of Landmark Christian School in the Atlanta metro area, Blount ignored the Cavaliers' record (2-10) and opted to follow his father, Tony, to UVa.
"He kind of sold it to me, but never like, 'You've got to go there,'" Blount said of his father, who played safety at UVa from 1976-79. "I'd say the only school he told me not to go to was Virginia Tech, because he wouldn't let me do that as a legacy. But I think he's done a great job not being too much of a dad, not too much of a coach, but just kind of being a friend, honestly, through all this process."
Blount is a crafty coverage man and a sure tackler who can move into the box and help against the run game. Some of UVa's worst defensive performances last year came in games Blount missed, including N.C. State (16.7 yards per pass completion) and UNC (19.2).
His return should help solidify that unit, giving him and the other veterans a better chance to keep building on their successes as a program.
"When I was in high school and committed to UVa, my friends were making fun of me for going to a 2-10 team," Blount said. "They were asking why I would do that to myself. People were asking, did I have nowhere else better to go? That's a hard thing to hear when you're a senior in high school, about to go off somewhere for four years.
"Looking back at it, it's night and day," he said. "Just look at the history, look at the past and where we came from, it's night and day for our culture."