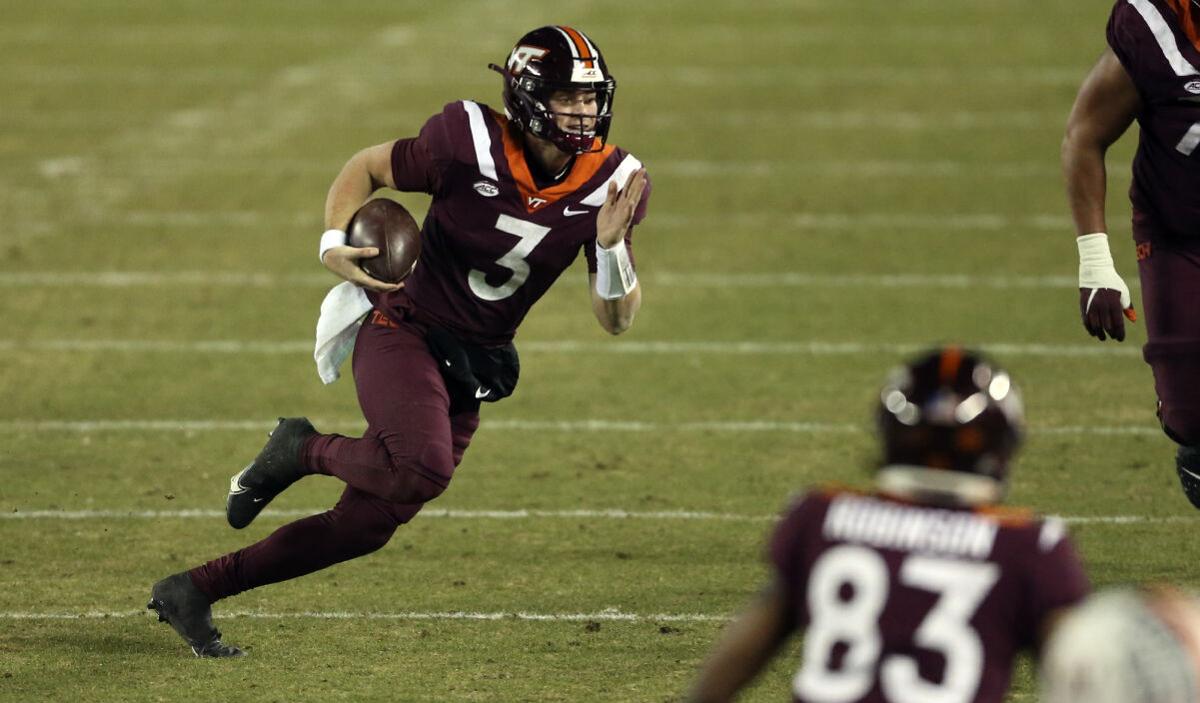 CHARLOTTE, N.C. — Maybe they didn't know the rules, or maybe they just didn't care. But they presented offers.
Whether drawn to his social media following, his status as a Division I college quarterback or some combination of both, companies and individuals were never shy in previous years about messaging Virginia Tech's Braxton Burmeister to see if he wanted to endorse their products for money or free merch.
"You always had to say no to that," Burmeister said. "But now you can say yes."
And nobody knows what, exactly, it's going to look like.
Players are pumped. Authority figures are nervous. But when it comes to name, image and likeness, one thing is clear: Everyone's muddling through this new world together.
"It's a challenge, for sure, but it's also an opportunity," University of Virginia athletic director Carla Williams said Wednesday at the ACC Football Kickoff. "Anyone that tells you they've figured it out, I'm not quite sure about that."
At both Tech and UVa, players use smartphone apps to enter any sponsorship deals they're interested in striking. Those potential partnerships are reviewed by the school's compliance department to ensure they're fair to the athlete and don't violate certain rules, such as endorsing gambling or alcohol.
Williams estimated that fewer than 50 of the 750 athletes across all of UVa's sports have submitted any deals through the app so far. Burmeister, who's in negotiations with several apparel companies, said about 15 to 20 players on the Hokies football team have NIL deals already in the works.
Expect those numbers to grow. Soon.
"I think our team has handled it amazingly so far," Burmeister said. "We're all kind of rooting for each other; nobody's really counting what each other's doing. When I see one of my teammates get a deal, I'm happy for them. As long as the focus remains on football first, I think we're all good."
That's the biggest concern for Tech coach Justin Fuente, who's trying to envision what the locker room dynamic would have been like had NIL been around when he played.
The former Oklahoma and Murray State quarterback jokes that he wouldn't have made a dime — "They give that to the good players, not the crappy ones" — but others would have.
"There would have probably been a handful of guys on my team that got a little bit more than everybody," Fuente said. "And there probably would have been somebody in there that didn't do nothin', that everybody couldn't stand, that was making money and probably would [tick] everybody off."
When he first addressed NIL with his team, Fuente said all the players were excited. But he wanted to warn them, too.
"Well, how are you going to like it when the guy you're sitting next to, you're playing, he's not, and he's making more money than you?" Fuente remembers asking them. "That has a chance to happen. I think it's going to be a great juggling act. I want kids to get what they deserve. I do not want kids to lose sight of what is actually important."
In addition to the Tech compliance office oversight, Burmeister has enlisted some family friends to review his potential deals and make sure he's not making any reckless decisions. He said he primarily plans to endorse products he's already used before.
Earlier this week, Alabama coach Nick Saban said his quarterback, Bryce Young, has struck deals that have "approached ungodly numbers," adding that "it's almost seven figures." Young hasn't even played a game yet for the Crimson Tide.
While Tech and UVa don't have any megadeals like that, this season figures to be a fascinating case study. What percentage of players will wind up with deals? How big will they get? Will there be any major issues, either within locker rooms or with compliance?
"The lack of direction that we've received lends itself towards leniency," Fuente said. "They didn't exactly give us a great framework. They basically said, 'Go get 'em, boys.' You can imagine being a compliance person now.
"I hope it lends itself to some understanding that we're in uncharted territory."
One where the answer doesn't always have to be no.