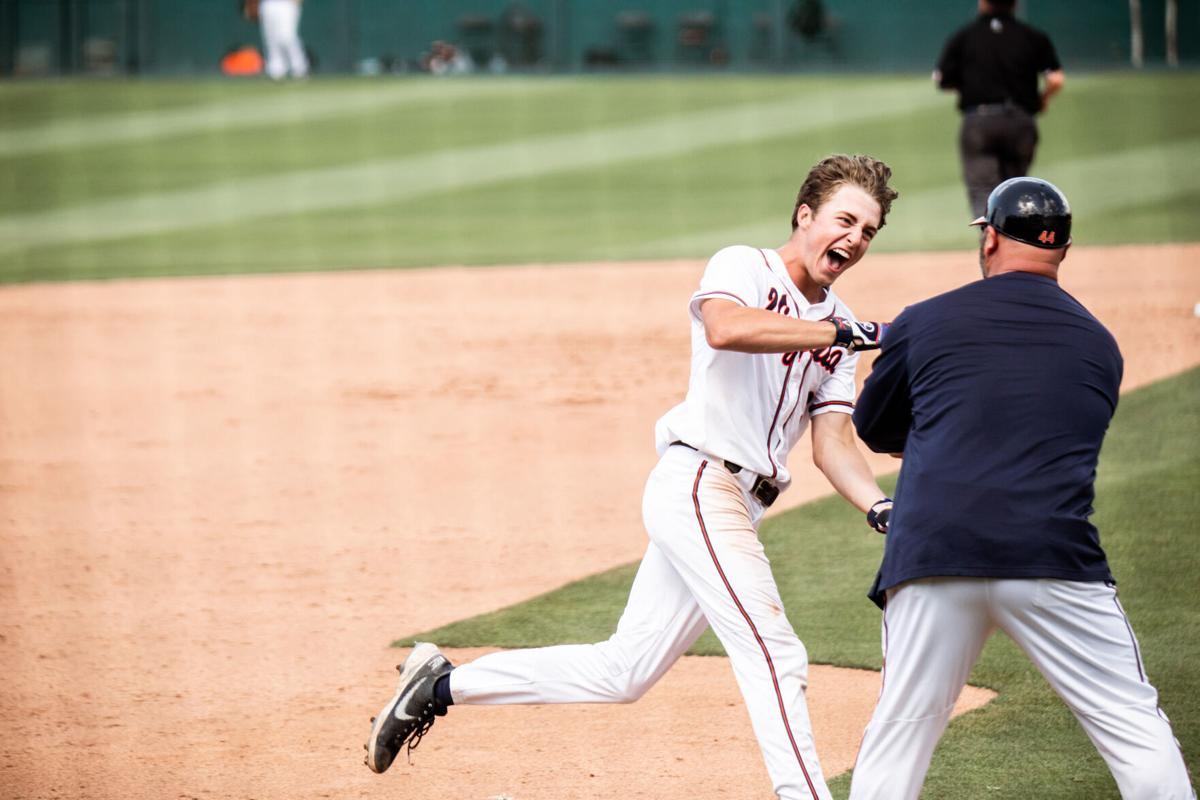 His helmet came off when he swung and missed.
It tried to come off again when he connected. He fixed it hastily as he began to run to first base.
Kyle Teel watched the ball soaring out to right-center, his jaw widening with every stride. When the ball cleared the wall, the biggest moment in a South Carolina fortnight full of them, the headgear tumbled off.
Just when he needed protection most!
Teel took a pounding at home plate, all right. The best kind. His two-out, two-strike, deficit-erasing grand slam in the bottom of the seventh inning sent his Virginia teammates into a frenzy and his ballclub to Omaha, as 5-2 winners over Dallas Baptist in Game 3 of a fantastic NCAA super regional.
"Fearless," UVa coach Brian O'Connor said. "Kyle Teel is fearless. He isn't afraid, and to win games at this elite level of baseball, you not only have to have skill, you can't be afraid."
None of them was. Maybe because they've done this before.
Six times these Cavaliers have faced elimination in this NCAA tournament. Six times they've won. They dropped the first game of the regional, then reeled off four straight wins. They dropped Game 1 of this series, then outscored Dallas Baptist 9-2 over the next two.
This one required a rally from an early 2-0 deficit, spectacular relief pitching from Matt Wyatt, a did-you-see-that home run robbery from center fielder Chris Newell and one thunderous swing from a freshman with a one-track mind when he stepped in the box.
"Just hit the breaking ball hard," Teel said.
Trailing 2-1 in the seventh, the Cavaliers set the stage for Teel with a leadoff single by Jake Gelof, a four-pitch walk by Zack Gelof and infield single by Max Cotier.
Teel worked the count to 2-2. In the dugout, Wyatt had the same thought as every Virginia fan watching at home.
"I was thinking in the back of my head, I'm like, 'Wow, a grand slam would be nice here,'" Wyatt said. "The guy was throwing a lot of sliders and I was like, 'Come on, Kyle. Just sit slider, you're gonna get this one.'"
He did. Teel picked up the spin immediately, kept his hands and his weight back, then exploded into the ball so forcefully that the helmet tottered on his head.
And he was rewarded with a flyout to the center fielder.
Wyatt, though, had a different reaction upon contact.
"I had a good feeling," Wyatt said. "I mean, watching a lot of his home runs, you can kind of tell. When he hits it, he hits it."
Wyatt himself was sensational, entering in the fourth inning and dominating the rest of the game. Throwing a season-high 80 pitches, the right-hander held Dallas Baptist scoreless while striking out eight, allowing just two hits and two walks
"Those are the plays, those are the pitches, those are the swings of the bat, those clutch moments where guys need to step up and emerge," O'Connor said. "And we can go all over the field and up and down the pitching staff — there's just so many incredible stories where guys had to step up and emerge."
When Wyatt coaxed the final out to secure UVa's fifth College World Series berth, all those stories converged at the mound. The Cavaliers culminated nearly two weeks in Columbia with a scene not witnessed since 2015 — a dogpile of epic proportions.
And not a helmet in sight.