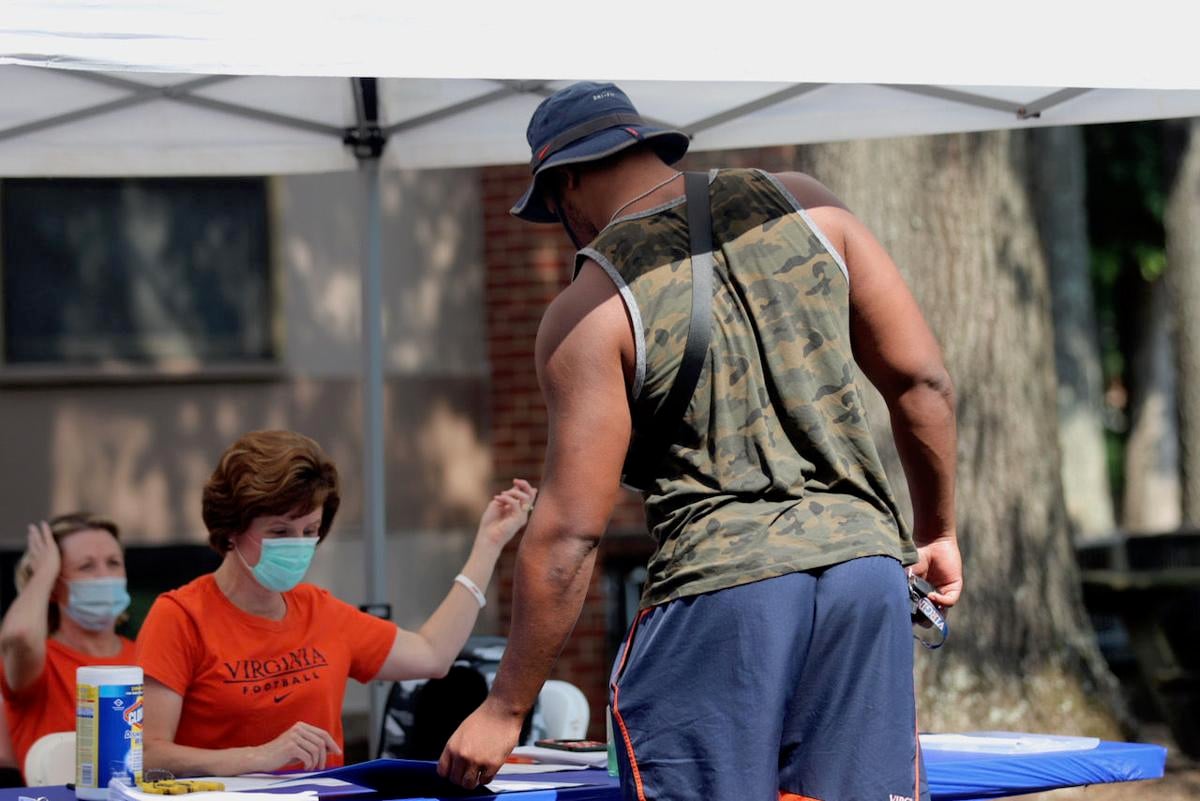 The Proton Packs sounded interesting.
OK, so technically they aren't particle accelerators, but Virginia football coach Bronco Mendenhall did make an allusion to Ghostbusters when describing the weight room scene on his campus. After every lifting session for the Cavaliers, workers wearing backpacks full of liquid come in and spray down all the equipment. Then they let it dry.
Then the next small group of players comes in, and they do it all again.
The Proton Packs are just a fraction of the extensive COVID-19 pandemic protocols that have been instituted at UVa, where football players began voluntary workouts last week in advance of Wednesday's opening of full-scale practices.
Frankly, it all sounds kind of exhausting.
But know this: If college football isn't played this fall, it won't be because the Cavaliers failed to take the coronavirus seriously.
"It's a giant operation we have going," Mendenhall said on a Monday video conference call with reporters. "Our support has been amazing. We're adjusting as we go. It's taken a lot to this point, but I'm really encouraged by the people we have and the effort they're putting in."
There's a challenging dichotomy here, trying to keep players safe while also getting them physically prepared for the rigors of a football season that might never be played. But it's also one the Cavaliers are embracing.
UVa reported last week that two of the 110 football players tested were positive for the virus. While those two are self-isolating for at least 10 days, the rest of the players are navigating a labyrinth of safety requirements to get their work in.
Players wear masks during workouts. They have to answer a questionnaire and get their temperature checked before they're given access to the McCue Center. They live in dorms where no visitors are allowed — no family, no friends, not even other football players.
They arrive at practice fully dressed, shower only at home, then bring their football equipment to a drop-off point where it is sanitized for the next day's practice. They pick up their food at a tent and eat it either in their rooms or at the outdoor common space near their dorms.
"It's about as safe an environment that you can find, maybe on the planet," Mendenhall said. "The only thing more dangerous than ignorance is arrogance. We're educating and we're educating and we're educating and we're educating."
Mendenhall has taken a hands-on approach to familiarizing the players with all the protocols, but he ultimately wants this effort to be player-driven. Team leaders such as Charles Snowden and Terrell Jana have been entrusted with helping keep the team accountable.
"When we start on Wednesday, we have the players two hours per day," Mendenhall said. "There's 22 more hours that have to be managed. Individual and social choices, the commitment of each of our players to each other, is what will drive the success or failure of this initiative. This can't be managed into success.
"This is personal choice based on commitment to team. Empathy, maybe even more than science, will drive the outcome to this — really considering someone else besides yourself."
While nobody knows whether the season will start on time, if it starts at all, Mendenhall knows he must approach this as if it will. So far, he said, the players have adopted a buoyant outlook given the circumstances.
"They're resilient," he said. "They're optimistic. They're kind of defiant. They think they can do anything within the rules of protocol. I'm just encouraged by what I see."
Mendenhall hadn't seen his players in person since March. He found it "fairly remarkable" that only two tested positive upon their return to campus.
"That's a strong testament to the power of individual choice," he said. "Now that we're back, now we have another challenge. They're closer together. We're training, we're sweating, we're breathing on each other. We're social distancing, we're wearing masks, we're doing everything we can to mitigate.
"I can only hope that others are doing that. And if they're not, I would love them to be disqualified."
That probably won't be necessary. In the current climate, they'd almost certainly be disqualifying themselves.
Be the first to know
Get local news delivered to your inbox!