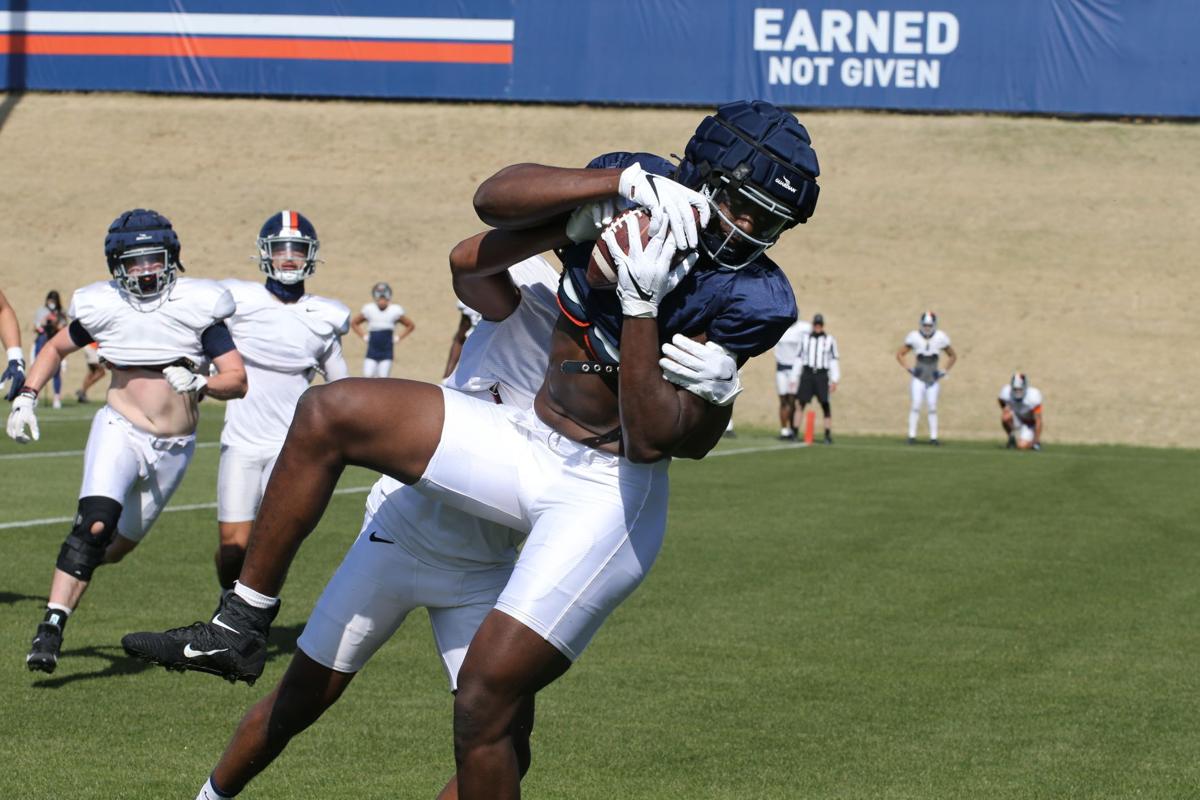 CHARLOTTESVILLE — Changes have come quickly in Jelani Woods's college football career.
It was a week after emulating an opposing tight end for Oklahoma State's scout team during his first season that the coaches there moved him from quarterback to tight end. His move from Stillwater to Virginia unfolded even more rapidly.
"Virginia was the first school to hit me up and they hit me up in about 10 seconds," Woods said this week. "I remember I was in my room. I was laying down, I was talking to my girl and told her that, yeah, I just put my name in the transfer portal. Next thing you know, I'm on Twitter and I have probably six UVa coaches texting me."
That was Dec. 21. Three days later, Woods committed to the Cavaliers, giving Bronco Mendenhall's team a player to replace senior tight end Tony Poljan in the offense.
The 6-foot-7, 275-pound Poljan, himself a former quarterback and transfer from Central Michigan, caught 38 passes for 411 yards and a team-high six touchdowns, the second-most ever by a UVa tight end, in 2020. His departure for the NFL left a sizable hole in Virginia's passing game.
It's one the 6-7, 263-pound Woods believes he'll fill quite nicely. During his recruitment, Woods and his family watched UVa games to study how the team had utilized Poljan and the tight end position.
"I had seen the value that he brought here and I felt like I could be the same way here," said Woods. "I loved what he was doing. I felt like that was a perfect position and perfect stuff I would be great at."
Recruited to Oklahoma State as a quarterback out of Georgia, Woods didn't think much of his late-season assignment in 2017, being asked to play tight end for the scout team because of his size and athleticism. He was redshirting that year and figured it was a one-time situation.
"I ended up giving them a great look throughout the week," said Woods. "Literally the next week, my coach came to me and proposed the deal with me. I loved it."
Woods also said he loved his team at Oklahoma State, though in the Cowboys' offense, he was used mostly as a blocker. He finished his time there with 31 catches for 361 yards and four touchdowns. The move to UVa brings him both closer to home and transitions him into an offense that appears more committed to getting the ball to its tight ends.
"Jelani is a really good addition to our team," said offensive coordinator Robert Anae. "He's really, really tall, big, strong, athletic. Then, man, you couple that with a really good football IQ. Dang, I think we're going to have a lot of good things to come."
Woods has quickly fit in with his new teammates and demonstrated a devotion to and aptitude for learning the playbook heading into Saturday's spring game at Scott Stadium, the final team practice before fall camp.
"I met him the first day he got in here and he was asking a lot of questions," said senior Grant Misch, a fellow tight end. "But the questions are kind of gone and now it's more like friendly banter. He's a cool guy."
He's impressed his coaches, as well.
"Jelani Woods is probably the brightest spot that I've seen in our program this spring," said Mendenhall. "He is big and he's fast and he's physical and he catches the ball well and he's a great blocker, and man, is he thankful to be here. So, he is a welcome addition to our program at a position of need coming off Tony's performance."