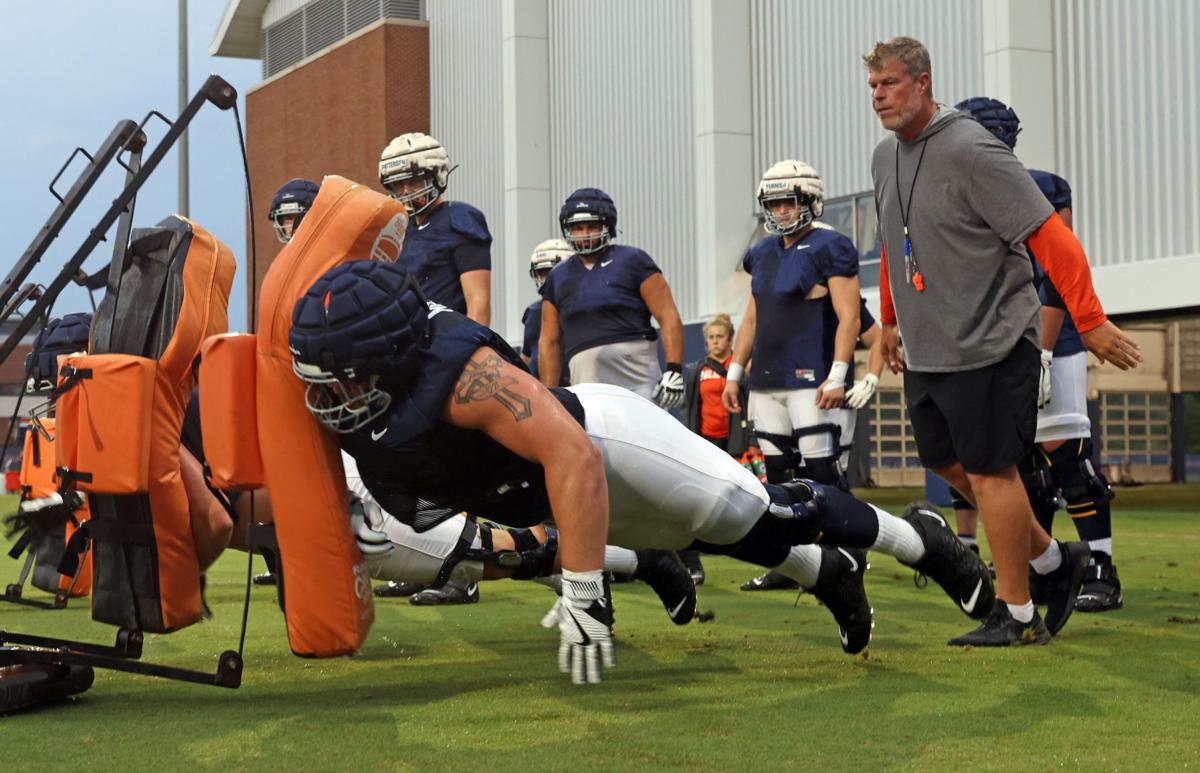 CHARLOTTESVILLE – Ryan Nelson and Bobby Haskins played next to each other at left tackle and left guard throughout the 2019 football season. When Virginia's coaches reunited that duo on the left side early in Thursday night's critical road win at Miami, they picked up where they left off in that record-setting year.
"There's chemistry that's formed when you play next to someone," UVa coach Bronco Mendenhall said. "There's communication that's always established."
The move helped tighten Virginia's protection for star quarterback Brennan Armstrong. The Cavaliers (3-2, 1-2 ACC) had allowed six sacks through their first three games – wins over William & Mary and Illinois and a road loss at North Carolina.
But Wake Forest dropped Armstrong six times in its win at Scott Stadium on Sept. 24. Those struggles prompted change, and that change came Thursday night in South Florida. To be more precise, the change came on Monday of that short week.
That's when his coaches told Nelson, a fifth-year senior and four-year starter, that he would need to be ready to play both guard and tackle.
"I started practicing for the move that Monday, so that was a fun one," Nelson said. "I knew about it and I was ready for it. I don't think Miami knew it was coming."
Virginia had used the same starting lineup in every game this season before Miami: Nelson at left tackle, junior Joe Bissinger at left guard, senior Olu Olusegan at center, senior Chris Glaser at right guard and senior Ryan Swoboda at right tackle.
But with Haskins, a senior, coming back from an undisclosed injury, UVa had options on shuffling its front. It opened the Miami game with sophomore Jonathan Leech at left tackle but, by its fourth drive, had inserted Haskins to play alongside Nelson.
"That was right at the right time," offensive coordinator Robert Anae said of Haskins' availability. "We look forward to a higher capacity with Bobby. Not just what he did but I do believe the capacity this week will be more."
The 6-foot-7, 295-pound Haskins appeared to be the odd man out on Virginia's veteran offensive line. Olusegan, Glaser, Swoboda, Bissinger and Nelson were returning starters from last season, so Haskins – a Connecticut native who started 13 games at left tackle in 2019 but dealt with back issues last season – came into the year looking simply to help drive competition in practice and hope for an opportunity.
"We have a very deep, veteran O-line group," Haskins said. "I think my job coming in was just to push everybody, keep everything as competitive as possible."
Now, his job may well be to start Saturday when UVa visits Louisville. The Cardinals (3-2, 1-1) have the fourth most sacks in the ACC this season with 15, with junior linebacker Yasir Abdullah leading the way with four and freshman defensive lineman Ashton Gillotte behind him with three.
Virginia has never won at Louisville in four trips and hasn't won back-to-back road ACC games since 2011.
The Monday edition of the team's depth chart listed Nelson as a possible starter at both spots – left tackle showing as Nelson or Haskins and left guard as Bissinger or Nelson.
"We just figure out who will be our best five," Nelson said. "And if that means Bobby or Joe, I just play the other one. And if one of them is struggling, I can just slide over."