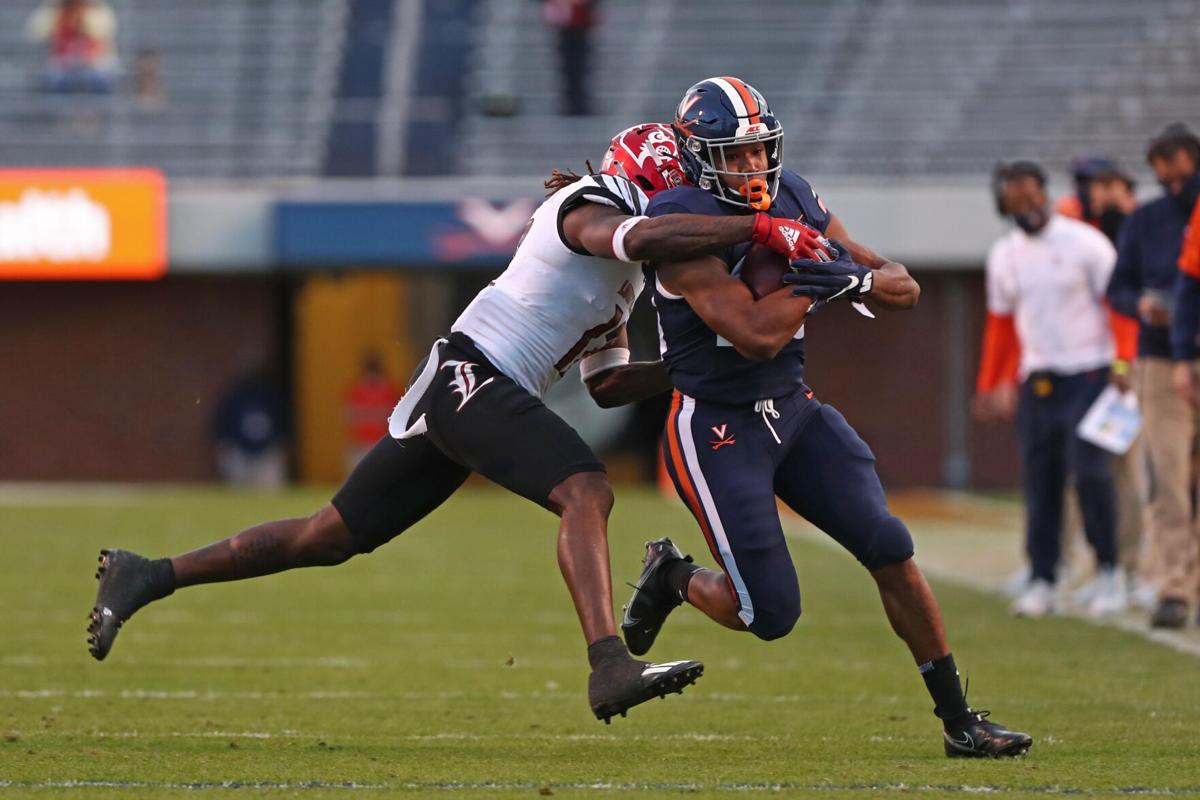 Starting defensive tackle Jowon Briggs no longer was listed on UVa's roster by midafternoon Tuesday after playing in Saturday's 31-17 victory over Louisville.
The 247 Sports website reported Tuesday that Briggs, a 6-foot-1, 310-pound sophomore nose tackle, had entered the NCAA Transfer Portal, apparently with an eye toward transferring.
Briggs, who wore No. 19, had started each of Virginia's first seven games and had been credited with 20 tackles, four of them for loss, including three sacks.
He was considered one of the top signees in UVa's 2019 entering class and was rated a four-star recruit, on a five-star scale, coming out of Walnut Hills High School in Cincinnati.
Briggs was not redshirted as a UVa freshman in 2019 and played in 13 games, including seven as a starter. However, he might have been better known as a musician.
According to his UVa football bio, he can play 10 instruments. Briggs also was a member of the school's Hullabaloos, an a capella singing group that toured London last spring.
In an interview with Jeff White of UVa's sports information office, he said he was leaning to physics or astrophysics as a major.
"If I had to sum him up in a word, I'd say eclectic," former UVa player and position coach Clint Sintim said in the same article. "He's the epitome of why you come to Virginia, so you can do so many different things."
Jahmeer Carter, a 6-2, 305-pound freshman from Severn, Maryland was listed as the No. 2 player at Briggs' position for the Cavaliers' game with Louisville.
Ronnie Walker makes his debut
Making his UVa debut Saturday against Louisville was Ronnie Walker, a 5-foot-11, 220 pound junior from Hopewell who transferred to UVa after two seasons at Indiana.
Walker saw playing time in 2018 and 2019 for the Hoosiers and it was only recently that he was cleared to play this year. He had five rushing attempts for 22 yards Saturday against Louisville.
"It felt great," Walker said. "First and foremost, I want to thank everybody who helped me through the waiver process. We persevered and got through it, so I'm grateful for that."
It was Week 6 before he got the call Saturday.
"I know I can run the ball, block and I can catch," he said. "One thing I really want to focus on is blocking. I know I can excel at running the ball and catching, but the one thing I know I can improve on is blocking.
"When I was on the sideline [Saturday], my emotions were building up till that moment when I stepped on the field."
Be the first to know
Get local news delivered to your inbox!