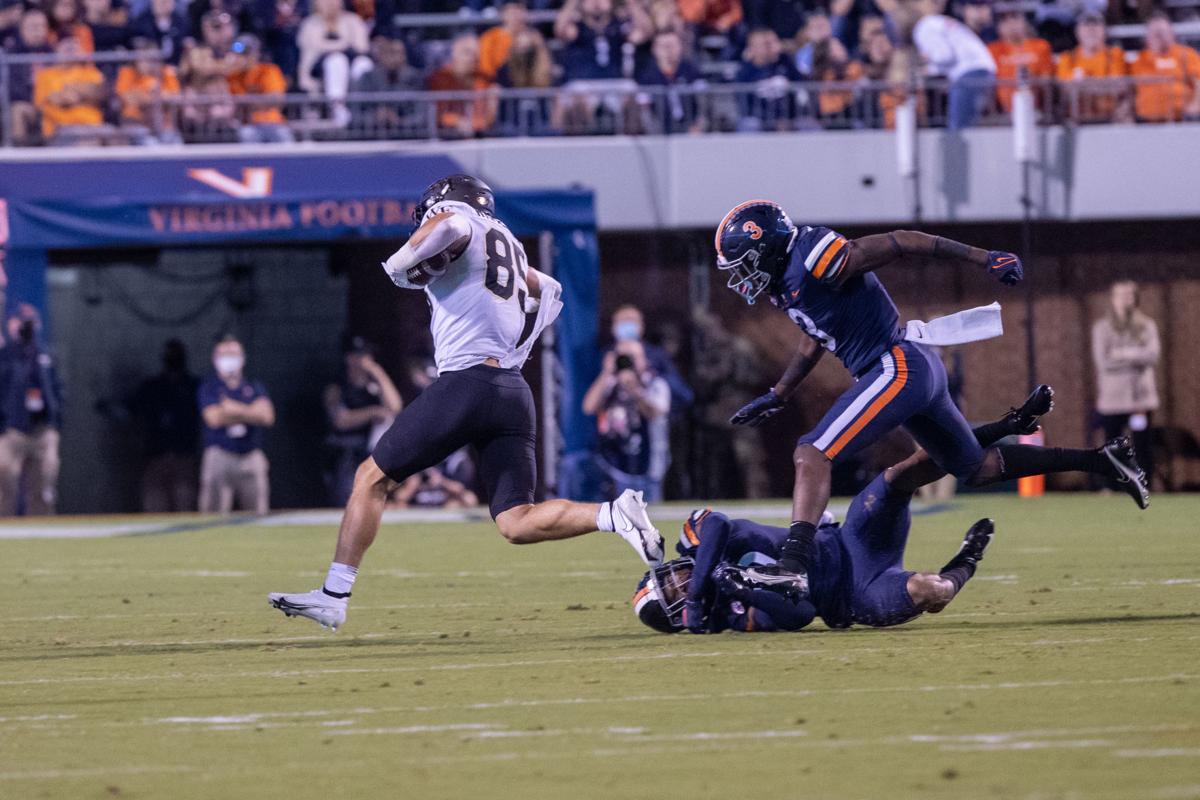 CHARLOTTESVILLE — As Wake Forest took over possession at Virginia's 44-yard line late in the third quarter Friday, a UVa fan sitting close to Scott Stadium's open-air press box gave his two buddies an ultimatum.
"If they score in any way [on this series], we're going."
Given that the Deacons had scored four touchdowns and two field goals on their six possessions, the odds were pretty darn good.
One snap later, as the teams changed ends for the fourth quarter, the three gentlemen decided to call it a night, skipping Wake's seventh score in as many series.
By game's blessed conclusion, most in the crowd of 38,699 had joined them in the parking lots or on the highways.
Wake Forest 37, Virginia 17.
On an evening when quarterback Brennan Armstrong was again a magician, the Cavaliers again couldn't muster a defensive stop that counted. Moreover, they couldn't protect Armstrong, who was sacked six times, an untenable sum that would have been double for a less gifted athlete.
Indeed, six days after failing to force a punt in a 59-39 loss at North Carolina, Virginia (2-2, 0-2 ACC) did not force one Friday until midway through the fourth quarter.
Yes, Fentrell Cypress intercepted UNC's Sam Howell last week, but 19 consecutive possessions — 12 by the Tar Heels, seven by the Deacons — without a punt expose XXL issues with a defense that yielded 14 points combined in opening victories over William and Mary and Illinois.
"I really thought we played better defense than we did last week," UVa coach Bronco Mendenhall said.
Better only because the bar was so low.
To be clear, the North Carolina and Wake Forest offenses are exceptional, led by accomplished quarterbacks, anchored by seasoned lines and replete with playmakers. Indeed, the nonconference clash between the Tar Heels and Deacons on Nov. 6 — the traditional in-state rivals agreed to play one another in a nonleague contest because the ACC's backward scheduling model pairs them only once every six years — figures to be DVR-worthy.
But those assets notwithstanding, a few forced punts are not too much to ask from a defense.
Mendenhall's respect for Wake's offense was clear from the start. After Sam Hartman threw a 39-yard touchdown pass to Taylor Morin on the game's first possession, Virginia drove to the Deacons' 5, where on fourth-and-5 Mendenhall declined a chip-shot field-goal attempt.
Against Dave Clawson's superbly coached bunch, he knew touchdowns were paramount. And with a scalding-hot quarterback in Armstrong, he was absolutely right to be aggressive.
But Caelen Carson broke up Armstrong's fourth-down pass for Jelani Woods, and before long the Cavaliers were down 20-3 at halftime and exiting the field to a chorus of boos.
UVa gave the faithful hope when Armstrong and Woods connected for a 17-yard touchdown to open the third quarter, but Wake (4-0, 2-0) countered with an 83-yard scoring march that Hartman, after taking a lateral from Christian Beal-Smith, capped with an easy 12-yard toss to tight end Blake Whiteheart.
At his postgame news conferences, Mendenhall often starts with media questions. Friday, he first wanted to make a statement, and he called the performance "a direct reflection of my leadership."
He lamented the Cavaliers' poor execution, discipline — they were penalized 11 times for 83 yards and flagged for two holds on one kickoff return gone awry — and inability to win one-on-one at the point of attack.
The Deacons harassed Armstrong (407 yards passing, many of them long after the outcome was decided) throughout, with linebacker Luke Masterson recording two sacks.
On the other side, Wake outrushed Virginia 203-99 — 160 to minus-1 in the opening half — and did not yield a sack.
Hartman was typically efficient, throwing for 270 yards and three scores without a turnover. Running backs Justice Ellison, Christian Turner and Beal-Smith combined for 187 yards rushing.
On deck for UVa is a second consecutive short week, this before a Thursday test at Miami. The Cavaliers have dropped five consecutive road games against the Hurricanes, but Manny Diaz's team is a mess.
In two games against Alabama and Michigan State, Miami has been outscored 82-30. Moreover, quarterback D'Eriq King is nursing a shoulder injury he sustained versus the Spartans.
But no matter the Hurricanes' quarterback, Virginia has considerable work ahead.
Mendenhall does not question whether the Cavaliers are willing to work, "but effort alone is not going to do it," he said.
"You have to execute, you have to be clean, you have to play with great poise, and really not any of those things are in a place right now that I'm proud of or think that is good enough to win the Coastal Division."
Winning the division is beyond unlikely. Forcing a punt when it matters needs to be the next step.