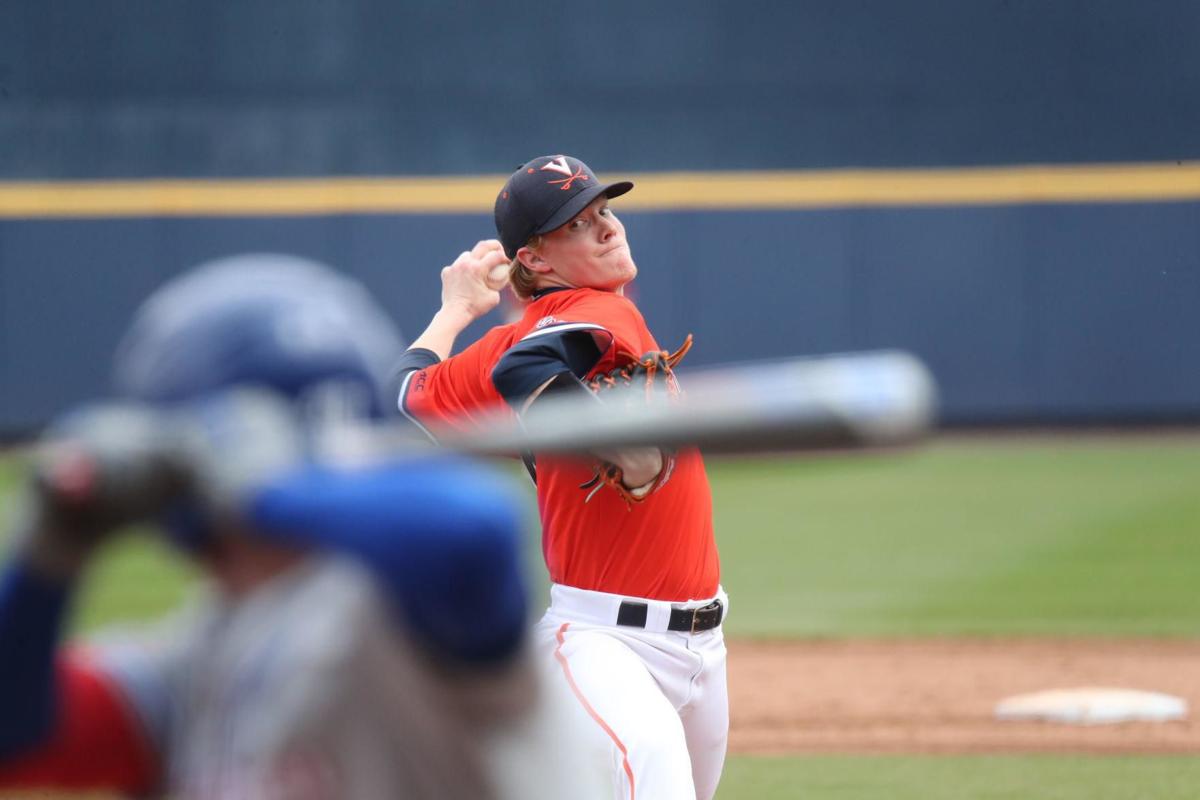 Other Virginia players have been treated more favorably than Andrew Abbott by the Major League Baseball draft.
In most cases, they didn't have a biology degree going for them.
And if last week's draft hadn't been limited to five rounds this year, Abbott's name would have been announced shortly thereafter.
Abbott, a junior from Halifax County, pitched in nine games for the Cavaliers before this year's college season was ended by the coronavirus pandemic.
Mostly used as a middle reliever, the left-hander compiled a 1.35 earned-run average and struck out 28 batters in 13 1/3 innings.
Some projections had Abbott going between the third and fifth rounds, but that turned out not to be the case.
"He's as impressive a young man as we've had come through the program," UVa baseball coach Brian O'Connor said Tuesday. "What he went through last week was very, very tough.
"Although I'm disappointed for him, his best days are ahead."
After the draft concluded, players like Abbott were free agents and could sign with any club that made an offer. Abbott said he was contacted by an estimated 10 teams.
There was a significant financial difference between being drafted and signing as a free agent. The final player picked in the fifth round, was eligible to receive a signing bonus of just over $324,000. A free agent can receive no more than a $20,000 bonus.
"Obviously, the draft didn't go how I wanted it to go," he said Tuesday. "It's like my dad said, 'You can control what you can control.' "
"Now, I'm going back to UVa, trying to get us to Omaha [for the 2021 College World Series] and trying to get us to the postseason, which we haven't done since I've been there. So, we've got some work to do."
The NCAA has declared that participants in spring sports this year will not lose a year's eligibility.
"According to the NCAA, they're giving back a year's eligibility to every spring sport athlete," Abbott said. "I think I'll still be a junior but I'll be playing my fourth year.
"Technically, I could play another year [in 2022] but I'm looking at playing one more year with my guys, hopefully winning a championship and then taking it to pro ball.
"This was definitely the best team we'd had in a couple of years and it was looking very, very good."
Virginia was 14-4, with victories in 10 of its last 11 games.
Abbott committed to the Cavaliers in the summer of 2015, shortly after Virginia defeated Vanderbilt to win the College World Series.
"I didn't have any family that went [to UVa]," Abbott said, "but it was my dream school growing up. That was basically my only connection until I committed there."
Abbott earned his biology degree in three years and will be in graduate school this coming year at UVa in a field to be determined.
"The classes he's taken over three years … they wouldn't have let me in the classroom, let alone take the class," O'Connor said. "A lot of kids take the easy route and spread it out over four years. Andrew had a plan."
That made life easier for O'Connor.
"I think I could have made it easier on myself," Abbott said of his choice to graduate ahead of the normal schedule. "I like to push whether it's in the classroom or on the baseball field.
"The perfect plan was to go three, get a degree and go play pro ball but there are still a lot of good things that can happen with one door closing.
"I think it will all work out in the end and you've got to keep your mind that way."