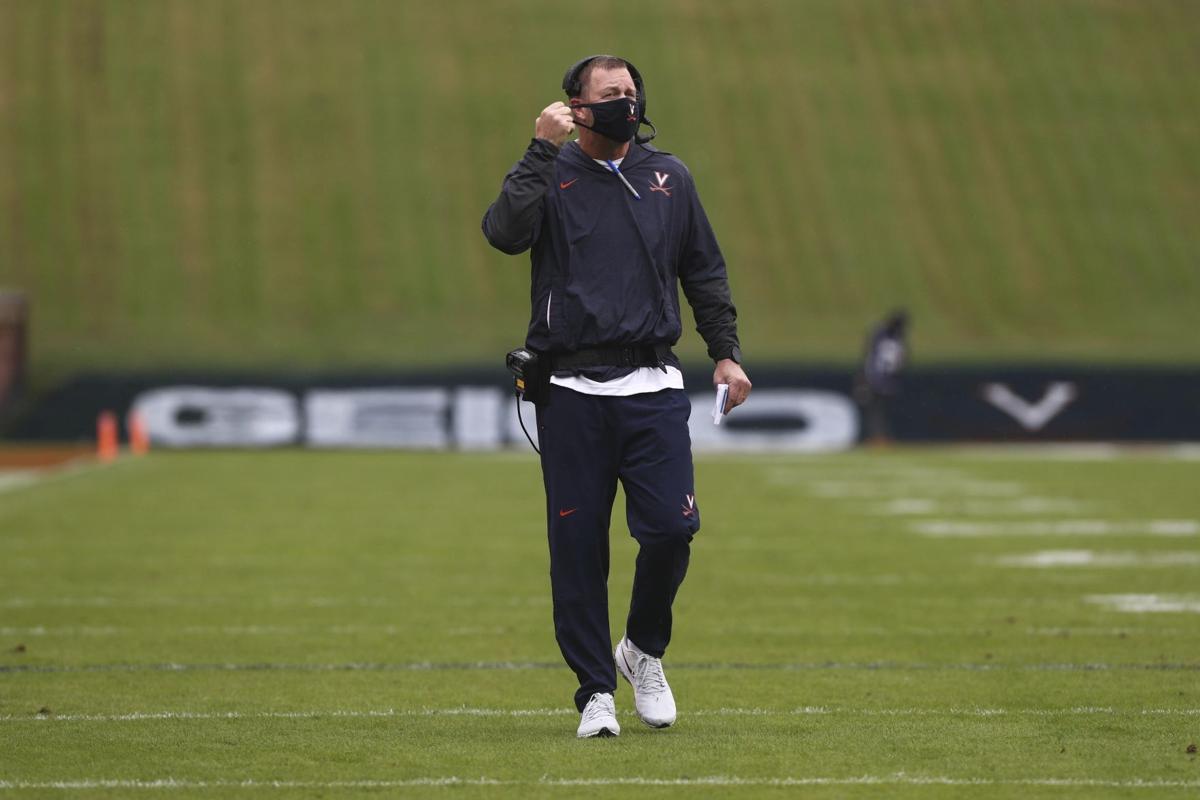 Fortunately for Virginia football coach Bronco Mendenhall, the Cavaliers didn't leave Florida State with an "L" last weekend.
Nevertheless, the experience didn't do much for his disposition.
After arriving in Tallahassee on Friday night, the UVa traveling party awakened to news that an 8 p.m. Saturday game had been postponed following reports that a Florida State player had tested positive for the coronavirus.
Fears that contact tracing might lead to more COVID-19 issues, the game was called off. While the term "postponed" has been used, it's highly unlikely that the teams will play at a later date this season.
Virginia (4-4, 3-4 ACC) was a 9 1/2-point favorite over the Seminoles (2-6, 2-6).
"I have no interest in going back to Florida State," Mendenhall said Monday on a Zoom call with reporters. "This is the fourth, fifth or sixth time that we've had a game canceled when we were ready."
Never mind that the Cavaliers had been beset by injuries, losing top pass rusher Charles Snowden one week earlier. Veteran safety Joey Blount had been unavailable for weeks, as had fellow defensive back Brenton Nelson and veteran offensive tackle Dillon Reinkensmeyer.
"Playing the game with less than your ideal roster, that hurts a lot more than not playing," Mendenhall continued. "Our team is willing to play, regardless, and I commend them for that.
"They didn't even blink. They just wanted to know if that game might be rescheduled and what our thoughts were regarding that and then we were on to Boston College. So, it was very matter of fact. There wasn't a lot of drama; there wasn't a lot of anything other than 'what's next?' "
The Cavaliers will play host to Boston College (6-4, 5-4) at 4 p.m. Saturday on UVa's senior day. That will be followed with a Dec. 12 game at Virginia Tech.
Apparently, the Florida State game could have been rescheduled.
"That opportunity was there; it's no longer there and I'm ready to play Boston College and then Virginia Tech," Mendenhall said. "Hopefully, we play well enough to be considered for postseason and go from there.
"Playing is just more fun than watching. We've committed and sacrificed — our players especially — and that's where I have an issue where policies don't allow them to be cared for at the highest level."
Of the 12 opponents on the original 2020 UVa schedule, which was released Jan. 22, only six have made it to this point (counting Virginia Tech). A season-opening Virginia game at Georgia was canceled in July.
One week later, VMI replaced Georgia for the Cavaliers' opener but that was dropped when the Southern Conference elected not to play in the fall.
Then, there was Abilene Christian, a Football Championship Division team that was added to the Cavaliers' schedule Sept. 4, the same day that Boston College came onto the Cavaliers' slate.
Virginia has been reporting results of COVID-19 tests since the summer and the latest data said that 651 student-athletes were tested over the previous week and there were four positive results.
"They want to play," Mendenhall said. "That's why they've been in the dorm rooms and apartments, limiting their social interactions and following protocol. It doesn't mean we're perfect; it doesn't mean we couldn't have a slip-up but they're more anxious to play the longer that we don't play."