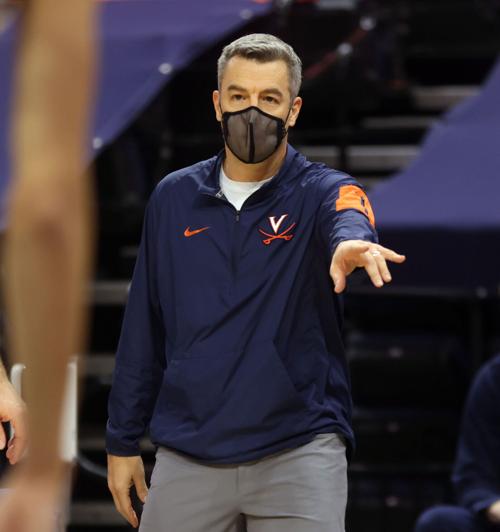 While the Virginia men's basketball schedule calls for the Cavaliers to play host to Wake Forest on Wednesday, recent developments have kept that from being a sure thing.
But coach Tony Bennett is optimistic his team will be able to play Wednesday, although it won't be at full strength.
Virginia's home game with Virginia Tech Saturday was postponed Friday after a UVa staff member tested positive for COVID-19.
Bennett said on an ACC video conference Monday that the Cavaliers (5-2, 1-0 ACC) were able to practice Sunday as they prepared for the Demon Deacons (3-1, 0-1).
"We had to get some further testing, get results before we could proceed, and then practiced [Sunday] for the first time [since the positive test]," Bennett said. "We have some contact tracing issues, but we'll deal with those. … We did have a practice [Sunday] with a limited group."
Bennett said UVa did contact tracing after the staff member tested positive.
"Certain people were then quarantined that were contact traced," Bennett said. "And then we tested … and then waited and then practiced with those who all remained negative. And will continue to test. And those who are … quarantined will stay in that.
"You're always at the whim of 'Uh-oh, what if something else pops up?' … We're very conservative here and we're trying to make the right decisions … in the best interest of everybody being healthy and safe."
Bennett said he is hopeful that UVa will play Wednesday.
"As of right now, we'll have enough … to play," Bennett said. "It's more staffing and some players, but if everyone stays the way it is, we'll be good to go — not at full strength, of course."
Wake Forest coach Steve Forbes said he was told Monday that his team would indeed be playing UVa on Wednesday.
Last weekend's game against the Hokies has not yet been rescheduled.
Tech coach Mike Young said he was told Friday that Saturday's game was off but that it might be rescheduled for Sunday or Monday.
"Just some things that couldn't be ironed out, so we had to push it back," Young said. "Not sure exactly when we'll make that up. We will make that up."
The Cavaliers, who moved up to 22nd in the Associated Press poll Monday, last played Dec. 30 at Notre Dame.
Bennett was asked Monday about the status of Kody Stattmann, a UVa junior who has played in just three of the Cavaliers' seven games.
"Right now we're undergoing some medical tests [with Stattmann]," Bennett said. "Patience is going to be required for him to just kind of get to the bottom of some medical issues. … It's not COVID-related to the best of our knowledge.