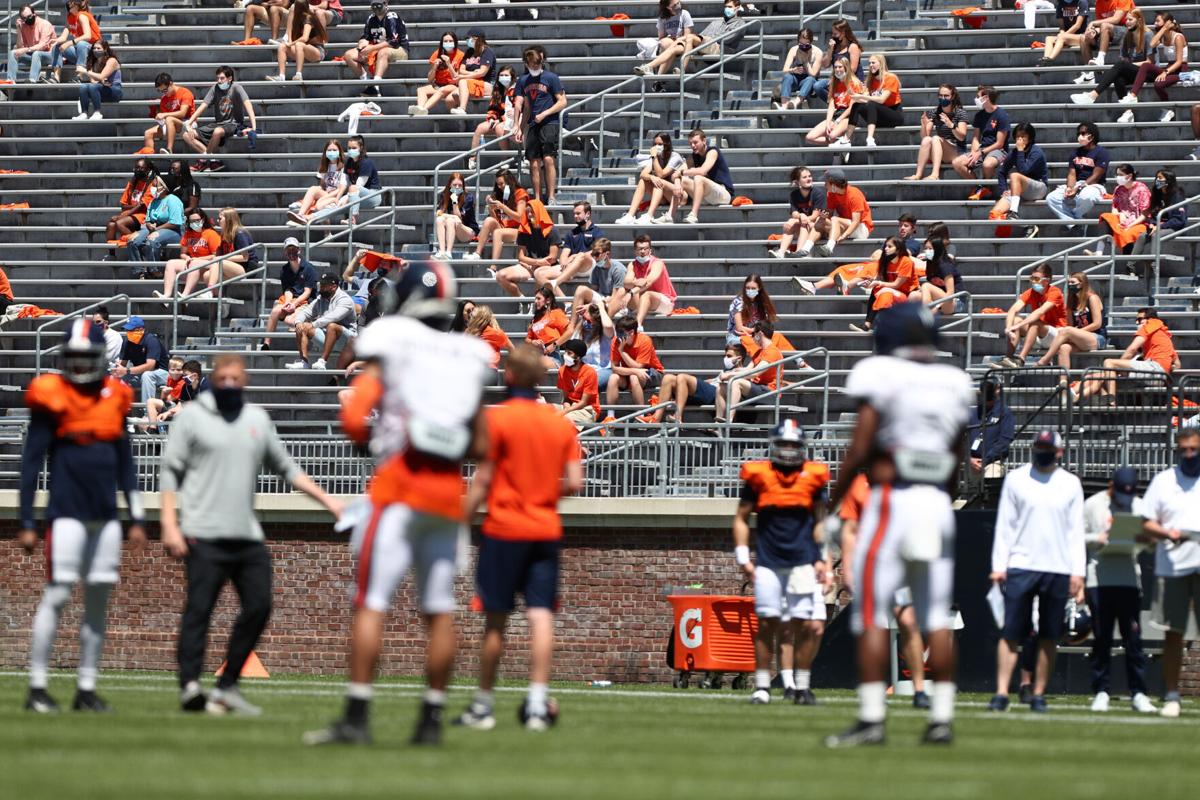 University of Virginia Health officials are encouraging Cavalier football fans to wear masks through all four quarters of Saturday's season opener, saying it is the best defense against COVID-19's game-changing delta variant.
Under UVa's masking requirements, all staff, employees and visitors are required to wear face masks while inside university facilities, including the concessions, bathrooms, elevators, hospitality suites and concourses of Scott Stadium.
UVa doctors said Friday that wearing masks while in the stands watching the contest could help thwart the delta variant.
The virus has caused minor and asymptomatic COVID cases in vaccinated people, who may spread the virus without knowing they have it. The virus is spread in moisture particles released by an infected person while breathing, talking, singing or shouting.
Those activities are integral parts of a football game, officials noted.
"It's a concern because of the sheer number of people who are there in the stadium," said Dr. Costi Sifri, director of hospital epidemiology at the UVa Medical Center. "In a setting of some 30,000 people in close proximity together, wearing a mask would be the best idea. I would recommend taking your mask down to sip your soda or take a bite of a hot dog and then placing it back over your face immediately afterward."
Sifri made his recommendations during a weekly virtual press conference Friday. He said Central Virginia is seeing a rise in cases as the delta variant expands through the local population, infecting unvaccinated people and some who have received the vaccines.
He said those who are vaccinated seldom require hospitalization or wind up in intensive care but noted they can carry the virus home to family members whose immune systems may not be as robust.
"The delta variant is highly infectious and it will find places where it can spread," he said. "There are cases of vaccinated persons with compromised immune system being admitted, but it's still the case that the majority [in the hospital] are people who have not been vaccinated or are partially vaccinated. We have also seen a trend toward younger people being hospitalized."
Statistics from UVa and the Blue Ridge Health District show that since June the number of cases and rates of COVID tests with positive results have gone up.
In that time, the number of patients being treated at the UVa Medical Center has doubled from about 20 a day to about 40.
"We have a perfect storm between the delta variant and children and college students returning to school," said Wendy Horton, the Medical Center's chief executive officer.
"The overall trend in the past few weeks has been a steady increase," Sifri said. "We're seeing more infections and more people presenting with other medical issues who are asymptomatic."
Sifri said the level of protection a vaccinated person may have from the virus is difficult to quantify. Immunity levels can vary according to a person's age, when they got the vaccine, their health and underlying factors.
That is one reason why masked football fans may prove safer.
"It depends if you are in a community where there is a lot of COVID or if you live in a rural area with very little virus. It can also depend on the people around you, how many have been vaccinated and how many may have the virus and not know it," Sifri said. "The vaccines are effective against the severe consequences of the virus, but it can only do so much," he said.
The World Health Organization lists four variants of the COVID-causing virus that are primary health concerns. Named using the Greek alphabet, they are alpha, beta, gamma and delta. The alpha variant was once known as the Great Britain variant and provided the push behind the spring surge in cases. Delta currently makes up more than 95% of cases across the country.
There are also variants of interest that could be as infectious or dangerous as delta and gamma. Those are eta, iota, kappa, lambda and the new mu variant, first named Monday.
WHO says mu's mutations may make it more resistant to vaccines but that further research is needed. So far, mu is moving about South America and is prevalent in Colombia.
Sifri said his view on the new mu variant is wait-and-see.
"Most of the U.S., including Virginia, has seen at least one case of mu but 99% of the cases are delta variant," he said. "We're in a delta pandemic right now. We'll grow more concerned if mu out-competes delta. We know this virus has the ability to mutate and create abilities that throw us curveballs."