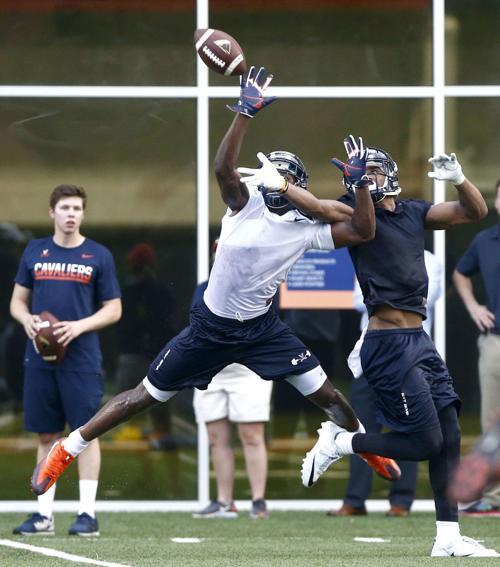 CHARLOTTESVILLE — A news conference following Bronco Mendenhall's first season-opening victory as Virginia head football coach began on a somber note.
Mendenhall announced that fifth-year cornerback Tim Harris, a starter, had been lost for the season with a wrist injury suffered in the fourth quarter of Saturday's 28-10 victory over William and Mary.
"Surgery [is] most likely in approximately two weeks, when the swelling goes down," Mendenhall said. "It's not playable is what we've been told.
"We're working with Tim now regarding his future and what that might look like."
Harris suffered a season-ending shoulder injury in the second game of the 2016 season after starting 21 games over the previous three seasons.
At first glance, Harris meets the requirements for a sixth year of eligibility that would allow him to return in 2018.
"First of all, Tim has to decide if that's what he would like to do, but he would certainly qualify," Mendenhall said. "I can't speak for the NCAA but I think the precedent's been set many times if he wanted [a sixth year] to happen."
Harris' likely replacement for the Cavaliers' game against visiting Indiana at 3:30 p.m. Saturday is 6-foot, 190-pound Germane Crowell Jr., a freshman who enrolled in January and had the advantage of participating in spring practice.
Crowell's father, Germane Sr., led Virginia in receptions in 1996 and '97 and spent five seasons with the Detroit Lions, who selected him with their second pick in the 1997 draft.
"We really, really like [Germane Jr.'s] ability, like his length, like his work ethic, like his competitive spirit and like his potential," Mendenhall said. "We'll look to shuffle depth the best we can … but he will be in the mix."
Senior wide receiver Doni Dowling has asked to wear Harris' No. 5. Dowling, who wore No. 7 on Saturday, also was a Harris teammate at Varina High School in Richmond.
"Doni asked me [Sunday] if that would be appropriate," Mendenhall said. "I thought it would be a great idea and a nice tribute."
Indiana had an extra two days of preparation for Virginia after falling to No. 2-ranked Ohio State 49-21 last Thursday night in a game that was televised by ESPN. The Hoosiers led that game 14-6 midway through the second quarter.
"It didn't take that game to get my attention," said Mendenhall, who didn't watch the broadcast. "I watched them play in a bowl game a year ago. That's [a bowl bid] not by accident. It's a good league; they're a good team."
Tom Allen, who previously coached the Indiana defense, was named head coach by the Hoosiers after Kevin Wilson was let go following a 6-7 season that included a 26-24 loss to Utah in the Foster Farms Bowl in Santa Clara, California.
Indiana led that game 24-23 before 19th-ranked Utah kicked a go-ahead field goal with 1:24 left.
Mendenhall didn't know if his players had watched the Indiana-Ohio State game but "our players are smart," he said. "We use the phrase 'real recognizes real' and they only have to watch a series or two of film and they know it's a good [Indiana] team."
On Virginia's first offensive play Saturday, the ball went to fourth-year junior Ben Hogg, a walk-on from Brookville High School in Campbell County whose 8-yard reception was the first of his UVa career.
"I couldn't have written the script any better," said Mendenhall, who awarded Hogg a scholarship before the 2016 season, when Hogg played in nine games, mostly on special teams.
"That the ball went to him might not be an accident because I like the ball to go to people that are trusted and they're going to catch it. Whatever setting we put him in, he catches the ball.
"We have something to do with who catches it, but our quarterback also has something to do with who we throw it to. So, it's a pretty strong statement from our quarterback also."