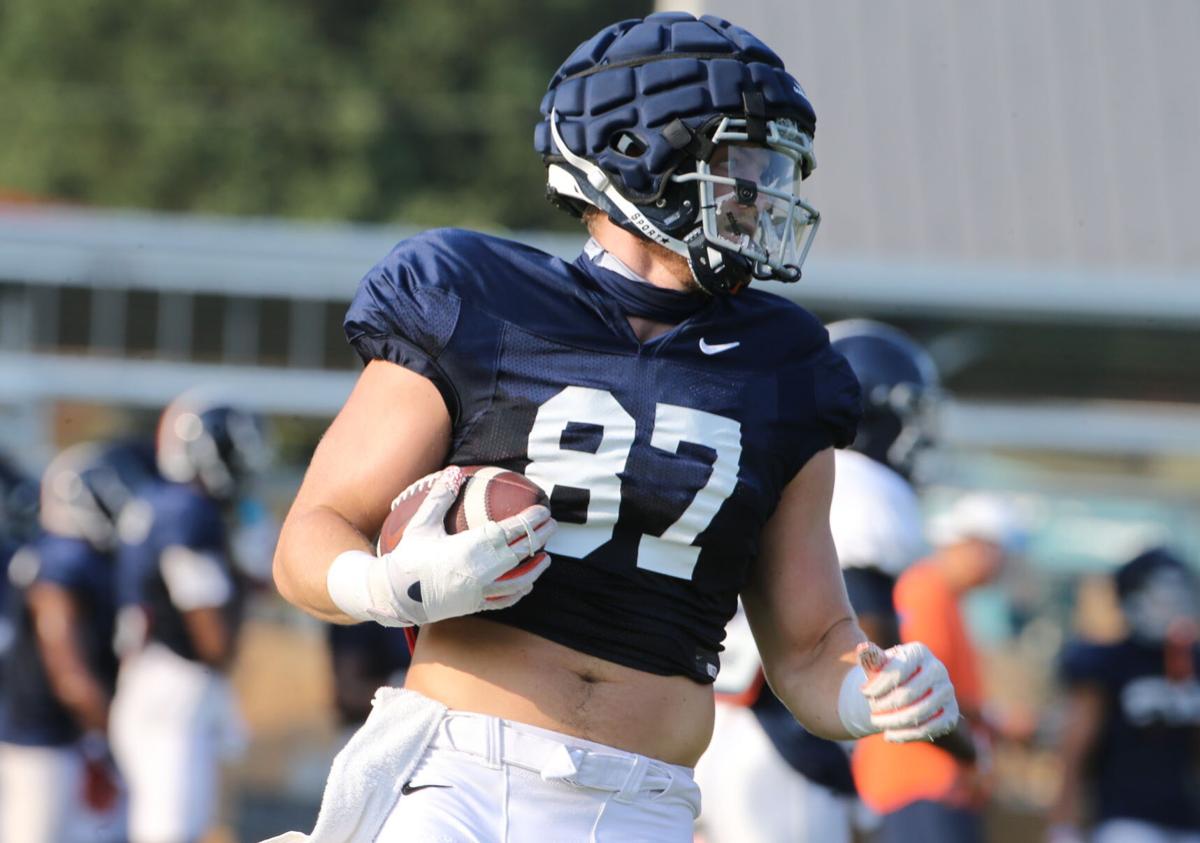 The next University of Virginia tight end to make first-team All-ACC will be the first since 2004.
Heath Miller, the last UVa tight end to be accorded that honor, won the John Mackey Award that year as the nation's top collegiate tight end and was a first-round NFL Draft pick.
Miller is now long retired and a first-year candidate for the Pro Football Hall of Fame.
Although tight ends weren't featured to a great degree in Bronco Mendenhall's first four seasons as head coach, times could be changing.
Since the end of the 2019 season, the Cavaliers have added 6-foot-7, 235-pound Tony Poljan, a graduate transfer from Central Michigan, where he had 33 receptions for 496 yards and four touchdowns.
"In my opinion, Tony is an NFL tight end," Mendenhall said earlier this week as the Cavaliers prepared for their season opener against Duke (0-2, 0-2 ACC) at 4 p.m. Saturday at Scott Stadium.
"I think he's very talented. He's a very good blocker. He's a very good pass catcher. And, when you have a tight end that's big and fast, match-up issues are present immediately."
Poljan was a quarterback at Lansing Catholic High School in Michigan, where he was named Gatorade state player of the year in 2015. At Central Michigan, he started at quarterback in 2018 before moving to tight end.
Poljan does not hesitate to speak of the stuttering issues that he has overcome and continues to handle.
"Honestly, when I was younger, I got made fun of," Poljan said. "There really wasn't an avenue I could use to express myself, so It didn't matter what people said because I was always going to try harder. I was always going to win.
"At the end of the day, the actions speak louder than the words. I'm very upfront with it. With me, what you see is what you get."
Mendenhall said that Poljan's IQ is comparable to what he might expect from a two- or three-year starter at his position.
"When we reported, we had to quarantine," Poljan said of COVID-19 concerns. "During that time, I really learned the playbook."
However, it wasn't till the third day of camp that Poljan says he figured out that the anticipated starting quarterback, Brennan Armstrong, was left-handed.
Coming from Big Ten country, there otherwise was an early bond between Poljan and Armstrong, whose Shelby, Ohio, home is just over 150 miles from Lansing.
"I showed up and it was like, 'Wow, which one's that?' " Poljan said of his first impressions of Armstrong. "It definitely turned my eyes right away. I can already feel the chemistry with him."
The Cavaliers will employ at least two tight ends, including Grant Misch, a 6-foot-4, 250-pound sophomore whose lone reception in 2019 came on a 6-yard touchdown pass at North Carolina.
"We bonded quickly, with [Poljan] getting there right at the beginning of camp," Misch said. "We started doing hard things right away. It's helpful to have a great player in front of — and somebody older than — me because he's been doing it longer.
"From a year ago, I'd say I'm miles ahead of where I was. With Tony's athleticism, he's been able to do a bunch of different things for us."
Be the first to know
Get local news delivered to your inbox!