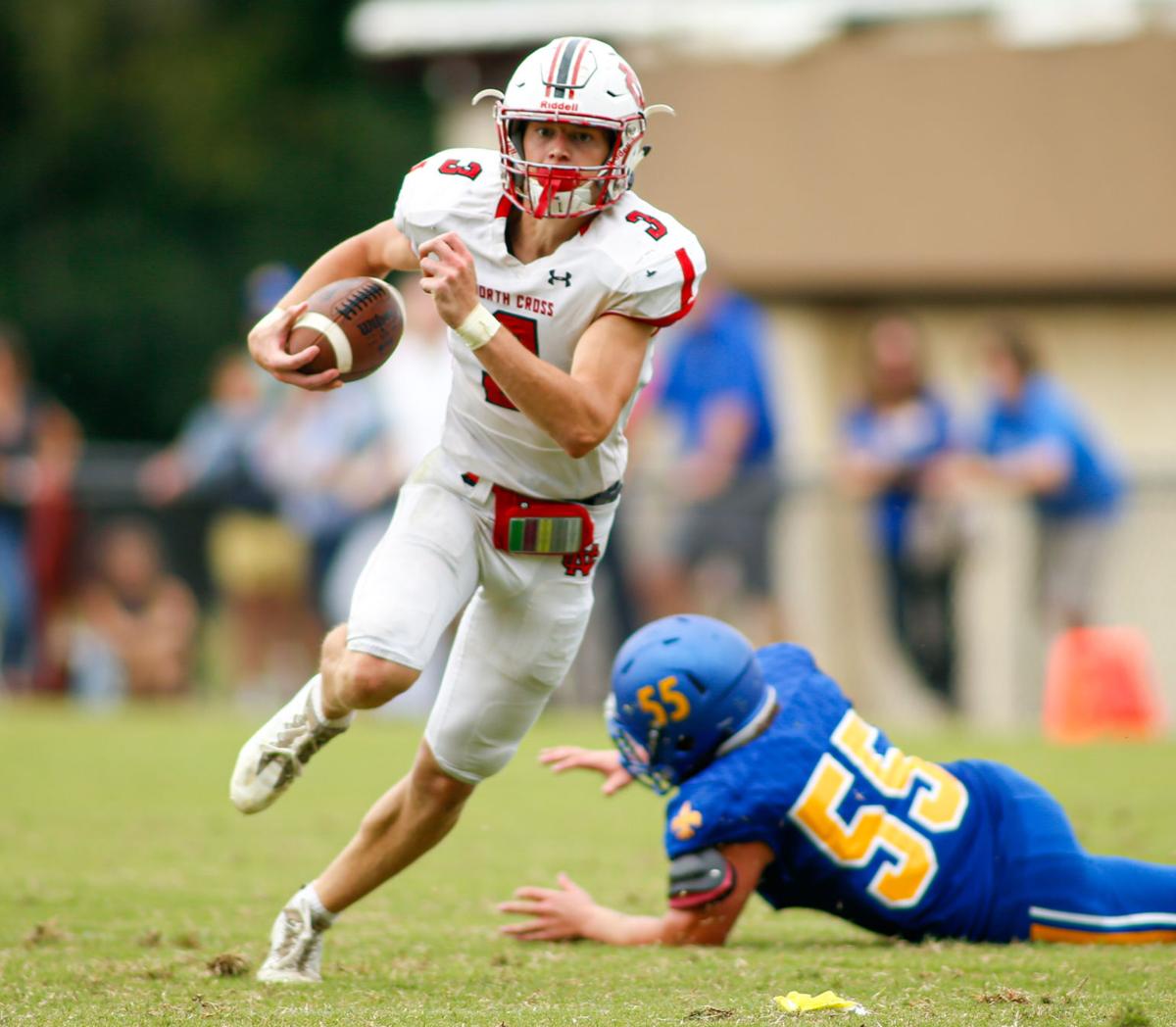 While North Cross School doesn't have a history of churning out Division I football prospects,
it's never too late to start.
That's been the case with James Jackson, an all-state selection on offense and defense for the Raiders' state championship team this past season.
On Sunday, Jackson made a verbal commitment to Virginia, one of 10 FBS schools from which he had received scholarship offers.
Jackson, a 6-foot-3, 200-pound linebacker, said he picked UVa over Stanford from a final four that also included Wake Forest and Louisville.
It's likely that he will get a shot at the outside linebacker spot once manned by Shannon Taylor, the defensive coordinator at North Cross and a former player for UVa and the NFL's Baltimore Ravens.
Taylor also coaches Jackson on the North Cross boys basketball team.
"When he came to us, he wasn't really sold on football," Taylor said. "It was more so academically. He played sports, so we enrolled him."
He was 183 pounds upon his arrival and was slotted at safety.
"He's got really good hips; he's an explosive kid," Taylor said, "but I thought, to play Division I ball, he'd have to move into the box [at linebacker] and gain some weight."
Jackson was recruited by UVa assistant Kelly Poppinga, who coaches outside linebackers.
"James went to their camp last summer [in 2019] and the only question was, he weighed 188," Taylor said. "I've been on a couple of Zoom calls with their coaches and they like their guys to be long and James is all about that.
"His potential is through the roof."
Jackson, who transferred to North Cross from Pulaski County, said he had been committed to UVa for about a week but wanted to let his family know before he announced it.
"When I first came to North Cross, I wasn't even thinking about football," he said. "I think it was around the middle of my sophomore year that coach Taylor told me that he thought I could play at the next level.
"I didn't know what he meant by that, whether it was FBS or FCS or whatever. I just trusted him and worked with him all that summer. From then on, it was a goal of mine. I liked basketball better in my first couple of years of high school."
Coming from the New River Valley, UVa was not a program with which Jackson was familiar.
"I was never like, 'Ah, I want to go to UVa,'" he said, "but I love the school from what I've seen of it. But, that's just a bonus. I didn't pick [UVa] because of that. It was the coaching staff and the culture there."
He was the 19th player to commit to Virginia, whose 2021 class is ranked 22nd nationally by Rivals.com.
"Recruiting has gone all virtual because of the caution schools have to take with the coronavirus [pandemic]," Jackson said, "I was on the phone for hours with different coaches. Recruiting was fun for me and it was a different experience but I was ready to make a decision."