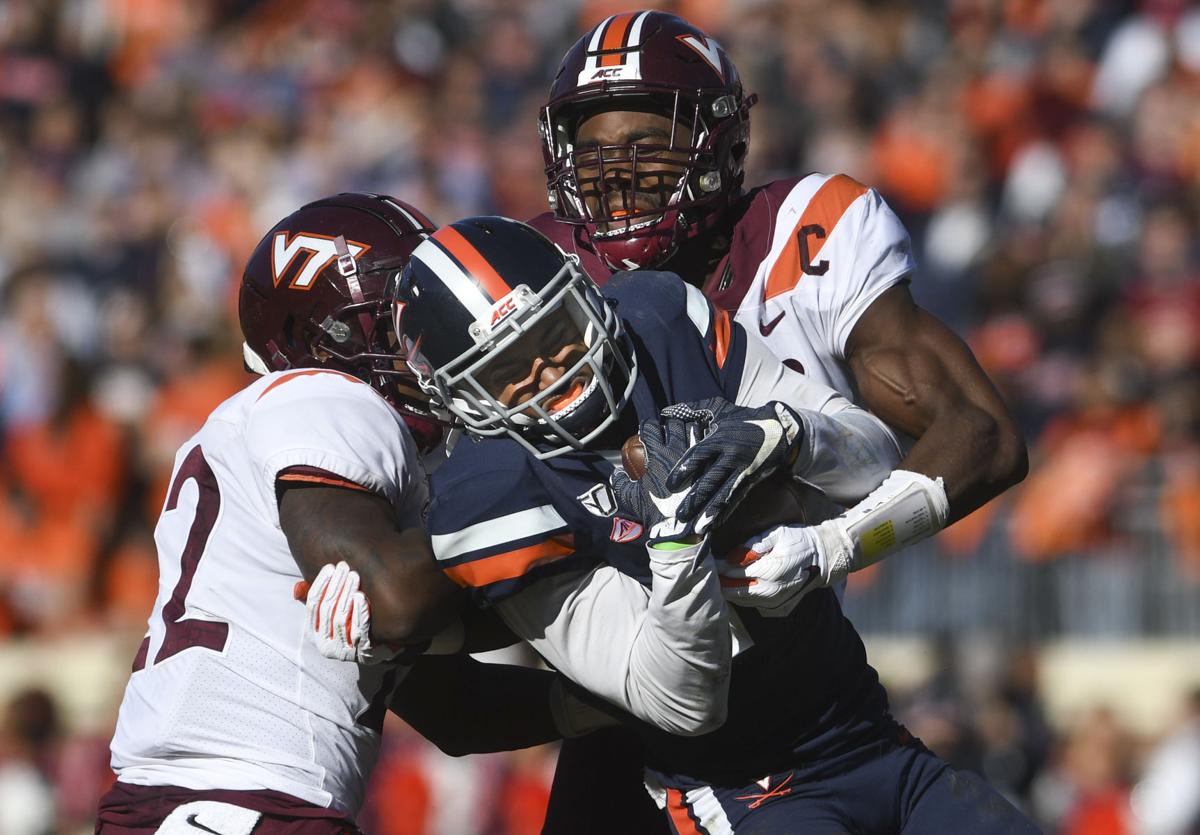 Sheer numbers speak to the role that awaits Terrell Jana as Virginia's football team looks to replace two premium wide receivers.
That's the challenge on the field. In the meantime, administrators, coaches and players have had to deal with the COVID-19 pandemic.
Until last week, Virginia and its ACC rivals didn't have a schedule, not that anything is etched in stone at this point.
"It's still stressful," said Jana after Thursday's release of the ACC schedule. "We still don't know if we're going to get through the season or, if the students come to school, will they all be sent back home."
For Jana, that would be Vancouver, in Canada's British Columbia, the place where he began a journey that afforded him a chance to play at college football's highest levels.
Jana first came to prominence at a Texas passing camp operated by Ted Stone, the father of reserve UVa quarterback Lindell Stone, who was previously a classmate of Jana's at Woodberry Forest, a private boys-only school northeast of Charlottesville.
"We've been together pretty much from the start," Jana said. "I didn't really have a clue, to be honest. I didn't know UVa till they offered me. I knew Virginia was in the ACC conference. They were D-I. That's about all I knew."
He described Woodberry Forest as "a complete culture change" and not unlike the bubble in which the UVa players find themselves now.
"Getting my parents to let me go [to Virginia] was a bit of a hassle, but they finally did," Jana said. "It was the best chance I had, so I did it."
Jana was rated a three-star recruit on the Rivals.com five-star scale and was listed with offers from only three other schools — Maryland, Marshall and Old Dominion.
"I was just trying to find my niche and contribute to the team as much as I could," he said. "It was the end of my second year when I said, 'I can actually do this.' Last year, it started to show up."
Jana (6 foot, 190 pounds) has played in 38 of 40 Virginia games during his career, with 11 of his 14 starts taking place last season.
He joined seniors Hasise Dubois and Joe Reed as one of three UVa receivers with between 74 and 77 receptions.
Of the returning players, only Jana and Billy Kemp had as many as 35.
Jana's breakout game occurred last year at North Carolina, where he had 13 receptions for 146 yards in a 38-31 Virginia victory at North Carolina.
That's when he started to emerge as one of the team leaders, a role that he shares with linebacker Charles Snowden, a fellow unheralded member of what was the 58th-ranked Rivals.com recruiting class, according to Rivals.
"I'm glad my teammates view me that way," Jana said. "We've got a lot of good leaders in my class. Our class is talent-rich in that respect. Snow and I are always in conversation about something."
Quarantining and the coronavirus haven't canceled the periodic seven-on-seven sessions, which has given Jana a look at Keytaon Thompson, a graduate transfer quarterback from Mississippi State who will vie with 2019 back-up Brennan Armstrong and others.
"They're both making plays, which is awesome," Jana said. "I think fall camp will be a better opportunity to separate themselves."
Be the first to know
Get local news delivered to your inbox!