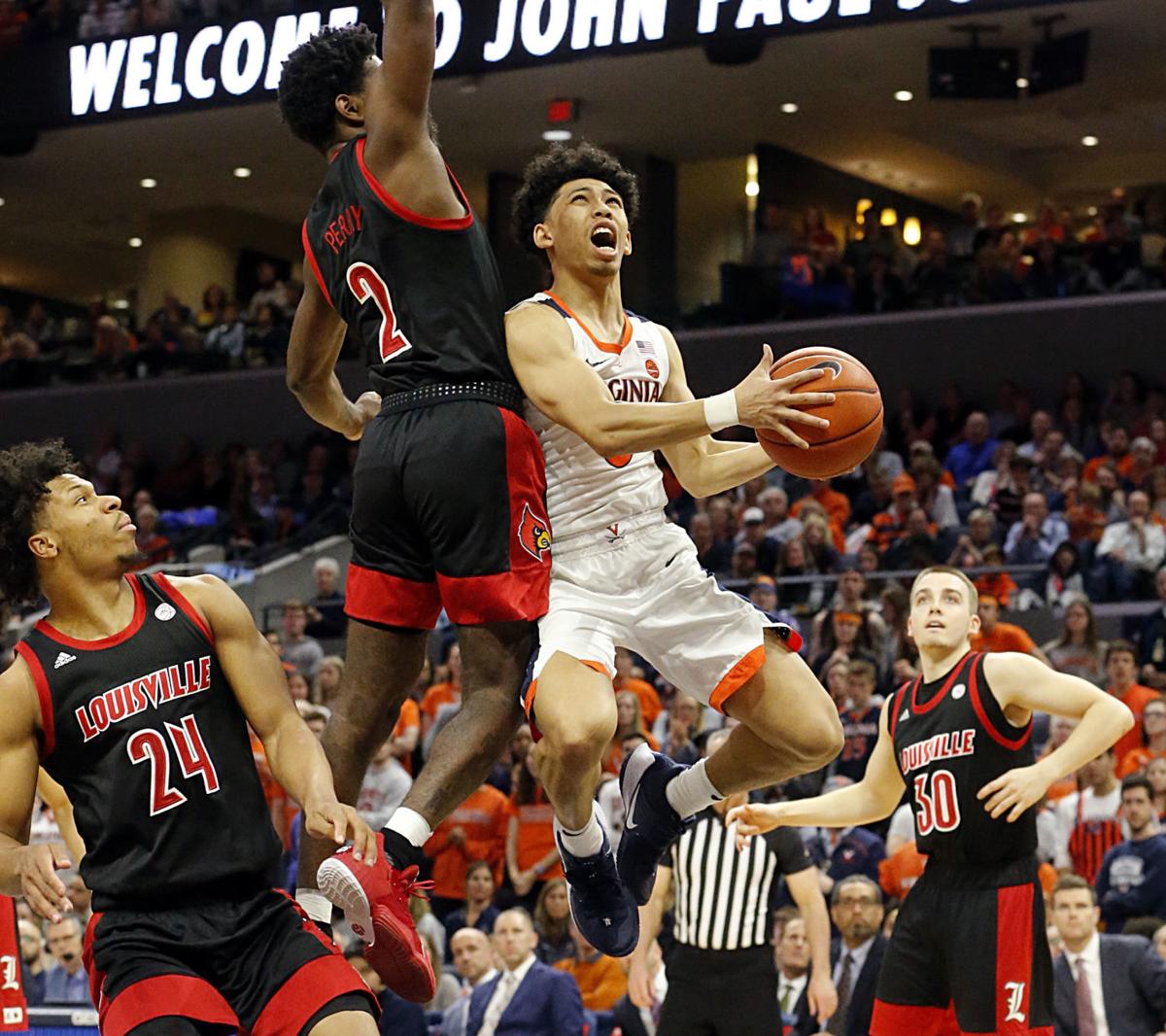 As the Virginia men's basketball team kept putting together wins at the end of the regular season, its future looked brighter by the day.
That's not to say the Cavaliers weren't focused on the present.
"We were very confident," said Mamadi Diakite, the team's leading scorer for the season. "We were ready to surprise the world. We were ready to do something special."
The Cavaliers had earned a double-bye for the ACC Tournament, where they were preparing for a quarterfinal matchup with Notre Dame when the coronavirus ended the college season.
The polls would not have indicated that Virginia (23-7, 15-5 ACC) was on the verge of a repeat NCAA championship, but the Cavaliers were entering the postseason on an eight-game winning streak.
After spending the middle of the season outside the Associated Press Top 25, the Cavaliers ended the year at No. 16. In early projections for the 2020-21 season, they are ranked No. 3 by USA Today, No. 7 by CBS Sports and No. 8 by ESPN.
Their only senior starters were Diakite and Braxton Key, another regular for the national championship team who had transferred to Virginia after spending his first two seasons at Alabama.
"It's bittersweet that we ended it on a win together," said Key, referring to a 57-54 victory over No. 10 Louisville on senior day.
"We wanted to go further. We talked about it all year. We thought we could go to the Final Four, and I thought we were getting hot at the right time.
Helping to fill the void will be a trio of perimeter players — signees Jabri Abdur-Rahim, Reece Beekman and Carson McCorkle. It's a recruiting class that 247Sports and Rivals both rank among the nation's top 15.
They will be making their UVa debut with Sam Hauser, a 6-foot-8, 225-pound forward who sat out the 2019-20 season after transferring from Marquette.
Hauser started 97 of a possible 101 games in his three years at Marquette, where he averaged 14.9 points and 7.2 rebounds as a junior in 2018-19.
"Sam is a force," Diakite said this week. "He's an offensive force. He's very skilled. I don't think you can give him space. He prepared us for every game. He was unbelievable.
"I think he's going to surprise a lot of people. I'm going for ACC player of the year next year for him."
Another frontcourt player who will take the floor in 2020-21 is 6-11 Kadin Shedrick, who was redshirted this past season.
"Kadin is very raw, athletic and long," Diakite said. "He's going to have some minutes so he can get used to the rhythm. He's got to take the little role he'll have and not be discouraged."
At the present time, Virginia is slated to have 12 scholarship players on its roster, one under the NCAA limit, so one more player could be added.
"Potentially a transfer or a high school kid," said associate head coach Jason Williford, a former UVa player who has been with the program for 20 years.
"I don't know how many coaching changes there will be but maybe a kid with a [college] coaching change that's getting out of his letter."
A name that has come up in recent days is Johnny Juzang, a 6-6 guard from Los Angeles, who visited UVa in the fall of 2018, only to sign with Kentucky later in the year.
Juzang, who played in 28 games for Kentucky this past season and averaged just over 12 minutes, entered the NCAA transfer portal this week.
"There's still so many questions with the incoming guys," Williford said. "I know we'll miss the Mamadi-Braxton athletic forward that can defend and rebound.
"You'd probably like to have another one of those guys, somebody who could do a little bit of what Braxton could do and like De'Andre Hunter the year before, one of those tweener forward positions."
Virginia has not used all of its scholarships in recent years, and Williford considers that a good thing.
"If you use them all, you either hamper or stunt the growth of one of the current guys," he said. "Then you get some disgruntled guys who want to leave.
"We don't necessarily have to use it. I think all options are on the table, though."
In their NCAA championship season in 2018-19, the Cavaliers had 321 made 3-pointers in 38 games. This year, UVa made 170 3-pointers in 30 games.
The Cavaliers' shooting percentage from behind the arc dropped from 39.5% in 2018-19 to 30.4% this past season.
As a junior at Marquette in 2018-19, Hauser was 88 of 219 on 3-pointers (40.2%), statistics that this year would have led Virginia in both 3s made and percentage from beyond the arc.
"I think he has the capability to be an All-American," Key said. "He's a guy who gave me and Mamadi fits in practice. Some days he just wouldn't miss.
"This team next year will be really good and I can't wait to watch them play from afar."
Be the first to know
Get local news delivered to your inbox!