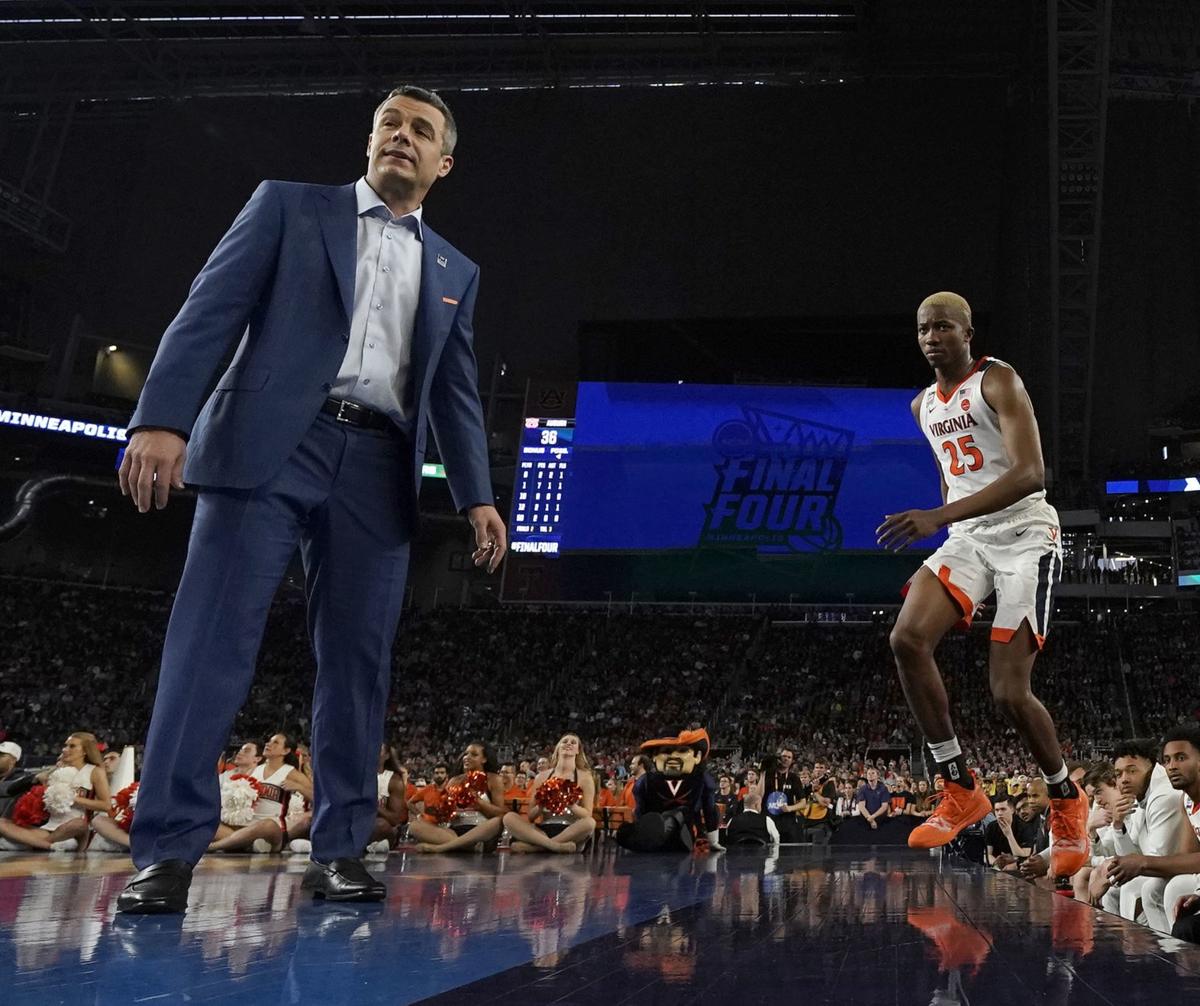 In his first 10 seasons as Virginia men's basketball coach, Tony Bennett opened the season against the likes of South Carolina State, Morgan State and Longwood.
Things will be a little different Wednesday night, when the Cavaliers face perennial power Syracuse at the Carrier Dome in a game that will be aired at 9 p.m. on the new ACC Network.
Virginia has gone 3-1 at the Carrier Dome during the Bennett era, including a 79-53 victory on March 4, when the Cavaliers rallied from a six-point first-half deficit.
The Orange have bested UVa on occasion, most notably in the 2016 Midwest Region final in Chicago, where Syracuse rallied from a 15-point second half to defeat No. 1-seeded UVa with a Final Four spot on the line.
Virginia is 9-1 in season openers under Bennett, with the lone loss occurring at George Mason in 2012.
The Cavaliers' talent level has improved over the years, so much so that three UVa underclassment — De'Andre Hunter, Ty Jerome and Kyle Guy — made themselves available for the NBA Draft.
Hunter and Jerome were selected with the Nos. 4 and 24 picks in the first round and Guy was taken in the second round with the No. 55 pick overall.
If there was a silver lining, it was the 11th-hour decision by 6-foot-9 Mamadi Diakite, redshirted early in his career, to return for a fifth season.
Diakite averaged 7.4 points during the 2018-19 season, tops among returnees. Also back is 6-8 Braxton Key, who averaged a team-high 5.3 rebounds last season, and sophomore point guard Kihei Clark, who started 20 games last season and had a 97-39 assist-turnover ratio.
Help is on the way with a Top 25 recruiting class headed by a pair of four-star recruits, combo guard Casey Morsell from the Washington, D.C., area and 6-11 Kadin Shedrick from Holly Springs, North Carolina.
Bennett has hinted that Shedrick might be redshirted, a common UVa practice in recent years.
Franciso Caffaro, a 7-foot, 244-pounder from Argentina who goes by the nickname "Papi," sat out the 2018-19 season but has been compared to former banger Jack Salt.
"I had surgery last year, so I didn't really have the option," said Caffaro, who played in the Under-19 world championships in Greece last summer. "Sitting out and watching everything from the outside and being at practice, that helped me a lot and got me prepared for what college was like.
"So, I'm actually happy that last year happened."
Kody Stattman, a 6-7 wing from Australia, played in only seven games last year but is thought to have the 3-point range and shooting touch to help make up for the loss of Hunter, Jerome and Guy.
"Being one of the main contributors for the Australian [junior] team boosted my confidence a lot," said Stattman, a potential starter. "It helped me get the feel of the game back. I wasn't the greatest defender coming in but now I've gotten used to the system."
Newcomers include 6-8 Justin McKoy, who originally was headed to Penn State, and junior-college transfer Tomas Woldetensae, who was 100-of-210 on 3-pointers last year at Indian Hills (Iowa) Community College.
"He's been very impressive shooting the ball," veteran Jay Huff said.
What jumped out at Bennett as he was finalizing the roster was the size of the team. And, that's with 6-8 Sam Hauser sitting out the season after transferring from Wisconsin.
Huff, a redshirt junior, is the tallest player on the team at a listed 7-1. He has played in a total of 46 games over the past two seasons, including 34 last year, but his next college start will be his first one.
"Being one of the older guys, I've tried to take on a little bit of a leadership role, whatever that might mean," Huff said. "I don't think experience will be much of an issue. These new guys, I think they know what they're doing. Most of them seemed to have learned a lot faster than I did."
Offense could be an issue for a team that does not have a returning scorer who averaged more points per game than Diakite did (7.4) last year. Morsell, from St. John's Prep in Washington, D.C., averaged 17 points in one of the top leagues in the country.
"Casey's defense is spectacular and that's one thing here, as a first-year, that's hard to master," said Huff, who noted that pesky walk-on guard Chase Coleman is a legitimate Division I talent.
If there is an All-ACC player on the team, it would have to be Diakite, whose game-winning buzzer beater against Purdue in the South Region final was the difference in the Cavaliers making it to the Final Four.
"He's improved, really, in all areas of his game," Bennett said. "I think his shot is better. He's scoring better. He's always been athletic and can protect the rim. I think he understands that there will be some more opportunities for him.
"I think all of the experiences he's had, from having to be patient early on and having a big part in certain games and then having to go through the draft process, I think all of that has improved him.
"He'll face more things this year as a player for UVa that he has not faced in the past, being more of a marked man. He's always full of life and energy and I know he wants to lead this team to the best of his ability."