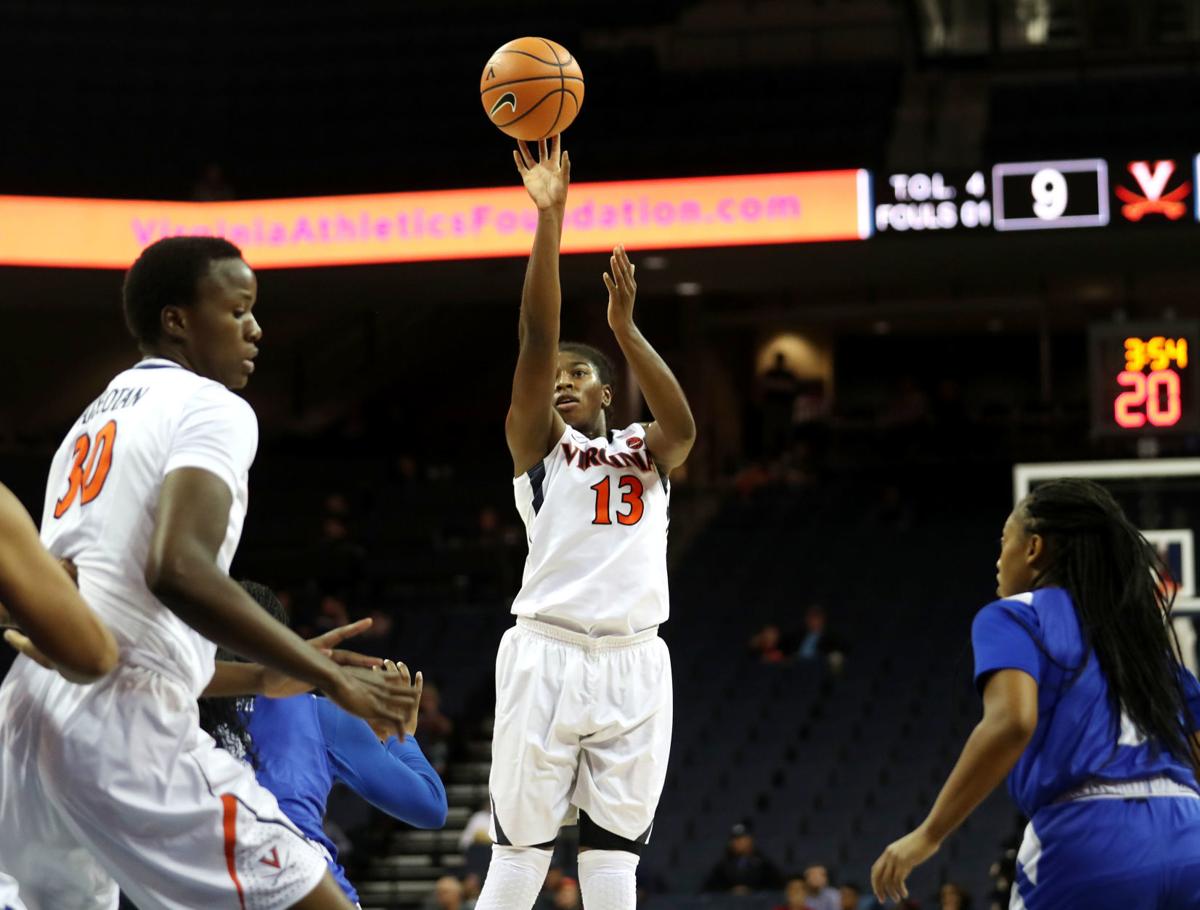 CHARLOTTESVILLE — Virginia has a women's basketball roster that is like few others.
Of the 11 players listed on the squad, four are seniors and six are freshmen or redshirt freshmen.
Dani Lawson, a transfer from Purdue, is the only sophomore and she has yet to play for the Cavaliers after sitting out the 2018-19 season.
What's more, 6-foot-9 senior Felicia Aiyeotan is listed on the roster but has given up basketball following a diagnosis of Marfan syndrome, a genetic disorder that affects the body's connective tissue and can affect the heart, bones, blood vessels, eyes and lungs.
Four others with remaining eligibility left the program after a 2018-19 season in which the Cavaliers went 12-19 under first-year head coach Tina Thompson.
It was one of two losing seasons for the UVa women in the past 15 years.
"We're not extremely deep," Thompson said, "but we definitely have more players than we had a season ago. That's a blessing for sure."
UVa used seven players in each of its two ACC tournament games, including a 77-61 victory over Boston College. Only three are still on the roster.
Fortunately for the Cavaliers, two of them are career 1,000-point scorers, seniors guards Jocelyn Willoughby and Dominique Toussaint.
A third senior is Luxembourg product Lisa Jablonowski, a 6-foot-3 forward who started the last 26 games of the 2018-19 season. She was UVa's No. 4 scorer (7.2 ppg) and second-leading rebounder (194).
Amandine Toi, a touted 5-10 guard from France, has yet to appear in action for the past two seasons due to preseason injuries to both knees.
"The conversation that I have with her on a daily basis is just kind of to tackle each day and don't worry about the future, don't worry about what people are thinking and just stay in the moment," Thompson said.
"Where she once was, she'll eventually get there. She has to let her body keep up with her mind. I have intentions and expectations of her having a big role on this team."
The Cavaliers' highest-rated signee was Wisconsin player of the year Shemera Williams, a 5-foot-8 guard who averaged 32.5 points and 10.3 rebounds at Milwaukee Academy of Science.
Williams, given a four-star rating out of five by ESPN.com, scored 3,210 points in her high school career, good for second place on the all-time Wisconsin scoring list.
She originally was committed to Marquette before flipping to Virginia when former Marquette coach Carolyn Kieger resigned after being hired by Penn State.
UVa's five-player recruiting class included Meg Jefferson, a 6-3 post player from Australia; three-time all-state guard Carole Miller from Alexandria and a pair of guards with California roots, Dylan Horton and Kylie Kornegay-Lucas.
The Cavaliers have prepared for the season by practicing against males recruited from the student body. It's not the first time that a women's team has taken that approach.
"It's definitely good for us because we're going against guys and they're a little faster and a little bigger and stronger at times," Thompson said. "It gives us a test on a daily basis."
Willoughby has been a model on and off the court and last year served as a non-voting member of the Division I Women's Basketball Committee. She also lived on "the Lawn" in the shadow of UVa's Rotunda.
Willoughby and Toussaint came in with Aiyeotan, who missed 11 games with an early-season knee injury and did not play after Jan. 24. She had played in every game over the previous two seasons.
"Granted, she's still with the team," Willoughby said. "She comes to all of our practices and team activities. We try and give her that support and base. And it's not like she's not here. The three years we've spent together, you can't dismiss them.
"Circumstances have changed. It's difficult, obviously, to realize that some of her hopes and dreams and goals that she had are gone. The way I process that is, it's more motivation for me. One of the things I dislike the most is when people take the little things for granted.
"Every day you step on the court is a privilege."
Be the first to know
Get local news delivered to your inbox!