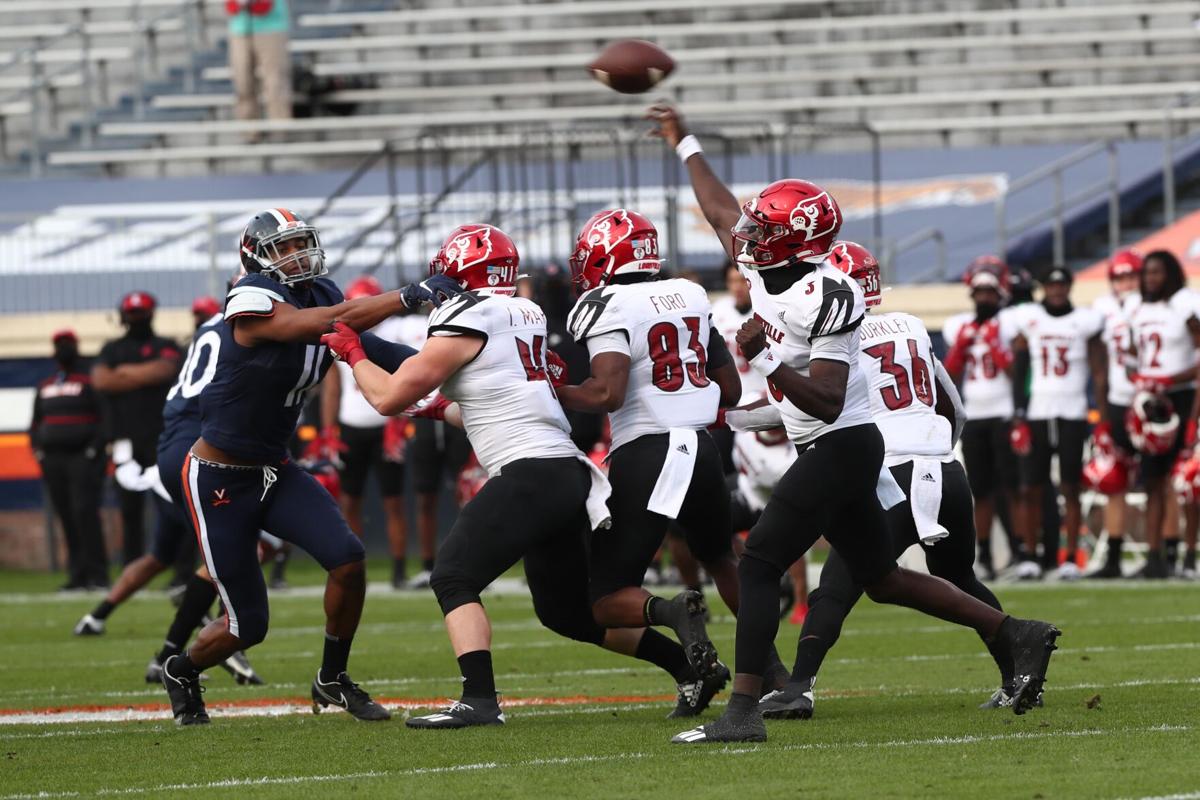 Louisville football coach Scott Satterfield was convinced that turnovers would decide the Cardinals' game Saturday night at Virginia.
Clearly, the Cavaliers were paying attention.
It's hard to say there was a bigger play in the game than an interception and 85-yard return for a touchdown by UVa linebacker Noah Taylor with 7:13 left in the first quarter.
Louisville had picked up four first downs in driving from its 30-yard line to the Virginia 10. The Cardinals briefly held the lead in the second quarter, but UVa pulled away for a 31-17 victory.
Louisville quarterback Malik Cunningham accounted for 358 yards in total offense, and the outcome remained in doubt when Cunningham took off down the field midway through the fourth quarter.
Cunningham was stopped by UVa cornerback Nick Grant, a senior who wrestled Cunningham to the ground and, in the process, stole the ball from him.
"We talked about it Friday night, that it would come down to turnovers and turnover margin," Satterfield said. "It came down to that again today. You can't turn the ball over if you ever want to win football games.
"That was the difference in the game and the reason we came out on the short end of the stick."
It was clear to see how the Cardinals weren't the same team as they were last year, when they beat the Cavaliers 28-21 in Louisville.
Two of the weapons that day were running back Javian Hawkins and wide receiver Tutu Atwell. In 2019, Hawkins had rushed for 136 yards and two touchdowns, and Atwell had caught six passes for 122 yards and another TD.
"You're developing a game plan throughout the week and our idea was that they would not be available," Satterfield said after Saturday's game. "We were short-handed on both sides of the ball tonight, and we got a couple guys back, but we got them back today.
"They didn't practice for two weeks and hadn't been out there, so it's hard to ask them to go out there at a high level."
On the flip side, Virginia freshman Lavel Davis Jr. hadn't skipped a beat despite missing the previous three games with an undisclosed condition. He had four receptions for 74 yards and one touchdown against the Cardinals on Saturday.
Three of Davis' receptions came in the fourth quarter, including a 24-yard completion to the Louisville 6-yard line. Davis received an unsportsmanlike-conduct penalty for taunting and the Cavaliers had to settle for a field goal in what was a one-score game at the time.
"As teams want to defend against our run game [and] as they want to defend against our quarterback, they've got to know there's a bigger risk," UVa coach Bronco Mendenhall said.
Be the first to know
Get local news delivered to your inbox!