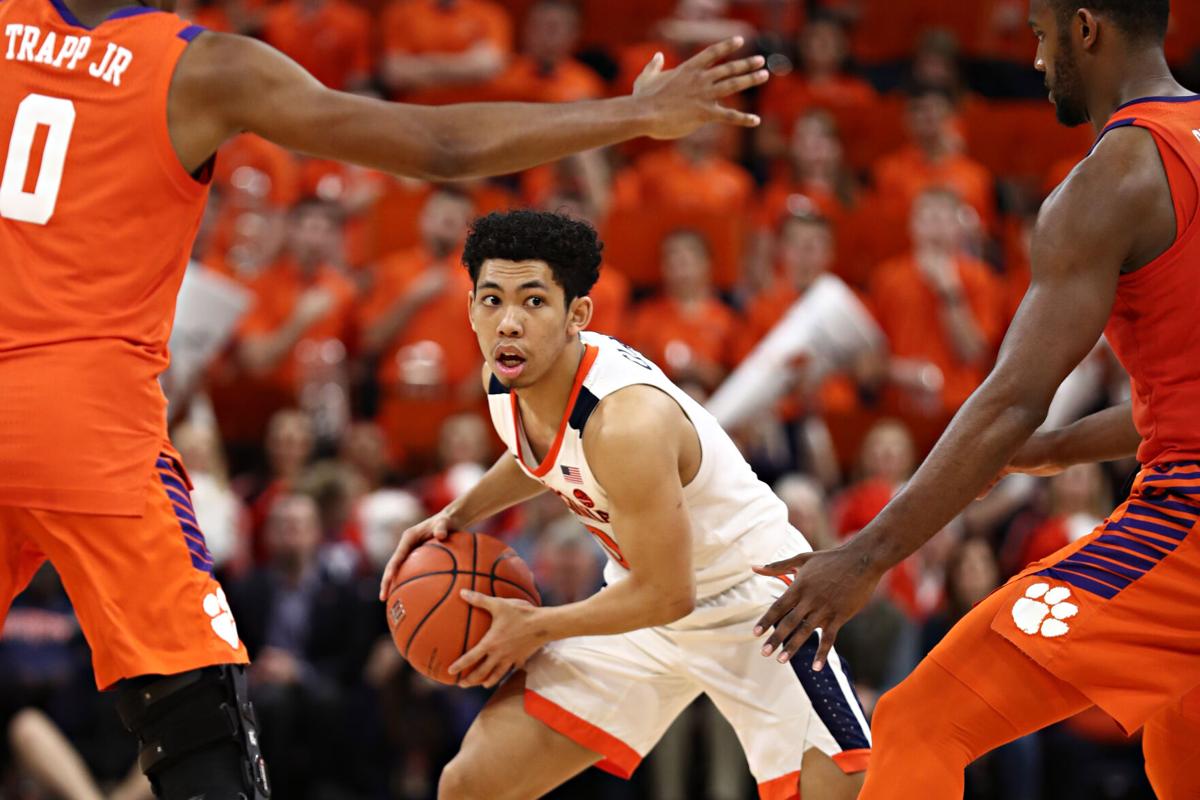 CHARLOTTESVILLE — Coming off a season that had no NCAA Tournament because of COVID-19, the University of Virginia men's basketball players want to play. Playing this year means avoiding COVID-19 as much as possible. Avoiding the virus as a team is only half the battle, as it doesn't guarantee your opponent won't face an issue related to COVID-19.
Virginia was supposed to open the season Wednesday against Maine at the Mohegan Sun, but Maine reportedly had to withdraw from the Mohegan event Tuesday because of COVID-19 issues. So UVa will play Towson at the Mohegan Sun at 1:30 p.m. Wednesday instead.
UVa's highly anticipated matchup at the Mohegan Sun against Florida, which was originally scheduled for Friday, won't happen due to positive tests within the Gators' program. UVa will play San Francisco on Friday instead; the game will still be at 11:30 a.m. on ESPN.
Virginia, the ACC preseason favorite, wants to win this season. It also wants to take the court as much as it safely can.
"I'm just hopeful we can get all of our games in, first and foremost," forward Sam Hauser said earlier this month. "It's been a lot different, just the outlook to everything, because we really don't know what's going to happen next week, next month, for the rest of the season."
Coach Tony Bennett echoed Hauser's thoughts.
"There's a good verse in the Bible that says, 'Worry about today, for tomorrow has enough trouble of its own,' so we're just taking it really like every coach would tell you — get as good as we can with the ways that we can and prepare and be hopeful," Bennett said. "You know, really being hopeful for what could be."
For UVa, what could be is another national championship.
Bennett's group returns Kihei Clark and Jay Huff, and Hauser joins the mix as a talented wing. There's additional depth surrounding Clark at guard with returning shooting guards Tomas Woldetensae and Casey Morsell. At forward, Justin McKoy should earn minutes for the Wahoos.
Other big men include backup center Francisco Caffaro, who can spell Huff when UVa's star center needs a breather. Three top recruits headline one of UVa's best freshman classes in recent memory, and all three players could earn minutes this season.
The roster looks fantastic for Virginia. The on-court questions are minimal, but off-the-court concerns remain. How many games will the Cavaliers be able to play this fall? If they do play, what will the games be like?
Attendance across the country is expected to be minimal given the health risks associated with bringing thousands of people into an indoor arena to watch a game. UVa's typical home-court advantage of roughly 14,000 fans per home contest may sit at just a few people made up of family members of players and coaches.
"It'd be like scrimmages, I guess, where there's nobody in the stands, but it'll be interesting and we know that we're gonna have to generate a lot of our own energy throughout the team if there's not a lot of fans," Clark said.
The college basketball season figures to play out differently than a normal year in some ways. Players may miss contests due to positive COVID-19 tests or contact tracing, and schedules should be written in pencil as they are all but guaranteed to be altered.
At the same time, it's still basketball. In some ways, the virus makes it easier for student-athletes to focus solely on basketball and their teammates, which could lead to the historically great programs with elite coaches finding the most success.
"In terms of basketball-wise, it's been a time where you can kind of really lock in on basketball itself," Hauser said. "Not having in-person classes, you're having online classes, you kind of have more time to spend with your teammates on and off the court, so I think in that aspect it's been good for basketball."
The focus lies on getting through each day and attempting to stay safe. COVID-19 will certainly impact the season.
The Cavaliers hope to minimize that impact as much as they possibly can.
"You just try to prepare as best as possible and just try to maintain your distance and just try to stay safe so you can be able to go out there and compete," Clark said. "Just try to make sure your teammates are staying safe and make sure they're following protocols but anything can happen, so you don't really know what to expect.