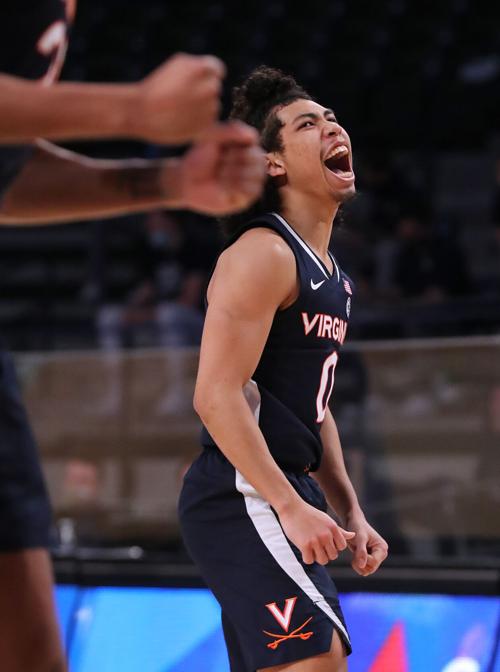 After Kihei Clark pulled up and shot an airball with 11:33 to play and Virginia down a point at Georgia Tech on Wednesday night, coach Tony Bennett had an unusual reaction.
"I said, 'Good shot," Bennett said. "And then he kept shooting. Those of us who watch him know, he's got that heart inside. He's kind of fearless. And we needed it."
With the Yellow Jackets focusing defensively on senior forwards Sam Hauser and Jay Huff, and playing off Clark, the junior point guard turned aggressive in the second half and turned around the game for the No. 9 Cavaliers, who erased a 6-point halftime deficit and downed the Yellow Jackets 57-49.
"They were hugging up on Sam and Jay," Clark said. "They weren't really getting open looks, so I just had to make my shots."
In the first meeting between the teams, Clark's only basket of the contest was the game-winner for UVA with 1:08 to play.
Wednesday night in Atlanta, it wasn't one Clark shot that sunk the Yellow Jackets. It was the 14 points the junior point guard scored in the second half that helped Virginia beat Georgia Tech for the eighth straight time and snap the Jackets' 11-game ACC home winning streak.
After junior guard Trey Murphy III carried Virginia's offense in the first half, scoring 13 of his team-high 18 points before the break, Clark helped carry the Cavaliers (14-3, 10-1 ACC) to their third straight win, keeping them alone atop the conference standings.
Clark, who was held scoreless in the first half, missing all four his shots in the opening 20 minutes, got going in the second half, confidently taking 3-pointers when Georgia Tech defenders played off him.
"We just needed to make some outside shots to loosen it up," Bennett said. "I kind of just tried to wind our guys up at halftime. … You got to go make some plays."
Clark hit one with 13:16 to play that cut Virginia's deficit to 36-34. He stroked another with 7:39 left that trimmed Georgia Tech's lead to 42-41. That started a stretch where Clark scored 8 points in a 3:02 stretch. His 3-pointer with 4:37 to go gave UVA a 48-44 advantage.
Virginia already had won seven straight over Georgia Tech (9-7, 5-5), including pulling out a 64-62 victory this season on Jan. 23. In that game, Hauser scored 22 points.
But Wednesday night, checked by Yellow Jackets guard Jose Alvarado, Hauser struggled despite having an edge of 8 inches and about 40 pounds on Alvarado.
Hauser finished with 8 points but grabbed a game-high 10 rebounds and scored a basket with 49 seconds to play to seal the victory.
Alvarado led the Jackets on offense, as well, scoring 18 points.
Huff finished with 6 points, nine rebounds and four blocks.
As it did in the earlier meeting, Georgia Tech appeared headed to a victory for most of the game. But similar to the 64-62 Virginia win on Jan. 23, the Cavaliers controlled the final 10 minutes of play. That day, it was Hauser and Jay Huff who took over down the stretch.
This time, Huff and Clark helped rescue UVA, the last visiting team to win at McCammish Pavilion before Wednesday night.
Virginia's worst offensive first half of the season left it down 26-20 at the break. While Murphy III got off to a good start, scoring UVA's first 7 points and finishing with 13 in the first half, his teammates went a combined 3-for-15 shooting for 7 points.
But missing shots was only half of the Cavaliers' problem in the first 20 minutes. They committed 10 first-half turnovers.
The Yellow Jackets were far from on fire in the first half, and at one point midway through the period, both teams were mired in 1-for-8 shooting slumps. Still, through the slog, the Yellow Jackets managed a 13-2 run that put them up 15-9.
UVA came to life to start the second half, using a 9-0 run to take a 29-26 lead. But it really got going when Clark did.
"You could just feel it. Both teams were tired at the end," Bennett said. "We just got enough shots to go down and plays to be made and coupled it with sound defense."
Next for the Cavaliers, potentially, is Saturday's scheduled home game against North Carolina. The Tar Heels had to postpone their Monday night game after a video surfaced of some players, including Richmond native Armando Bacot, celebrating the weekend victory over Duke without wearing masks. But UNC is currently scheduled to visit Charlottesville for a 6 p.m. game.