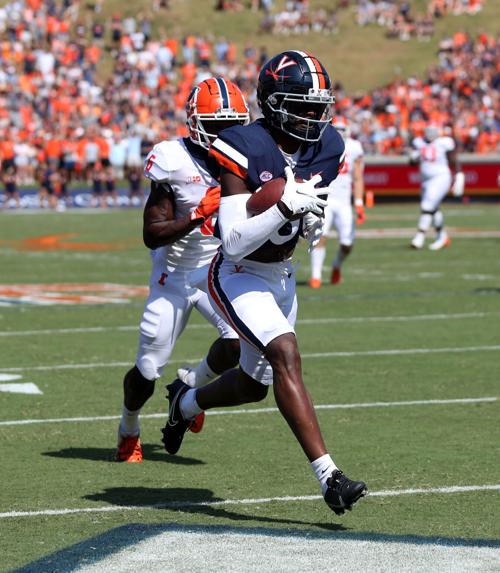 Hunter Markins went to Trey LeBlanc's house to pick up the quarterback for football practice in 2016. The Plaquemine High School quarterbacks coach noticed another high school kid on the couch.
"Who's that guy?" Markins asked.
LeBlanc told him it was his half brother, Dontayvion Wicks.
"I said, 'Well, man, good looking kid, why don't we get him to come out?" Markins said.
Wicks, a sophomore in high school at the time, viewed himself as a basketball player, but he agreed to join the football team. By the time he graduated high school, he was a dynamic wide receiver committed to Virginia.
He's gone from what Markins described as a quiet basketball player who shied away from contact to arguably UVa's best receiver in 2021. Entering Friday night's game against Wake Forest, Wicks leads the team with 346 receiving yards and three touchdowns. He's reeled in 14 receptions in the team's first three games, averaging 24.7 yards per catch.
"I didn't really imagine this," Wicks said Wednesday. "I really thought I was gonna go play basketball in college."
The journey to becoming a deep-play threat that torched North Carolina's defense for seven catches and 183 yards last weekend wasn't always easy. It took time for Wicks to fully commit to playing football.
Markins broke into laughter remembering the early days of Wicks joining the football team.
"He would come out some days, and it's real hot in Louisiana," Markins said. "When he first came out he's like, 'Coach, it's too hot out here.'"
Initially, Wicks wasn't thrilled about the prospect of lifting weights. Markins said Wicks didn't like soreness, particularly in the upper body, throwing off his jump shot.
Eventually, it clicked for Wicks that the weight room work made him stronger than everyone else on the field and court. When coupled with his natural athleticism, he became nearly unstoppable.
Whether it was weight lifting or a route concept, Markins said things came easily to Wicks. While some receivers on the team would need to run a route 100 times to figure it out, Wicks could run it a handful of times and have it down perfectly.
When Wicks arrived at UVa, the coaches were thrilled about his potential. He caught three passes for 61 yards and a touchdown in 2019, backing up players like Hasise Dubois and Joe Reed on the depth chart.
In 2020, he was expected to take on a larger role until he suffered a season-ending foot injury. Wicks tried to return early from the injury, but ultimately missed the entire season.
Finally, Wicks has been given significant game reps this fall. He's taken advantage of his chances.
"We saw signs of it all coming before he got hurt," head coach Bronco Mendenhall said.
The 6-foot-1 receiver has quickly become a favorite target for quarterback Brennan Armstrong. Entering Friday, Wicks' 346 receiving yards ranked second in the ACC, and he's had at least three catches and 60 yards receiving in each of UVa's first three games.
"I'm a lucky guy, and we're a lucky offense to have that guy," Armstrong said.
The offense is playing like one of the best in the ACC, thanks in large part due to the passing game. UVa averages 438.3 passing yards per game, the top mark in the ACC through three weeks. Only two other ACC programs, Pittsburgh and North Carolina, average 300 passing yards per game.
Wicks saw the offense's elite production coming during spring practice. With Billy Kemp IV and Keytaon Thompson also at receiver, the Cavaliers have elite talent at the position. Tight end Jelani Woods adds to the group of pass catchers. Prior to the season, the offense looked impressive in practices, Wicks says.
"I just knew we would be a dominant and explosive offense," Wicks said.
As for Wicks' basketball dreams, he's turned his attention toward football, but he still plays pickup whenever he can during the offseason.