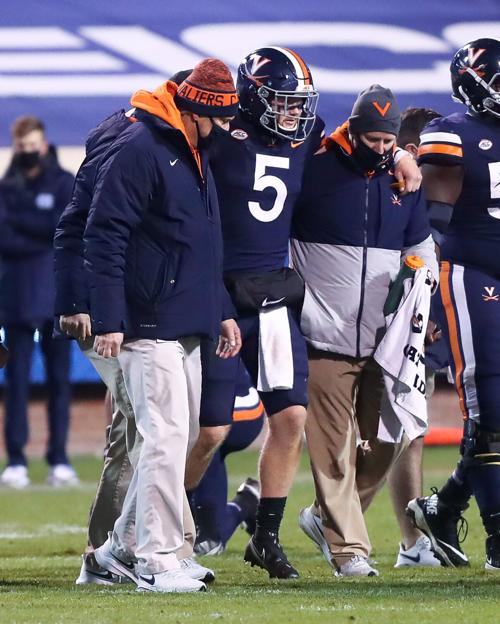 Lost in the Virginia celebration following a 44-41 victory over 15th-ranked North Carolina was the status of UVa quarterback Brennan Armstrong.
How badly was he hurt on the first play of Virginia's final series? Was he able to leave the field under his own power? Would he be placed in a concussion protocol, as he was after taking a blow to the head in a home loss to N.C. State?
He was able to walk to the sideline and enjoy the victory with his teammates.
Armstrong missed the second half of the N.C. State game in Week 2 and was not in uniform the next week at Wake Forest. A trip to Miami resulted in UVa's fourth straight loss, 19-14, but nobody was blaming Armstrong for that setback.
He was on top of his game against Carolina, passing for three touchdowns and rushing for a fourth.
The obvious question was whether it would keep him out of UVa's game with visiting Louisville, originally scheduled for Nov. 7, but pushed back one week because of a COVID-19 outbreak among Cardinals' players.
Armstrong, who) took his latest blow to his knee, couldn't argue with that.
"I'm feeling good," said Armstrong, chosen after the UNC game to break the rock, a custom for key performers after UVa wins. "I've just been rehabbing my knee. A lot of good, positive things came back [after tests]. I'm wearing a brace now and we're still rolling and preparing for Louisville."
Armstrong has rushed for 287 yards in five games, trailing tailback Wayne Taulapapa who has rushed for 330 yards in six games. Armstrong has a 32-yard run to his credit, the longest by a UVa player this year.
"I think what slowed us down early on this season was me turning the ball over," Armstrong said. "If I can take care of the ball, we're going to be able to put up points.
"You take away those [turnovers], we should be perfectly fine these next five games or six games, whatever it is. I'm really excited for our team. I think we are going to turn a lot of heads this way."
Receiver Lavel Davis missed
It appears that Armstrong and Co. will be welcoming 6-foot-7 freshman Lavel Davis back to the lineup after he missed the past two games for reasons that remained private. Three of Davis' four receptions have gone for touchdowns and he is averaging 52.5 yards per catch.
"When he wasn't there, I still felt like we were fine," Armstrong said. "I think [grad transfer] Ra'Shaun Henry stepped up big for us. Lavel is just a different person. The defense has a gameplan against what he has to offer. It's fine to get him back."
ODDS 'N ENDS: Virginia (2-4, 2-4 ACC) has registered 20 sacks through the first six games, compared to 12 for its opposition. … Defensive back De'Angelo Amos, a transfer from James Madison, has 36 tackles, which is fourth on the team and first among UVa defensive backs. He also has three pass break-ups and a blocked punt.
Be the first to know
Get local news delivered to your inbox!