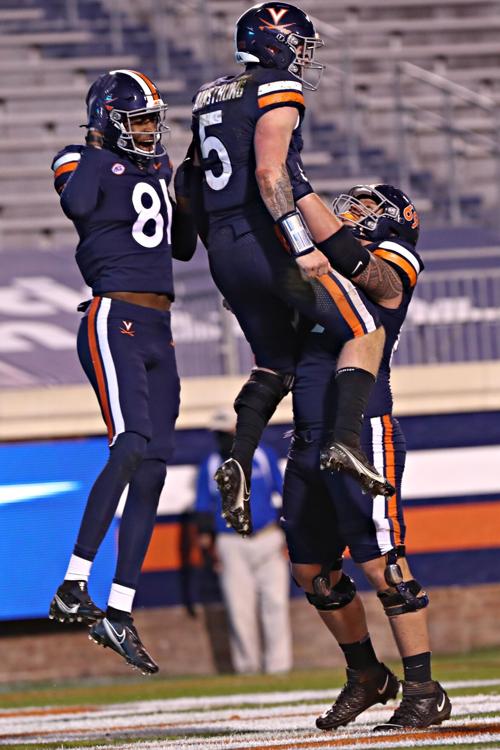 History has not been kind to Virginia football teams that have gone 2-4 in the first half of the season.
Prior to Saturday, the Cavaliers had found themselves in that predicament eight times since 1980 and it wasn't a sign of better things to come.
Only once, in 1988, were the Cavaliers able to make the best of a 2-4 start. That UVa team won its last five games to finish 7-4, although the Cavaliers did not receive a bowl bid.
A 31-17 victory over visiting Louisville on Saturday put the Cavaliers at 3-4 overall and in the ACC. It was the second straight win for UVa, which had defeated visiting North Carolina 44-41 on Oct. 31.
Virginia could have lost either game, particularly the Carolina game, which wasn't decided until the final minute. The Cavaliers were able to put away the Cardinals earlier than that, but Louisville had a significant margin in total yardage, 478-368.
The Cardinals were playing without their leading rusher, Javian Hawkins, who had rushed for 822 yards and seven touchdowns through the Cardinals' first seven games.
When asked about Hawkins' status when it was apparent that he wasn't in uniform, a Louisville official said that Hawkins was "unavailable." He said that a total of seven Louisville players fell in that category.
Clearly, the coronavirus has effected the Cardinals, who originally were scheduled to visit Virginia one week earlier.
The Cavaliers had gone through three days of practice when Louisville athletic director Vince Tyra announced Nov. 4 that the Cardinals would be unable to travel to Virginia at that time.
Fortunately, both teams had an open date Nov. 14 and Saturday night's game went off with a hitch for the most part.
Virginia entered the game as a three-point favorite and it was that kind of game. Louisville redshirt junior quarterback Malik Cunningham was terrific, putting up almost as much offense individually as Virginia did as a team.
Cunningham rushed for 197 yards and two touchdowns and passed for 161 yards.
His rushing total would have been over 200 yards if he hadn't been sacked four times (by four different players).
The Cavaliers jumped at the few chances they got, starting with an interception and 85-yard return for a touchdown by Noah Taylor on the Cardinals' first offensive series.
Another key for the Cavaliers was the return of Lavel Davis Jr., a 6-foot-7 freshman wide receiver who had missed the previous three games.
Davis had four receptions for 74 yards and one touchdown, his fourth of the season.
The game probably was closer than it should have been. At the end of the first quarter, UVa quarterback Brennan Armstrong connected with Tony Poljan on a 20-yard pass that Poljan fumbled at the 1-yard line, where the Cardinals recovered.
Louisville (2-6, 1-6) belongs in the ACC's Atlantic Division while Virginia (3-4, 3-4) is in the Coastal Division but they play ever year as scheduled crossover opponents in a 15-team league.
Their only other meetings prior to that were in 1988 in Louisville, where the Cardinals won 30-28 on a Ron Bell field goal with 10 seconds left, and in 1989, when UVa won 16-15 on a Jake McInerney field goal with three seconds left.
Former Louisville head coach Howard Schnellenberger hailed the Cardinals' win in 1988 as "one of the greatest of all time."
His opposing coach that day was George Welsh, the winningest coach in UVa history and a guy who was 0-5 to start his first season at Virginia in 1982 and had only one 2-4 start after that, the '88 team.
"It's [a 2-4 start] certainly not a position to be in," said Tom O'Brien, the Cavaliers' offensive coordinator under Welsh and later the head coach at North Carolina State.
"One of the great things about George was, he never got down. He just got more concentrated."
At 3-4, Virginia still has a long way to go, but it's better than 2-5 and, with Abilene Christian coming to Scott Stadium next week, who knows? The Cavaliers should be able to see .500 on the horizon.
Be the first to know
Get local news delivered to your inbox!