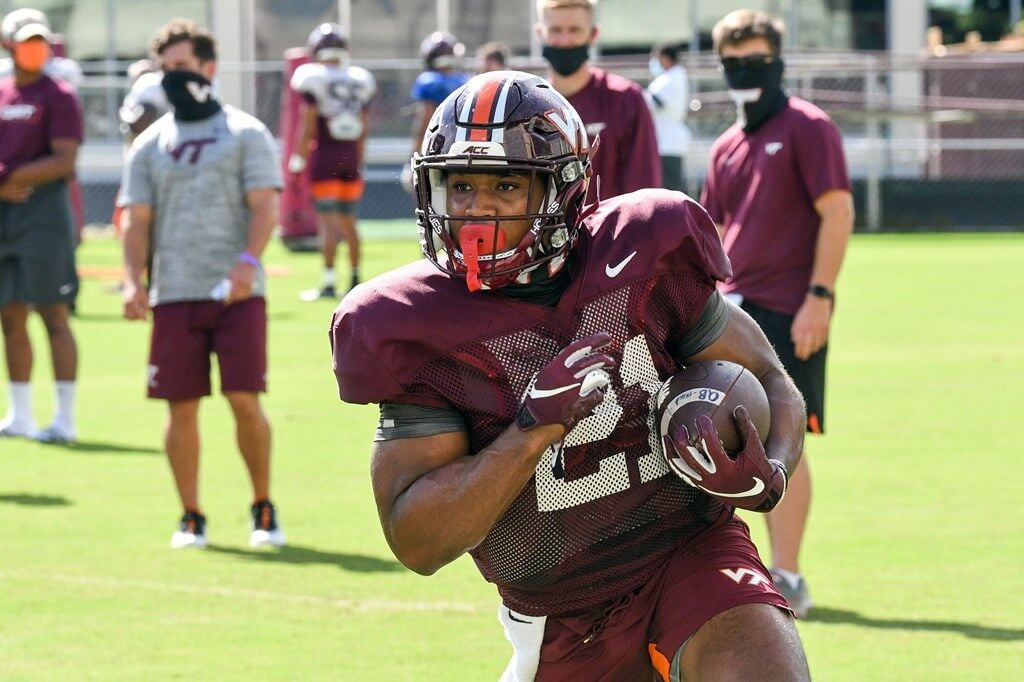 BLACKSBURG — Virginia Tech kicks off the 2020 season at Lane Stadium on Saturday night against N.C. State. 
Here's what to look for in Week 1...
---
Keep an eye on Khalil Herbert
Virginia Tech running back — Herbert got off to a blistering start last year at Kansas with 357 yards in the team's first three games while averaging just shy of 10 yards per carry. Tech hasn't seen that kind of production at the running back spot in close to a decade. N.C. State held Wake Forest to 149 rushing yards (3.0 yards per carry) last week and were the No. 29 rushing defense in the country a year ago, but there were some rough outings mixed in. West Virginia, Boston College, Clemson and Georgia Tech all averaged more than six yards a carry against the Wolfpack last season.
---
(Virginia Tech) OFFENSE: Hokies have the right mix
Expect Tech to take advantage of having the most experienced offensive line in the ACC on Saturday. They won't hesitate to rotate guys out — offensive line coach Vance Vice did that throughout last season at multiple positions — to keep everyone fresh. It will be even more important this year with Tech playing multiple mobile quarterbacks. Consistency up front should allow Tech's talented playmakers to have a big game.
(Even) DEFENSE: Tech entering unknown territory
Virginia Tech is returning eight starters on defense and that normally would give them a clear edge, but they still might be a work in progress on Saturday given the makeover the coaching staff went through on the defensive side of the ball. Tech didn't practice in the spring and those new coaches didn't get extended in-person face time with players until July. How will the Hokies execute the new wrinkles defensive coordinator Justin Hamilton added? What will the communication be like? These are questions that will be answered on Saturday.
(Virginia Tech) SPECIAL TEAMS: Watch out for Tayvion
Tayvion Robinson could be in line for a special year. Robinson had a breakout campaign as a true freshman last season even before he started returning punts late in the year. When he finally got in on special teams, Robinson showed flashes of being a dynamic returner in the punt game. Tech also has one of the best punters in the country (Oscar Bradburn) and didn't lose any of their other kicking specialists from last year.
(Even) INTANGIBLES: Teams will have to bring their own juice
Unfortunately for Tech, cardboard cutouts can't jump. The Hokies won't benefit from the normally raucous crowd at Lane Stadium with attendance limited to 1,000 fans. N.C. State has the benefit of having already played this season, but Tech will have some pent up energy after 10 weeks of practice. Tech players should be able to generate some emotion and energy trying to win one for new defensive coordinator Justin Hamilton.
---
Niziolek's prediction: Virginia Tech 35, N.C. State 21
Virginia Tech coach Justin Fuente said he won't have a full roster on Saturday with players still in isolation or quarantine from the coronavirus. This game could easily go the other way if Tech is forced to sit a large number of expected starters — think double-digits — but even with a handful of players out they still would have a more talented roster. Look for the Hokies to try to dominate time of possession behind their experienced offensive line and take some pressure off their new defensive coaching staff.
---
Virginia Tech Keys to the Game
Proper rotation — Virginia Tech plans on using two quarterbacks on Saturday with Hendon Hooker starting and Braxton Burmeister getting playing time off the bench. Fuente called the game plan a work in progress this week and said he doesn't have a set number of reps in mind for either quarterback. He needs to be mindful of the pitfalls of using multiple quarterbacks as he decides when to insert Burmeister in and out of the lineup.
A wide selection — Virginia Tech receivers Tre Turner and Tayvion Robinson account for much of the team's returning production at the position. The Hokies need other receivers to step up to prevent defenses from locking onto them. Former walk-on Kaleb Smith is listed as the team's third starting receiver, but Tech added two grad transfers over the summer — Changa Hodge and Evan Fairs — who could help key opposing defenses honest. Running back Raheem Blackshear also could be a major factor in the receiving game.
Second to none — Virginia Tech went into the offseason with no real question marks in the secondary. The Hokies had a pair of All-ACC defensive backs (Caleb Farely and Jermaine Waller) and had already lined up a replacement for senior boundary safety Reggie Floyd with Devon Hunter spending the 2019 season as his understudy. Those plans changed dramatically in recent months with Farley opting out and Hunter getting indefinitely suspended. Tech's depth across the secondary has taken a major hit (and that's without any sitting out from coronavirus-related concerns). Tech's play in the secondary will be something to watch for.
Mike Niziolek is the Virginia Tech football beat writer for The Roanoke Times. Follow him on Facebook and Twitter.
Be the first to know
Get local news delivered to your inbox!