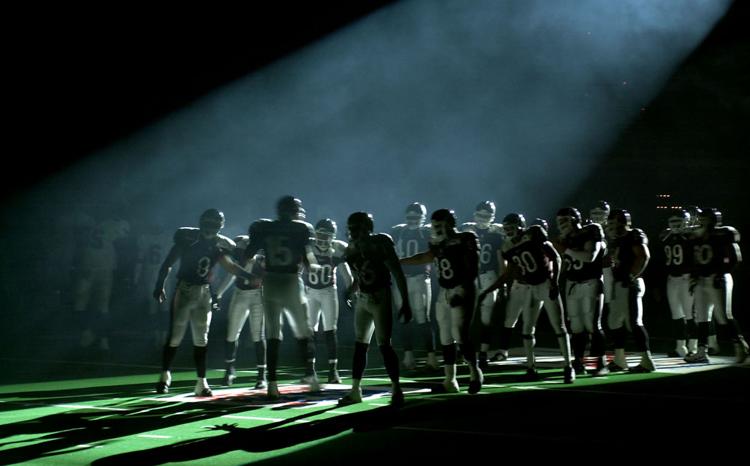 BLACKSBURG — The first thing that comes to Virginia Tech coach Justin Fuente's mind when discussing his brief stint in the Arena League is the smell.
When Fuente played in the AFL for the Oklahoma City Wranglers, the team trained at an indoor soccer facility about 10 minutes outside downtown, across the street from a Purina dog food factory.
"All of our clothes always smelled like dog food," Fuente said.
Fuente reluctantly revisited his time with the Wranglers in a sit-down interview over the summer.
Tech's coach always refers back to his playing days in a self-deprecating manner, and his time in the AFL is a footnote he'd rather forget.
"We gotta take that out of there," Fuente said of his bio.
Fuente wasn't even with the Wranglers for a full year (he didn't attempt a single pass in a game), but the detour was significant. By the time it was over, he was comfortable leaving his playing days behind and eager to try his hand at coaching.
"Do you really want to do this?" Fuente asked before opening up.
---
Welcome to the Arena League
Fuente was in limbo when he got a call from the Wranglers.
After graduating from Murray State, Fuente trained for months ahead of the 2000 NFL Draft. He got an invite to the combine, but the draft came and went without his name getting called.
Unsure of what to do next, he spent a few weeks volunteering at Illinois State for his former coach Denver Johnson.
"I went up there that spring to kind of hang out," Fuente said. "I didn't really coach, I was just there as a volunteer. I didn't get drafted. I didn't end up in camp. I was kind of just waiting to see what happened."
Oklahoma City had recently relocated to the area from Portland and reached out to Fuente in the midst of their inaugural season in the city, looking for quarterback depth behind veteran AFL quarterback Ron Lopez.
Fuente didn't know much about the AFL, but with no other immediate options, he said, "Sure, why not?"
Wranglers receiver Wes Caswell vividly remembered Fuente's tryout.
The former Tulsa wide receiver knew of Fuente from growing up in the same hometown. Caswell, who is a few years older, even briefly crossed paths with Fuente (a then-freshman) when Tulsa and Oklahoma played in 1996.
Wranglers coach Bob Cortese asked Caswell and a fellow receiver to stay after practice at the Myriad Convention Center to run routes for the quarterback.
"I remember he threw the ball so [dang] hard," Caswell said. "I was even getting upset. It took everything to catch the damn thing on these short slants and quick outs."
Caswell remembered back to his tryout with the Indianapolis Colts, when he tried to make a strong first impression and tried not to take Fuente's intense approach personally.
"I was just shocked with how strong of an arm that he had and tight of a spiral," Caswell said. "The laces of the ball were almost tearing up my hand. I was worried he didn't have any touch."
Cortese liked what he saw.
"If we can make him into an arena quarterback, he will certainly be a good player in this region," Cortese told the Oklahoman at the time.
---
The Wranglers were 4-1 when Fuente signed with the team. They were the third-highest scoring team in the AFL (54.8 points per game) and averaging just shy of 10,000 fans for home games at the Myriad.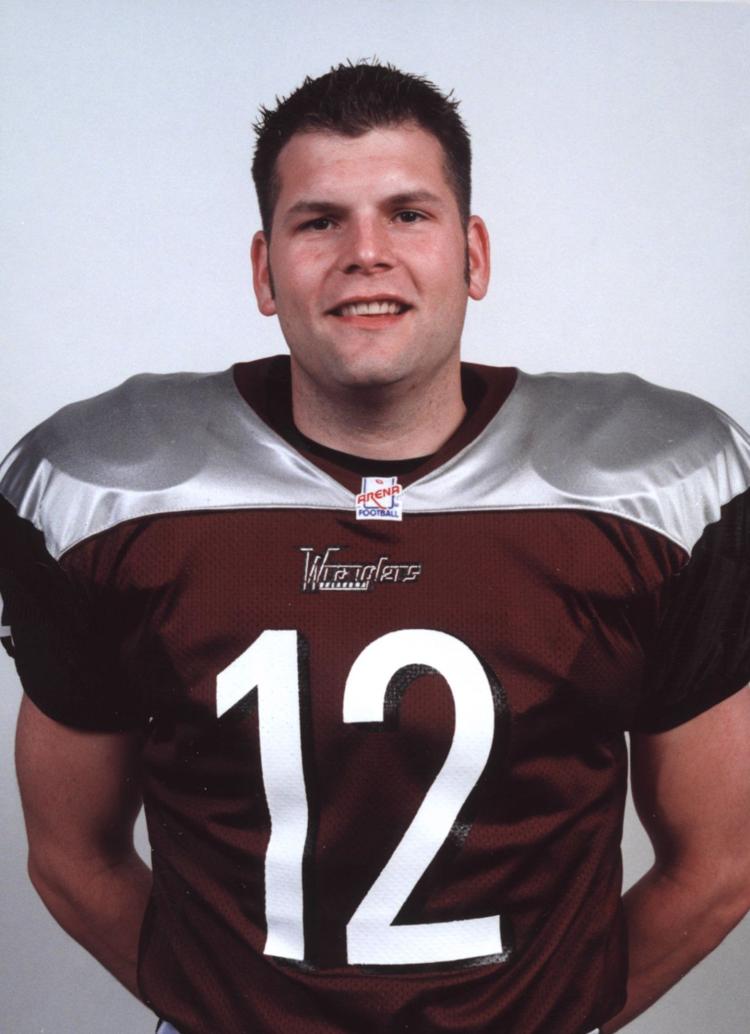 "They were rocking and rolling, it was kind of fun," Fuente said.
Caswell made his debut late in the 2000 season. He only had two catches in the regular season, but caught 12 passes for 136 yards with two touchdowns in the playoffs. Caswell backed up Lamont Cooper, who won that season's "Don't Blink! Player of the Year" award given to the top offensive specialist.
"It was fantastic," Caswell said. "Oklahoma is football rich. They love high school football, they love college football. When we moved in, it filled a void since we played before college kicked off. We had fantastic crowds and fantastic fans."
Fuente was mostly a spectator for all the fun after signing. Oklahoma City went on to make the second round of the playoffs while Fuente learned the finer points of the indoor game. He didn't dress that season, but Cortese remained intrigued by Fuente's skill set.
"We go into the offseason, and the head coach comes to me: 'You are one of the guys I want to keep here during the offseason,'" Fuente said. "I'm going to pay to put you up here. I'm going to pay for you to train."
---
Fuente jumped into the AFL at a unique time.
Many of the fresh faces in the league hoped to follow in the footsteps of quarterback Kurt Warner. Warner made a name for himself with the Iowa Barnstormers in the AFL before leading the St. Louis Rams to a 23-16 win over Tennessee in Superbowl XXXIV and winning league MVP honors.
The AFL locker room was a mix of those players looking for their first big break and arena veterans content to make some extra money, many of whom had families and other jobs.
"You had some guys making a decent buck for playing football four months out of the year," Caswell said. "You had others that were just thankful to be there and have an apartment and were scratching tooth and nail to keep their job."
Fuente didn't fall into either camp.
He didn't have any illusions about being the next Kurt Warner and wasn't interested in playing in the AFL for years on end, but for a year or two it wasn't a bad gig.
The Wranglers put Fuente up in a furnished apartment and paid all his bills through the entire offseason. Fuente and Caswell ended up as roommates thanks to their Tulsa connection. The team practiced three days a week from 8 a.m. to noon, then players had the rest of the week to themselves.
While the Wranglers arranged for some players to get other jobs during the off months — Caswell got work training young athletes at a nearby fitness facility — Fuente went in a different direction and took classes toward an MBA at Oklahoma. He would work out during the day and take classes at night.
"I was bored out of my mind," Fuente said. "You can only work out so many hours a day, but I was in the best shape of my entire life."
The extended periods of downtime allowed Fuente to take full advantage of one of the other perks of the job — a free membership to the Silver Horn Golf Club.
"I played every day," Fuente said. "Now that was awesome."
Players could even get away without having to pay for any of their own meals if they didn't mind eating at Golden Corral, a national buffet restaurant chain.
"You could go there for three meals a day and have all the food you could want," Caswell said. "After a year of eating Golden Corral to save money, I never stepped into one again. I tell my kids that story every time we pass by one."
---
After an unsuccessful tryout with the New York Giants, Fuente felt it was now or never for his playing career. The Wranglers opened training camp before the 2001 season with Fuente right in the middle of a heated quarterback competition.
Cortese was going to have Fuente start the team's first preseason game against the Carolina Cobras to get a real look at the quarterback.
Fuente never made the trip.
During a practice in the days leading up to the game, he took an awkward snap from the team's backup center that injured his left pinkie.
"He hit right on top of it and broke it in a couple spots," Fuente said. "It immediately blew up. They took me to get X-rays, and they said we got to do surgery."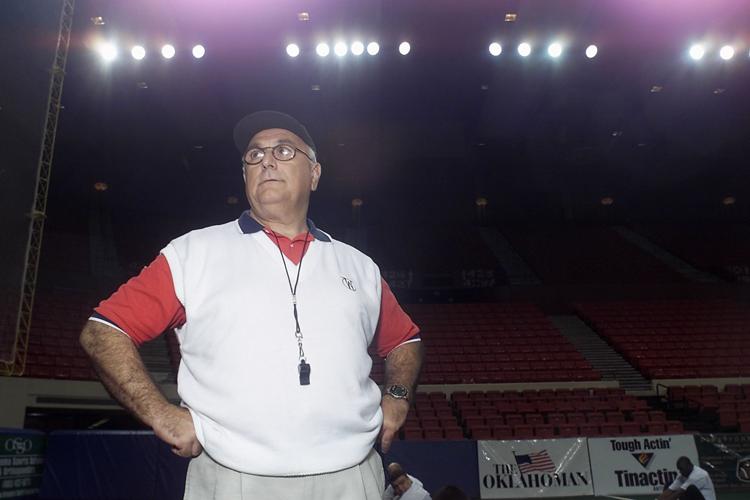 Fuente wasn't thrilled at the idea of having a procedure done that would sideline him for the rest of the preseason. He said as much to Cortese in a sit-down meeting with his coach in which he passionately argued his case for delaying the surgery.
"This is the preseason and I'm fighting for a job, if I have this surgery you can't cut me, but everybody else is going to be practicing," Fuente said. "When I come back, everybody is going to be ahead of me and you are going to cut me."
Because the injury was on Fuente's non-throwing hand, he wanted to tape it and play through any discomfort.
"Let me go, let me play some, then you will know if you like me or not," Fuente said. "It's just my pinkie, give me this chance."
Despite Cortese's protests, Fuente fully expected to be cut once he was healthy enough to be activated. He went ahead with the surgery and spent four weeks travelling to a rehabilitation center in Oklahoma City for his left pinkie.
"I'll never forget it," Fuente said, shaking his head. "They had a really bad winter in Oklahoma City with two ice storms. There had been a bunch of people that slipped and had serious injuries. They were in there moaning and groaning. I would go in there and get a little massage on my pinkie and have to do finger exercises."
Once Fuente's pinkie was good to go, his prediction came to pass with Cortese cutting him. Before getting cut, Fuente made the briefest of appearances in a 73-17 loss to the San Jose SaberCats. He was credited with one rushing attempt for a loss of 9 yards.
Fuente declined Cortese's offer of staying on the practice squad.
---
What Fuente didn't tell Cortese on his way out the door was that Johnson made him an offer to join Illinois State's staff, an offer he happily accepted.
Fuente's move into coaching didn't surprise Caswell. The receiver spent a year training and working on the Wranglers' scout team with Fuente, giving him an up close look at his "cerebral" nature.
"I saw his offensive mind," Caswell said. "He knew everything the linemen were doing, the receivers, the running backs. When we lived with each other, watching games, he would talk about going back and coaching. He was destined for great things."
Talents that Caswell thought were wasted in the AFL.
"It was a totally different game," Caswell said. "It was all about getting to point A to B. No real timing or craft. It wasn't the same."
Plus, Caswell knew Fuente wouldn't get too far away from football given his former teammate's competitiveness.
"Everything was a contest with him," Caswell said. "When we were training, it was who could get into the best shape. We both went out and bought puppies. I bought a Vizsla named Lincoln. He bought Jack Russell named Petey. We would see who could train them better, which one was more obedient. You name it, it was a competition."
Now Fuente is competing for an ACC Coastal title, and Caswell will be watching.
"It's been fun to watch him when he was at TCU then to Memphis and now at Virginia Tech," Caswell said. "I've got two young kids and get to tell them that dad used to room with that guy. It's pretty cool."
Mike Niziolek is the Virginia Tech football beat writer for The Roanoke Times. Follow him on Facebook and Twitter.