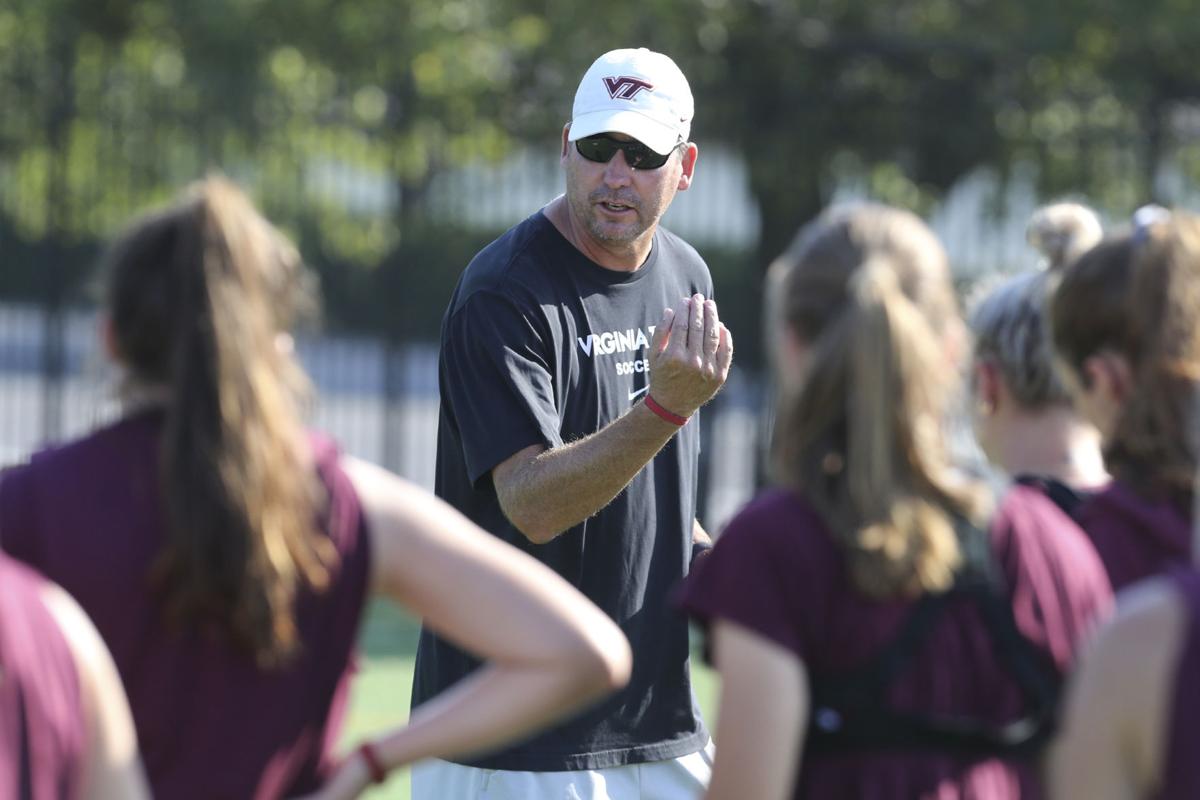 Virginia Tech women's soccer coach Chugger Adair denies benching former player Kiersten Hening because of her political views and said Hening's reduced role with the Hokies' team this past season came as a result of her play, according to the response to Hening's federal lawsuit that Adair's university-provided attorneys filed Monday.
In a 10-page response, "[Adair] asserts that any comments to [Hening] or reduction in playing time were related to her performance on the field and not based on her beliefs, which are immaterial and are unknown to [Adair]."
Adair was surprised when Hening decided to leave the team three matches into the fall season, according to the response.
Hening, a 21-year-old Midlothian native and former Chesterfield County high school standout, filed a federal suit against Adair on March 3, alleging that after she refused to join her teammates in kneeling during the ACC's pre-game unity statement, Adair engaged in a "campaign of abuse and retaliation" that led her to leave the program in September, 2020.
Hening's attorneys have not responded to multiple requests for interviews. Virginia Tech, whose lawyers are representing Adair, declined to comment, as did Adair.
Hening started for the Hokies for her first two seasons after walking on at Tech, though Adair states in the response that "her starts were attributable to injuries to the regular starters."
Hening's lawsuit became national news because she alleged she was forced off the team by Adair due to her decision not to kneel during the ACC's pre-game unity pledge, in violation of her First Amendment rights.
"He took no action to encourage [Hening] to quit the team and that [Hening's] decision came as a surprise," Adair's attorneys argue in their response.
The filing also notes that Hening did not pursue any complaints against Adair with the school's athletic department or the university.
Charles "Chugger" Adair is 126-62-20 in 10 seasons with the Hokies and has guided Tech to seven NCAA tournament appearances, including an appearance in the 2013 national semifinals. This year's team went 8-9, ending its season with a 4-1 nonconference loss to Auburn on April 17.
Adair, a 49-year-old California native and 1993 University of San Diego graduate, joined the Tech staff as an associate head coach in 2006 before being promoted to the top job after the 2010 season.
Last month, a former teammate — reserve goalie Alice Hamil — said she believed Adair's benching of Hening to be completely performance-based.
In Hening's lawsuit, she said that, during halftime of the Hokies' Sept. 12 season-opener against rival Virginia, Adair accused her of "bitching and moaning," and "doing her own thing" in regard to her decision to remain standing during the unity pledge. (The entire team stood for the national anthem. Then, Hening and one other undisclosed player, stood during the pledge.)
"[Adair] admits that he might have chastised [Hening] for 'bitching and moaning,' for being selfish and individualistic, and for 'doing her own thing,' but these comments concerned her on-field performance and attitude," according to the response. "[Adair] does not care about and was not aware of her standing during the unity statement until several days after the game."
Hening's suit seeks a ruling ordering Adair to "undergo First Amendment training," and to have Hening reinstated on the team, in addition to unspecified monetary awards for compensatory, punitive and nominal damages and costs associated with her case.