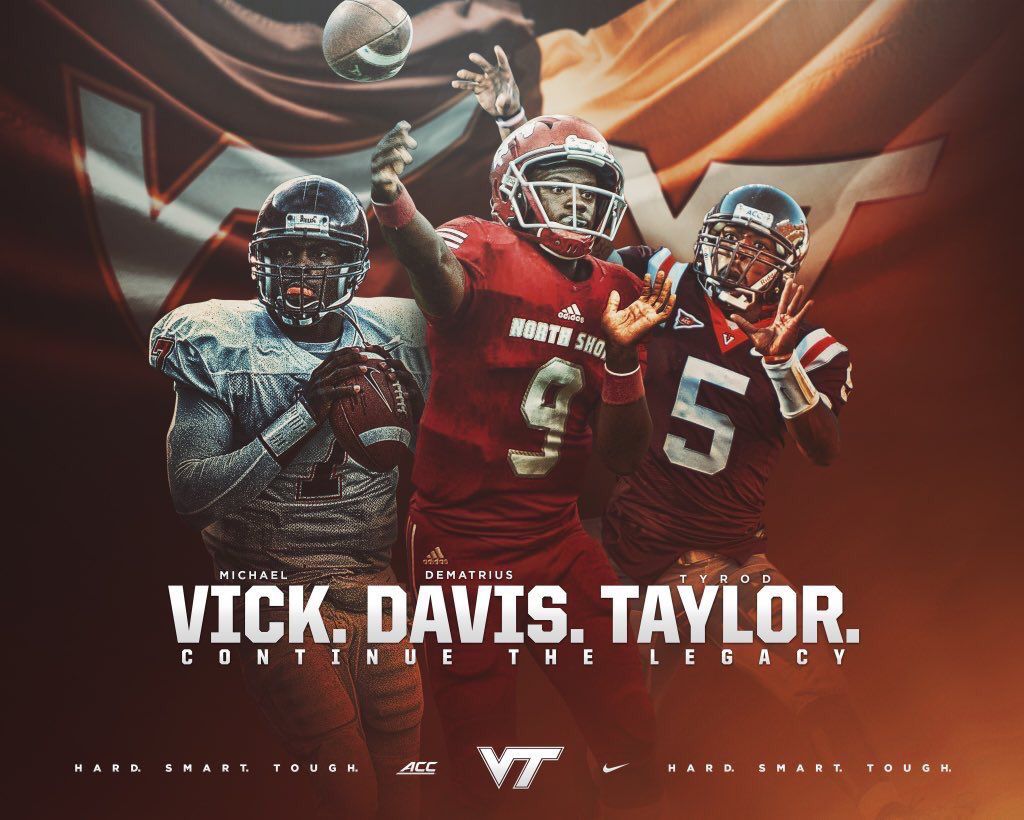 BLACKSBURG — Recruiting graphics are more important than ever right now.
The NCAA instituted a recruiting dead period in response to the COVID-19 outbreak limiting the contact coaches can have with potential recruits. It's already been extended once through May 31, and will likely stay in place until coaches and student-athletes are allowed back on campus.
Coaches are still allowed to email, text and direct message recruits, and one way Tech tries to stand out amidst the crowd is through personalized graphics.
"It's the way the world has evolved, we are in the era of information overload," Tech director of player personnel Mark Diethorn said. "In the past six to seven years, recruiting has become more individualized and personalized than ever. What you're doing with these personalized recruiting graphics is creating a vision for the recruit. You are showing the recruit that if you come here, this is what your future will look like."
Diethorn immediately had a candidate in mind and moved quickly to hire Zach Lantz, who he previously hired in a similar role while on Pat Narduzzi's staff at Pittsburgh.
"He greatly improved Pitt's football brand which led to athletic department wide improvements including the hiring of department-wide creative media employees, which he had a hand in hiring," Diethorn said. "He did a great job there of developing a brand and look, and raising the bar across the board."
Fans might not recognize Lantz's name, but they have probably seen his work. The Virginia-native and James Madison grad has churned out thousands of graphics since he was hired as Tech's director of creative media in March of last year.
He's responsible for plenty of non-recruiting related graphics, but his most important role is helping recruits fall in love with Virginia Tech.
---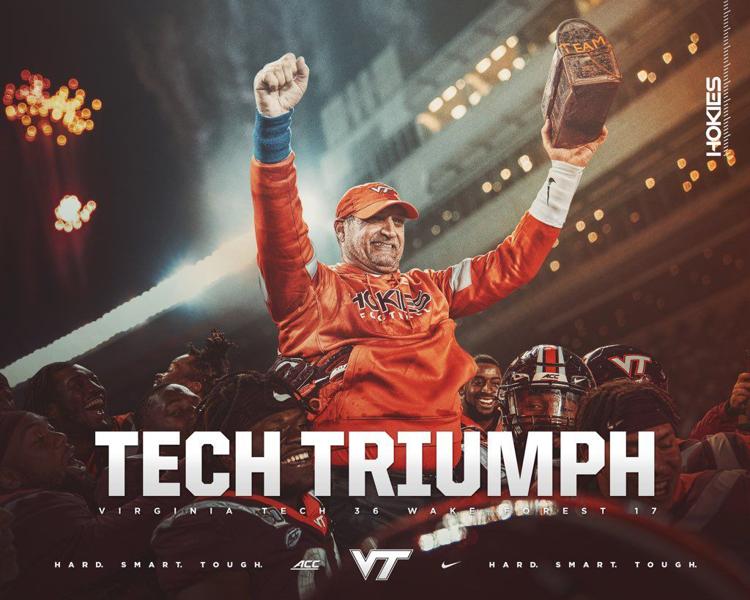 Tech running backs coach Adam Lechtenberg brings Lantz some of the more unique ideas for personalized graphics. Lechtenberg was recruiting a student-athlete last year that wanted to major in roller coaster engineering and tasked Lantz with incorporating that into a graphic.
The result was an image of the recruit wearing a hard hat standing in front of Lane Stadium, which now had a giant roller coaster looming in the background.
"No one has ever even seen that one," Lantz said with a laugh.
Lechtenberg had another idea last year involving the father of a recruit who loved fishing and always talked about the hobby with Fuente. Lantz put Fuente on the cover of Field and Stream Magazine holding a big fish with a quote talking about how the recruit would be the next big one he reels in.
Sometimes the requests are much simpler with an assistant coach sending Lantz a family photo they want included into a graphic, or happy birthday-related message.
"It requires doing a lot of research and listening to the recruits about their interests, career goals, favorite music and favorite teams," Diethorn said. "You take that information to Zach and he creates that vision... He brings that all to life for them. It sets us apart."
Diethorn and Lantz both credit recruiting assistant Lino Lupinetti for helping track what's popular with recruits.
Lantz said the goal is to get at least one recruiting graphic a week to most of the student-athletes on Tech's recruiting board. Some recruits get additional graphics if they are close to committing or a coach comes up with one of those unique ideas.
"I enjoyed the recruiting graphics they sent me a lot," Virginia Tech 2020 signee Tyree Saunders said. "Definitely the unique ones for me. A unique edit means way more to me or any recruit than one to everyone."
Last week, Lantz spent much of his time designing recruiting graphics tied to the NFL Draft. Various variations of the idea went to the team's 2020 signees, 2021 verbal commits and the program's top targets.
"Everyday there's always something new," Lantz said.
It's part of the job that Lantz loves most and why he laughs thinking back how he was initially reluctant to even get into graphic design when he was pursuing a Sports Management degree at JMU.
"I had never done graphics before, but for Sports Management there required you to do a 40-hour internship," Lantz said. "Everett Withers just got hired as the [JMU] head coach and they had internships for student health and stuff like that. They kind of conned me into doing graphics, which I had no desire to do and I hated doing them."
There's still some aspects of the job Lantz doesn't like — he doesn't like designing holiday-themed graphics — but he's grateful he gave it a shot.
"I'm thankful they did con me into doing them," Lantz said. "I thought I wanted to coach, but thank god I didn't go down that path. I would probably still be interning."
---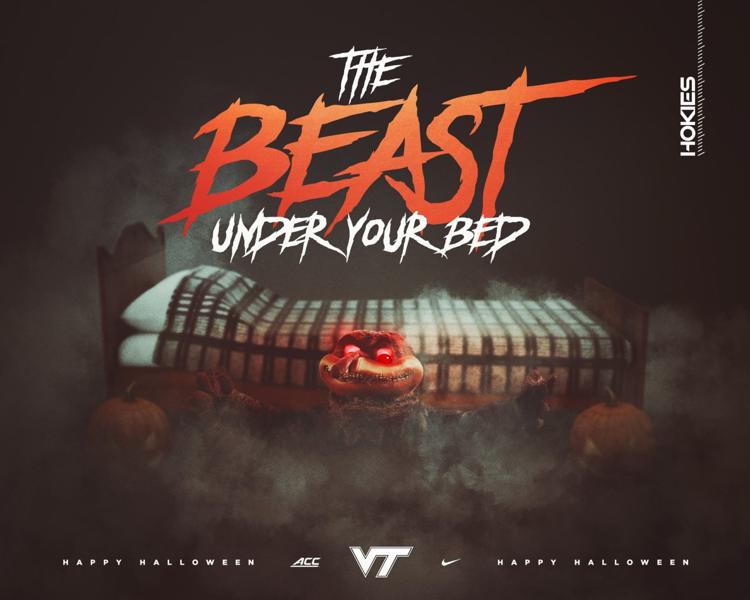 When Lantz now looks across the country at FBS programs, he sees them investing more and more into their creative departments, video teams and social media teams and Lantz said, "it's only going to get bigger."
It's why Virginia Tech has made photoshoots with perspective recruits a routine part of every campus visit. Players get suited up in uniform — some even visit Lane Stadium — with Lantz and Lupinetti providing them a full gallery of shots after their visit.
It wasn't so long ago that Tech only did a full photoshoot for recruits on official visits.
"Now you gotta do it for pretty much any kid that may be a Hokie," Lantz said.
Diethorn and Lantz are always scouting what other programs and looking to improve Tech's branding given the competitive nature of the college football landscape. It's why Lantz spent months refining the commitment graphics Tech sends to student-athletes when they are ready to announce their decision.
The graphic started out featuring a single photo of the student-athlete with a picture of Lane Stadium in the background. The updated graphic has the student-athlete standing in front of a pair of flags (their state flag and Tech's flag) wearing their high school jersey with a big section ripped apart revealing Tech's uniform.
He landed on a design he liked after countless hours of work and unused drafts.
"I think Zach's commitment graphics are as good as you will see in the country," Diethorn said. "It resonates well with the recruits and they can't wait to post it. All of the other recruits that we are after see those graphics showcasing our Virginia Tech brand, and they want to be a part of it."
While Lantz doesn't get much direct feedback from Fuente — who does offer ideas once in a while like the recent open door challenge he posted on Twitter that Lantz made — he knows if his work is making a difference when recruits share and talk about the images he creates.
"Tech puts out way more graphics than other schools, they're always making videos and pics for us even still after we signed," Virginia Tech signee Robert Wooten said. "I like it."
Wooten said the graphics he received congratulating him on earning all-state honors and some of his other high school accolades really stood out. One of the team's two defensive line signees out of Texas makes a habit of sharing Tech-related content with his 5,000-plus followers.
"This is one of the biggest things they will ever do in their life, committing somewhere they are going to be for four years and what do they say? It's like a 40-year decision," Lantz said. "It's all about them."
Mike Niziolek is the Virginia Tech football beat writer for The Roanoke Times. Follow him on Facebook and Twitter.
Be the first to know
Get local news delivered to your inbox!