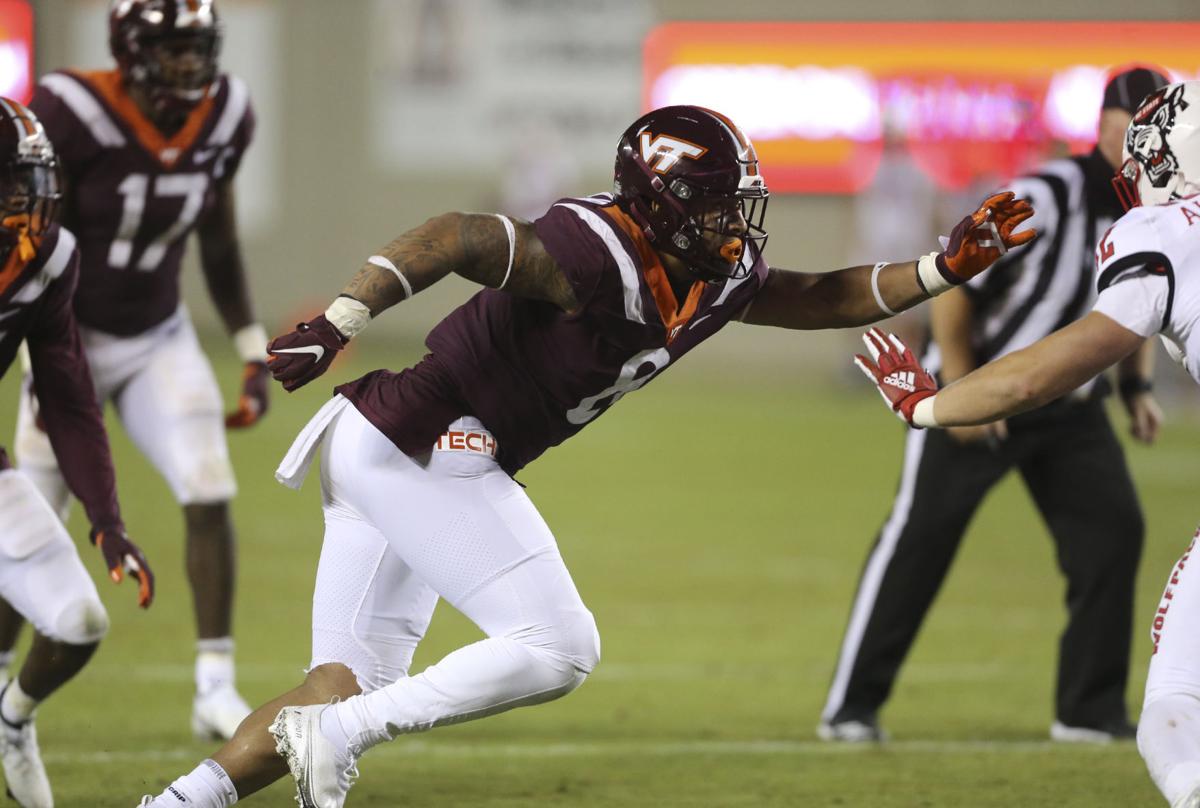 CHARLOTTE — Virginia Tech's coaching staff isn't making major changes to address the team's sudden lack of depth at defensive end.
The Hokies lost a trio of 2020 defensive end signees — Justin Beadles, Alec Bryant and Robert Wooten — to the transfer portal this summer. Derrell Bailey, the fourth 2020 signee at the position, had already moved to the offensive line.
Wooten worked his way into the rotation at defensive end as a true freshman, and the coaching staff was eager to incorporate Bryant and Beadles into the rotation this fall.
Those departures left Tech with seven scholarship defensive ends including two true freshmen (Cole Nelson and Mattheus Carroll).
At the ACC Kickoff on Wednesday, coach Justin Fuente confirmed that second-year freshman Wilfried Pene was moving from tight end to defensive end, and that he would be the only addition on the edge for now.
"I do, that's good," Fuente said, of the eight scholarship ends. "(Linebacker) Lakeem Rudolph continues to get long and strong and may have a chance to move in that direction, but that wouldn't be a numbers issue, that would be a development issue."
Pene spent spring camp with the offense, but he was a two-way player for St. Thomas More Prep, and the coaching staff wasn't sure where he would ultimately end up.
The native of Touraine, France, was a late arrival last fall. He travelled home right before the COVID-19 pandemic shut down international travel in March 2020, and wasn't allowed to return to the United States until the final week of August.
The 6-foot-3, 257-pounder did not play in any games.
"When we originally recruited, that's where we liked him the most," Fuente said. "He can play defense and he's gotten a lot bigger. He may not want to hear this, but he might keep moving closer to the play. He's 260 pounds and loves training, and loves lifting. He was on his way to becoming a very good tight end."
Fuente said the position change came out of a recent conversation he had with Pene where the former tight end asked about his development. Fuente was honest, and said there was a much greater chance for him to have an impact on the field this season on defense than at a stacked tight end position.
They will sit down again after the season to discuss which position fits him best long term.
Fuente's main concern at defensive end is the health of Emmanuel Belmar. Belmar was expected to be part of a first-team defensive end alongside Amare Barno, but he was sidelined during the spring from the concussion he suffered last season.
Belmar got off to a strong start last fall with three sacks and 3.5 tackles for loss in Tech's first four games before the injury. He's been a full participant in the team's summer workouts, but Fuente will be cautious with him this fall.
"I don't know how that's going to play out," Fuente said. "I'm not certain if he will play or not. He's out there working out, I just don't know...To my understanding he's cleared, but we are going to dip our toe in that and go slowly with that."
Barno, who was switched over from linebacker just days before fall camp last year, had 6.5 sacks and 16 tackles for loss at defensive end. The other Tech scholarship defensive ends with experience are Jaylen Griffin, TyJuan Garbutt and Eli Adams.