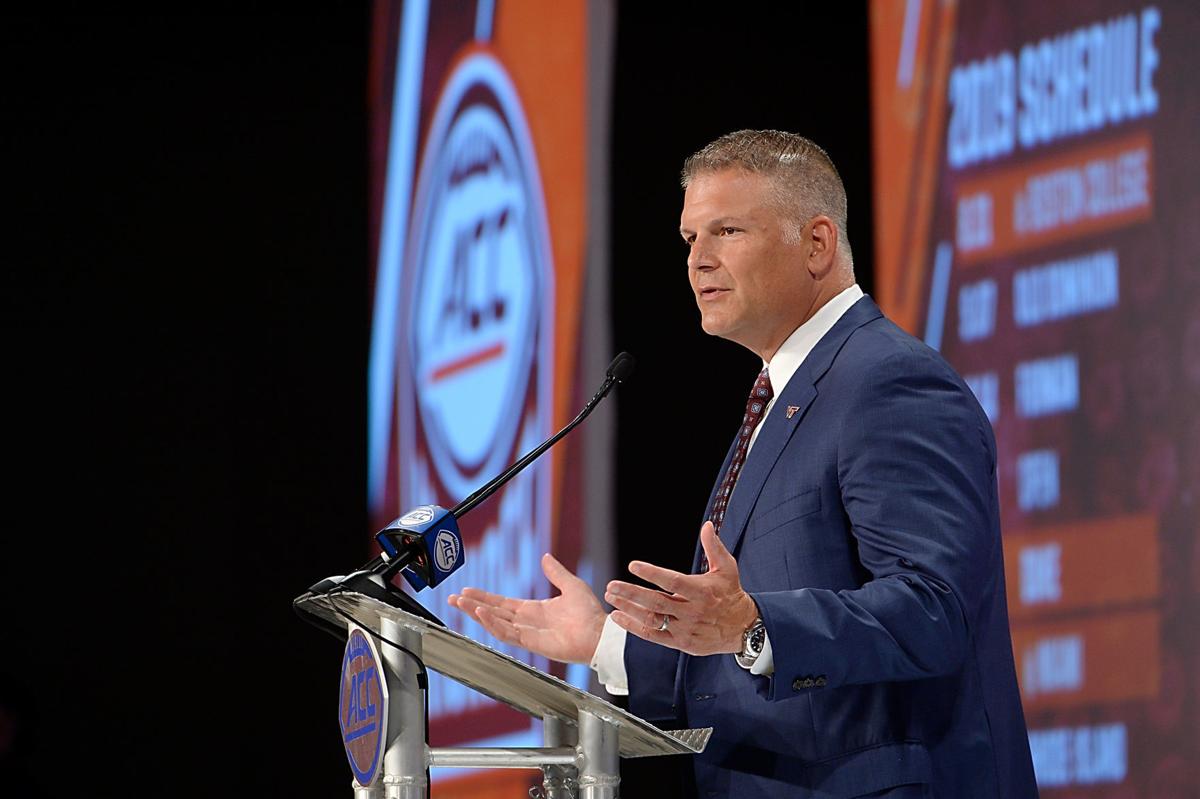 BLACKSBURG — Virginia Tech went radio silent this summer as it welcomed recruits on campus during a busy June.
Tech football coach Justin Fuente will meet with reporters for the first time in three months when he takes the stage on Wednesday in Charlotte. The Hokies are also sending quarterback Braxton Burmeister, safety Chamarri Conner and tight end James Mitchell to represent the team.
Here are the four most pressing questions for the group this week.
How will Devon Hunter's return shake up secondary?
Fuente hadn't mentioned Devon Hunter since the safety was suspended in September, and given the seriousness of the allegations against the defender, his return to the team was always viewed as a long shot.
He accepted a plea in early May that reduced the felony charge he was facing to a misdemeanor, and Tech lifted his suspension a month later.
Hunter was expected to start at boundary safety before he was suspended before the 2020 season, but Tech has added a lot of depth at the position in the intervening months.
Illinois State transfer Devin Taylor made great strides at the position last season — the former corner changed position four weeks into the season — and Tech added Vanderbilt transfer Tae Daley.
"He's a dawg," linebacker Dax Hollifield said during spring camp. "I'm telling you. He's wired different."
Tech has Conner entrenched at nickel, but is less experienced at free safety where Keonta Jenkins spent most of spring camp with the first team defense. Jenkins made two starts at free safety last season.
Will Tech shift guys around to balance out that experience?
Hunter already got an audition at free safety during the 2019 season before he decided to take a redshirt while Taylor has already changed positions once since enrolling last August.
The ACC Kickoff will be Fuente's first opportunity to address the team's plan at the position since Hunter was reinstated.
How will Tech address scholarship defensive end shortage?
Tech coaches felt good about the team's depth at defensive end coming out of spring camp.
Former linebacker Amare Barno emerged as one of the most productive edge rushers in the ACC with 6.5 sacks and 16 tackles for loss in his first season at defensive end. The coaches anticipate him terrorizing opposing quarterbacks this fall after getting a full offseason of practice.
The plan was to team him up with Emmanuel Belmar, who took advantage of the extra year of eligibility the NCAA granted all student-athletes to play a sixth season. Belmar was limited in the spring, but was fully cleared to participate in the team's summer workouts in June.
Tech was eager to get a trio of promising second-year freshmen — 2020 signees Alec Bryant, Justin Beadles and Robert Wooten — into the mix alongside a group of veterans that also includes Jaylen Griffin, TyJuan Garbutt and Eli Adams.
Wooten worked his way into the rotation as a true freshman, and the staff projected Beadles as an impact player with a year or two of experience under his belt.
That depth evaporated when Beadles entered the portal in May while Wooten and Bryant followed suit on July 12.
Their departures leave Tech with seven scholarship defensive ends on the roster including a pair of true freshmen who enrolled this summer (Cole Nelson and Mattheus Carroll).
There was talk about moving tight end Wilfried Pene over to defensive end even before the numbers crunch. Tech has healthy numbers at tight end, and already have two verbal commitments at the position for 2022 (potentially three with Daequan Wright being a bit of a hybrid between tight end and receiver).
One alternate solution could be moving a linebacker up to play at defensive end considering much of the playing time there is expected to go to Dax Hollifield and Alan Tisdale. Instead of spending much of the season on the bench, could Marshall transfer C.J. McCray be productive at defensive end on pass-rushing downs?
Tech could wait a few weeks to see if Nelson or Carroll is ready for an immediate role before making any changes, but Fuente will probably already have a backup plan in mind.
What's plan for Maryland offensive line transfer Johnny Jordan?
Virginia Tech's first-team offensive line coming out of the spring was Luke Tenuta at left tackle, Lecitus Smith at left guard, Brock Hoffman at center, Silas Dzansi at right guard and Parker Clements at right tackle.
The question going into fall camp for the offensive line is where Maryland transfer Johnny Jordan fits in? Jordan was All-Big Ten honorable mention last season as the team's starting center, and has 16 career starts at the position.
Tech offensive line coach Vance Vice could slide Hoffman over to right guard and use Jordan at center or have Jordan battle it out with Dzansi at right guard. Dzansi will likely get playing time no matter what as the only other tackle on the roster besides Tenuta with experience.
Vice usually lets the competition play out until the week before the season opener, and could always end up relying on the same type of rotation he's used the last two seasons (particularly on the right side of the line), but it will be interesting to see where everyone settles in for the long haul.
Can Tech's offense get more production at wide receiver?
Tech's success running the ball skewed the offense's overall passing numbers last season. They finished 89th in the country overall (200.6 yards per game), but they attempted less than 20 passes four times.
The offense was fairly efficient throughout the season with 8.7 yards per attempt (tied for 14th) and put up 33 plays of 20 yards or more, but Tech wasn't quite as sharp throwing the ball in key situations — on third downs and in the red zone — and that proved to be the difference in close losses to Miami and Liberty.
One persistent issue was the lack of personnel at receiver.
The Hokies couldn't find a reliable option behind Tre Turner and Tayvion Robinson and mostly shied away from formations with three or four receivers. They had so few receivers available by the end of the season that running back Raheem Blackshear was almost exclusively working at the slot in practice.
There's positive buzz surrounding Jaden Payoute and early enrollee Da'Wain Lofton, but asking them to be impact players right out of the gate could be a tall order.
Payoute suffered a season-ending foot injury at the end of fall camp last year and missed most of spring camp for a follow-up procedure. Lofton is a 5-foot-11, 190-pounder who signed with the Hokies out of North Side High School in Texas.
One option who won't be available is Changa Hodge. The Villanova grad transfer opted to come back for an extra year of eligibility, but suffered a torn ACL in the spring. His injury leaves Kaleb Smith as the only other scholarship player with experience beyond the team's starters.