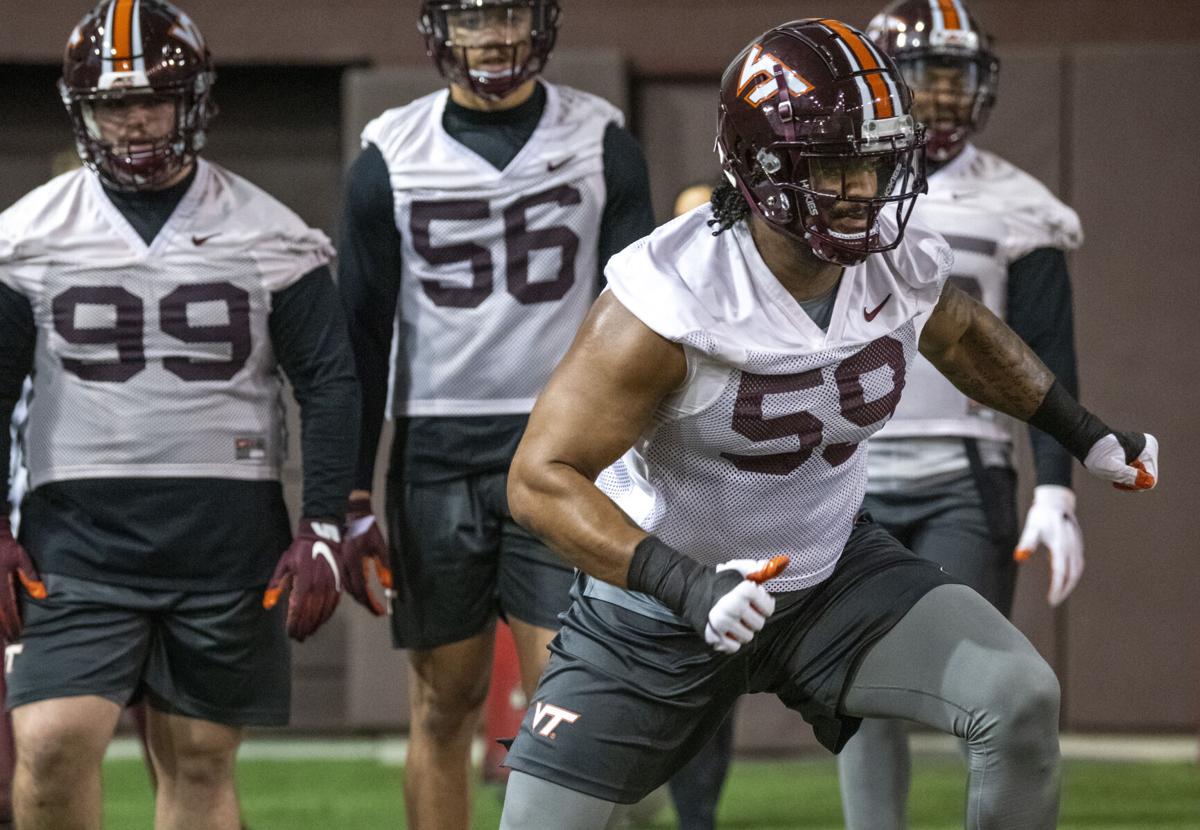 BLACKSBURG — Virginia Tech defensive end Amare Barno was one of the breakout players in the ACC last season.
The little known JUCO product burst onto the scene by leading the ACC with 16 tackles for loss at a position he had never played before.
Tech's coaching staff is expecting even bigger things for Barno this fall — he's already earning some early preseason accolades — and that will likely put him onto plenty of NFL draft boards, but this year it could also net him some cash after the governing bodies in all three divisions adopted a "uniform interim policy" suspending NCAA name, image and likeness rules for all student-athletes in all sports as of July 1.
Barno revealed a new logo for himself on Instagram last week, and is planning to launch some merchandise in the near future.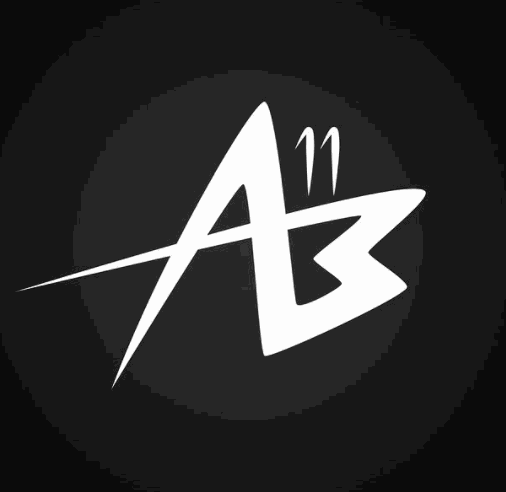 "It's exciting," Virginia Tech senior associate athletic director for external operations Brad Wurthman said, in a phone interview last week.
The July 1 date was no accident since the majority of states that had passed NIL legislation in recent months set July 1 as the day they would go into effect. The temporary policy will remain in place until federal legislation is passed or new NCAA rules are adopted.
Tech is still hopeful that it's a matter of when not if the governor will act.
"Ideally they work in concert," Wurthman said. "In a perfect world, there would be an opportunity for the Commonwealth of Virginia or any state to match and/or be equitable to what the NCAA has recommended. That's the preferred outcome and still is the goal in all of this."
The first step Virginia Tech took July 1 was to put together a presentation for the football and basketball teams — other student-athletes attended virtually — to outline the NCAA policy and and compliance procedures for NIL deals.
Tech football players have mostly signed smaller scale deals in the days that followed with companies casting a wide net for partnerships and sign-ups open any student-athlete.
A handful of players partnered with Yoke Gaming, an app that allows fans to pay to play video games with college and professional athletes. Others have signed on to promote PSD Underwear, a boxer brief brand owned by NBA players, and Motiv, a sports clothing brand.
But that wasn't unique to Virginia Tech with only a handful of splashy sponsorship deals for collegiate athletes announced right out of the gate.
According to the Miami Herald, Miami quarterback D'Eriq King agreed to a $20,000 sponsorship deal from College Hunks Hauling Junk and Moving and Murphy Auto Group, a pair of Tampa Bay-based businesses.
Twin sisters Hanna and Haley Cavinder signed endorsement deals with Six Star Pro Nutrition and Boost Mobile. The Fresno State women's basketball players have more than 500,000 combined followers on Instagram and 3.4 million followers on TikTok.
The financial deals weren't released, but the Fresno Bee reported that the combined valuation of their social media accounts could net them more than $500,000 annually.
"I think that's been eye-opening for people in that space," Wurthman said, of the social media valuation of some athletes.
Larger deals have since emerged with American Top Team owner Dan Lambert developing a plan to offer a $500 monthly sponsorship for every Miami scholarship player to promote his Florida-based chain of mixed martial arts gyms and Mission BBQ putting a deal together to sponsor the entire Notre Dame offensive line, but deals of that scale aren't that prevalent.
Virginia Tech defensive tackle Jordan Williams won't be going it alone this fall when looking for NIL deals. The Clemson transfer signed July 1 with Playmaker, a sports marketing firm, to represent him.
Playmaker's head of talent Polo Kerber said it was Williams' connection to Clemson that put Williams on their radar.
"We have a few Clemson guys we have added," Kerber said, in a phone interview. "We were familiar with Jordan and being in a unique market, it kind of sets himself up a little differently. I think he's going to be pretty successful on that team, and we wanted to try to get him locked in as soon as we were able to."
According to Kerber, the firm represents nearly 30 professional athletes in the NFL and NBA and by the end of the first week of July had signed 20 college athletes to contracts including Coastal Carolina quarterback Grayson McCall, Clemson running back Kobe Page and LSU running back Tyrion Davis-Price.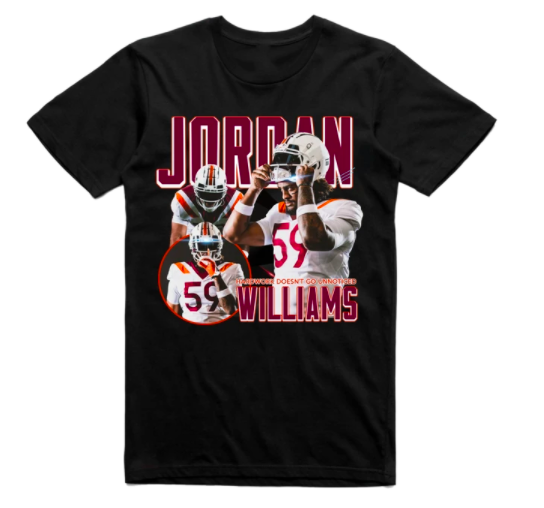 Playmaker moved quickly to design a T-shirt for Williams — the defender had a hand in picking the final look and it's already on sale for $27.00 — while also working with him on a logo. Playmaker takes a cut of each sale, which Kerber described as a "marketing percentage" and the rest goes to Williams.
"Our short term plan is to really help him create his brand," Kerber said.
Williams already had a strong head start in that department with 20,000-plus combined followers across Twitter and Instagram.
The next step for Kerber will be targeting local businesses in Blacksburg in hopes of landing Williams some "organic partnerships" for the fall.
"If Jordan doesn't eat McDonald's, I'm not going to target them," Kerber said. "It's about figuring out each person and tailoring something to each kid."
One of the first things Kerber does is have his clients fill out a questionnaire that lists the brands they like and their interests. Kerber is researching local restaurants, sports bars and shops that would make an ideal fit, and he's not just looking to get Williams appearance fees or merchandise signings.
"It's not even I need 'x' amount of dollars for him, it's about building a portfolio," Kerber said. "If you get a few dollars (for Williams) that's great, but you want you are trying to make it a win for both the company and the player."
Kerber gave an example of having a local sub shop create a "Jordan Williams sub," and he would get a portion of each sale.
"It's trying to be as creative as you can," Kerber said.
Kerber anticipates more of those deals to come together across college football at the start of the next fiscal quarter. The timing of the NIL laws going into effect wasn't ideal for businesses since it came a time where budgets were already allotted.
"No one knew what was going to happen until the week before," Kerber said. "I think once we get to those new budgets you will see a huge influx of deals, and I think that gives companies the opportunity to build around it."
And Kerber sees a lot of growth potential in college markets like Blacksburg.
"I think a lot of those areas are die hard and passionate about their schools," Kerber said. "I think being able to work with those local businesses will be easier to do than on the NFL side."
He was the first collegiate athlete to partner with the company that founder King Holder describes as an "innovative recovery brand."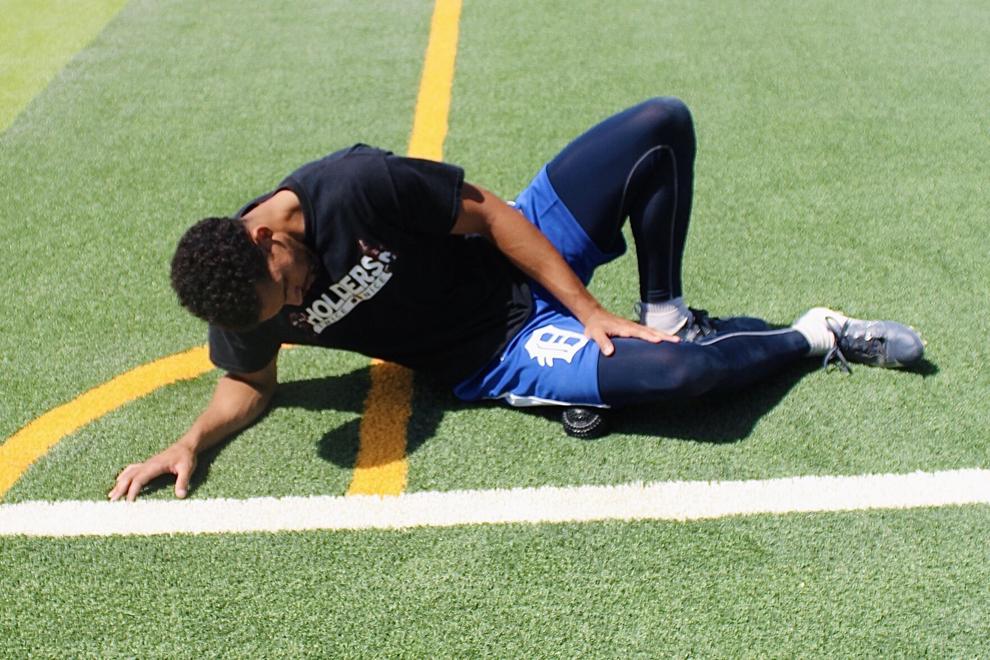 Procussion's signature product is the PULSE vibrating massage ball that offers owners a "unique combination" of deep tissue massage and trigger point therapy to eliminate pain and stiffness, increase range of motion and boost circulation.
"He was crushing it, the four-star guy, he had several offers," Holder said, of Burmeister's time at Country Day. "He actually played on a 7-on-7 team I coached for. I was coaching the older kids at the time and knew him from there as well, and he trained with my brother (Alijah Howard), who plays with the Detroit Lions, in the offseason here in San Diego. He had been on my dd for a long time with those connections."
Holder moved quickly to sign Burmeister to a deal that he believes will be beneficial for the quarterback on-and-off the field.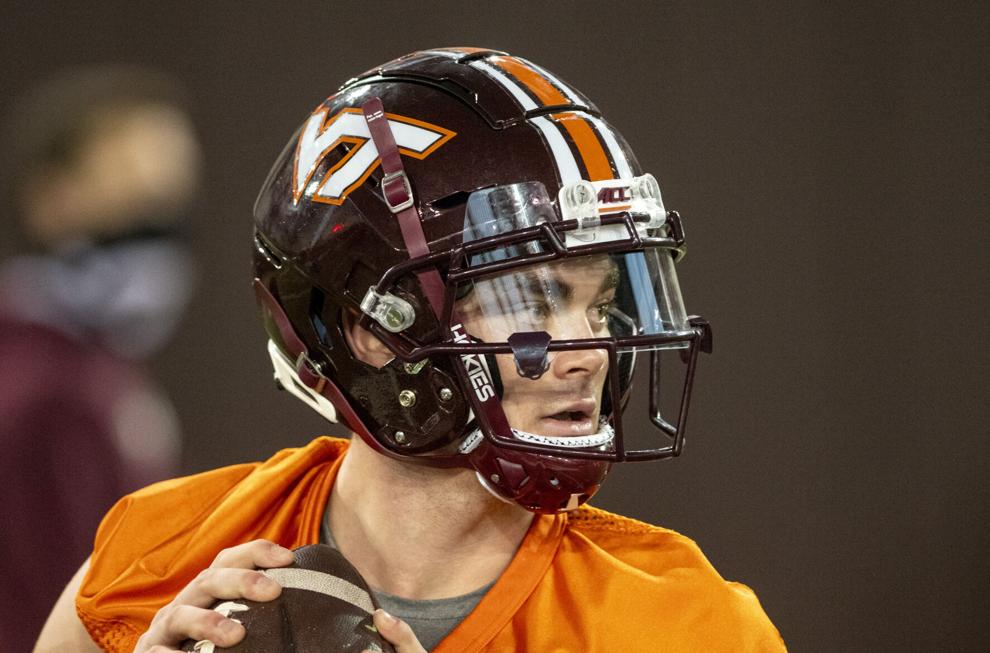 "You can think of him as an ambassador for the brand, we are supporting his journey and he believes in the brand," Holder said. "As far as responsibilities per se, they aren't stringent. He sees the value in the devices. There's financial benefits, we are trying to take care of him on both sides, taking care of his physical performance and giving him some financial opportunities."
Holder didn't disclose the financial terms of the deal — "we like to keep those in-house" — but Burmeister already has the PULSE massage ball in his hands and he will be one of the first athletes to receive the company's state of the art dual head massage gun that's launching on August 15. 
"When it comes to his deal, however far in the future he has a football in his hands we will provide him with our devices to help his recovery and workout performance," Holder said.
Wurthman chuckles when asked his biggest concern about name, image and likeness going forward.
"The question we ask internally is are we ready to handle the evolution of this," Wurthman said. "I don't know if I can pinpoint one concern. We have to be nimble. We have to be agile and as we all know that isn't always the case when it comes to massive organizations."
He describes the current atmosphere regarding NIL rules to falling through the air and building a plane on the way to the ground.
"You learn how to fly on the way," Wurthman said, with a laugh. "That's very much what this is. We have jumped, and everybody is building the plane at the same time with individualized blueprints. Some plans are going to work, some aren't, but can you adjust midstream?"
Tech's athletic department can at least start hiring additional staff with the interim rules in place.
"For us to staff up when we weren't sure what it would be like from a legislation standpoint, was difficult if not impossible," Wurthman said. "Now we can work toward finding the skill sets we need."
The initial areas of focus will be in the compliance department — compliance is tasked with reviewing NIL deals — and in the student-athlete development side. The career guidance is an important part of the JumpStart program Tech announced in June.
"There's a career guidance, career service office, for all students and it's the same general concept, but student-athletes have in some ways a larger audience, they have more tailored and unique needs," Wurthman said.
As the Virginia Tech's athletic department works through all that, its main message to the school's student-athletes is simple — the department is committed to helping each of them grow their brand.
"If we are willing to lean into this and say how can we navigate this and figure this out, if nothing else it's a great opportunity for the student-athletes," Wurthman said. "It's our responsibility and commitment to them that we will solve it alongside them."