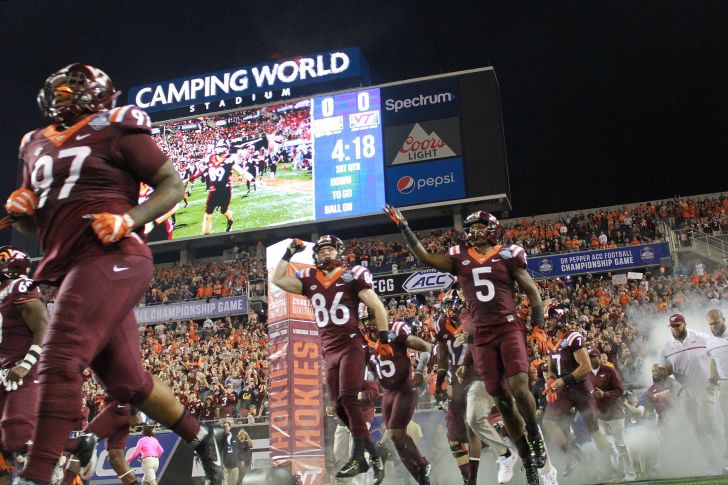 If the media's correct, Virginia Tech will be looking up at Miami in the Coastal Division by the end of the season.
The ACC media picked Florida State and Miami to win their respective divisions, with the Seminoles the overwhelming choice to win the league this season. Ballots were submitted at last week's ACC Kickoff in Charlotte.
Virginia Tech, which claimed the Coastal Division title in coach Justin Fuente's first season last fall, was picked to finish second this year.
The Hokies got 40 first-place votes, but that was well behind Miami's 103. The Hurricanes, who finished in a cluster of 5-3 teams last fall in second place, haven't won the Coastal Division in their 13 years in the ACC.
Virginia Tech and Miami play in Miami Gardens, Florida, on Nov. 4, a game that could well decide who represents the league in the ACC title game in Charlotte this December.
Miami's no stranger to having been picked to win the division,  having been the choice now in three of the last five seasons.
The 'Canes were the media's pick in 2006 (they finished 4th with a 3-5 record), 2013 (t-2nd, 5-3) and 2014 (t-5th, 3-5), though that was under different leadership. Second-year coach Mark Richt claimed outright or tied for six SEC East Division titles while at Georgia from 2001-15.
"I think they understand what's expected of them and I think our coaches understand how I want things done, and everybody is bought in," Richt said of his second year at Miami at last week's ACC Kickoff. "We're moving right along at a very good pace, I think."
Virginia Tech hasn't been picked to win the division since 2012, although it was the media's pick in seven of the first eight years the game was played. Fuente and the Hokies defied the odds last year, going 6-2 in league play to win the division after being tabbed fourth in the preseason.
"Our long-term mission is return Virginia Tech back to the top of the ACC," Fuente said at the ACC Kickoff. "I mean, that's our goal. But to me, it's about the process and it's about are we going about the process that's been proven over time that leads to our improvement?
"As far as what we're trying to obtain, we're trying to obtain perfection in our preparation, which will give us the opportunity to win the ballgame. It doesn't guarantee that we will win. … It just guarantees the opportunities if we're willing to put forth this dedication, this discipline level on a daily basis. That's how we tend to measure these things; are we giving ourselves this chance for success on a weekly basis."
Both teams enter the season with plenty back on strong defenses that ranked in the top-20 nationally last year, although both also have major question marks at quarterback after Jerod Evans and Brad Kaaya entered the NFL Draft last winter.
Redshirt freshman Josh Jackson, junior college transfer A.J. Bush and true freshman Hendon Hooker are vying to be Evans' replacement with the Hokies, while Miami's looking at junior Malik Rosier and true freshman N'Kosi Perry.
The full order of predictions in the Coastal was Miami, Virginia Tech, Georgia Tech (9 first-place votes), Pittsburgh (7), North Carolina (4), Duke (4) and Virginia.
The Cavaliers, who were the only team in the division not to receive a first-place vote, finished in last place in coach Bronco Mendenhall's first season last fall and haven't finished higher than sixth since 2011. It's the fourth straight year UVa has been picked last in the Coastal.
In the Atlantic, the media picked Florida State by a wide margin, giving the 'Noles 121 first-place votes over second-place Clemson (37), which is coming off a national championship season. Florida State or Clemson has been the preseason pick every year since the game was instituted in 2005.
The rest of the division's predicted order was Louisville in third (9 first-place votes), followed by N.C. State, Wake Forest, Syracuse and Boston College.
Florida State appeared on 118 ballots to win the ACC championship. Clemson got 35 votes, followed by Louisville (7), Virginia Tech and Miami (3 each) and Duke (1).
Louisville's Lamar Jackson, who won the Heisman Trophy last season, was the league's runaway pick as preseason player of the year. He got 113 of a possible 167 votes.
Others receiving votes included Florida State quarterback Deondre Francois (23), Clemson defensive tackle Christian Wilkins (11), Boston College defensive end Harold Landry (8), N.C. State all-purpose back Jaylen Samuels (7), Syracuse quarterback Eric Dungey (2), Miami linebacker Shaquille Quarterman (1), Miami receiver Ahmmon Richards (1) and Duke quarterback Daniel Jones (1).
1. Florida State - 118
2. Clemson - 35
3. Louisville - 7
4-t. Virginia Tech – 3
4-t. Miami – 3
6. Duke – 1
Atlantic Division (first place votes in parenthesis)                  
1. Florida State (121) – 1,108
2. Clemson (37) – 1,007
3. Louisville (9) - 843
4. NC State - 658
5. Wake Forest – 415
6. Syracuse  - 362
7. Boston College - 283
Coastal Division (first place votes in parenthesis)                  
1. Miami (103) – 1,065
2. Virginia Tech (40) – 932
3. Georgia Tech (9) – 708
4. Pitt (7) – 673
5. North Carolina (4) - 606
6. Duke (4) -473
7. Virginia -219
1. Lamar Jackson, QB, Louisville - 113
2. Deondre Francois, QB, Florida State - 23
3. Christian Wilkins, DT, Clemson - 11
4. Harold Landry, DE, Boston College - 8
5. Jaylen Samuels, AP, NC State - 7
6. Eric Dungey, QB, Syracuse - 2
7-t. Shaquille Quarterman, LB, Miami - 1
7-t. Ahmmon Richards, WR, Miami - 1
7-t. Daniel Jones, QB, Duke - 1