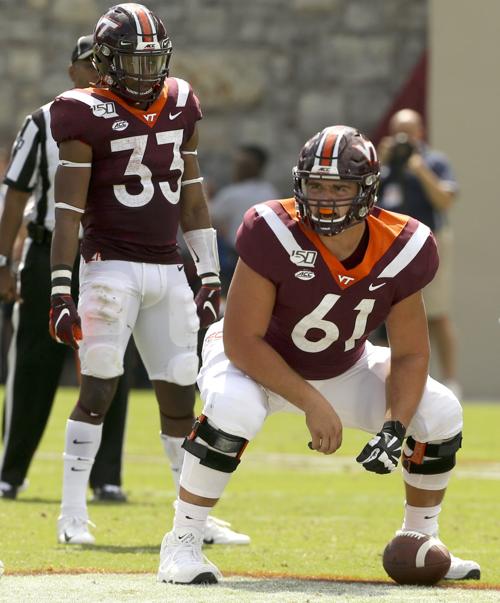 BLACKSBURG — Virginia Tech coach Justin Fuente wasn't very forthcoming about the team's plans at center this week.
The Hokies started the season with Zachariah Hoyt at center, but he suffered a leg injury at the end of the season-opener against Boston College. Hoyt has dressed in recent weeks, but still isn't healthy enough to play, according to Fuente.
"We'll see," Fuente said. "He's got to be healthy first. He practiced a little bit yesterday and was better. There's no reason for me to get into it until he's healthy and fully able to go. When that happens, we'll worry about who's going in there."
After John Harris got a brief tryout in the first half against Old Dominion, the Hokies have turned to true freshman Bryan Hudson. The former four-star recruit out of Scott County in Kentucky was part of Tech's talented class of 2019 offensive linemen.
"I've been very impressed with Bryan," Fuente said. "For a true freshman to come in, he certainly has a lot of work to do, but to be as competitive and hard-nosed as he's been in a short time playing center, that's been a good spot."
Hoyt's return doesn't mean an automatic demotion for Hudson either. 
With Tech struggling to establish the run and suffering from inconsistent pass protection — the Hokies gave up four sacks to Furman and five quarterback hurries against Duke — all options are on the table, which includes seeing if Hoyt is a better fit at guard where he spent time at last season.
"We'll figure it out when Zach comes back," Fuente said. "...When he gets back healthy we'll figure out where he needs to go or what we need to do."
Until everyone is healthy, Tech's focus is making sure Hudson and fellow true freshman Doug Nester, who is starting at right guard, keep improving. One area where Hudson is getting strong early marks is for his strong communication skills.
"I feel like personally he handled it pretty well," Tech starting left guard Lecitus Smith said. "I'm not saying, oh, he's played a perfect game. None of us have. But as far as far as knowing what to do and making calls, sometimes where me and CD [Christian Darrisaw] are working a double team and he gives us that alert call like he's supposed to. He tries to stay on his Ps and Qs the best he can."
Smith redshirted as a true freshman and didn't get his first career start until two months into the 2018 season. He gives Hudson a lot of credit for stepping onto the field two weeks into his freshman year. 
"I'm proud of him for playing the way he's playing," Smith said. "He's holding it down. A true freshman, he just came in and he's thrown in that fire right away, he's handled it pretty well."
Mike Niziolek is the Virginia Tech football beat writer for The Roanoke Times. Follow him on Facebook and Twitter.
Be the first to know
Get local news delivered to your inbox!