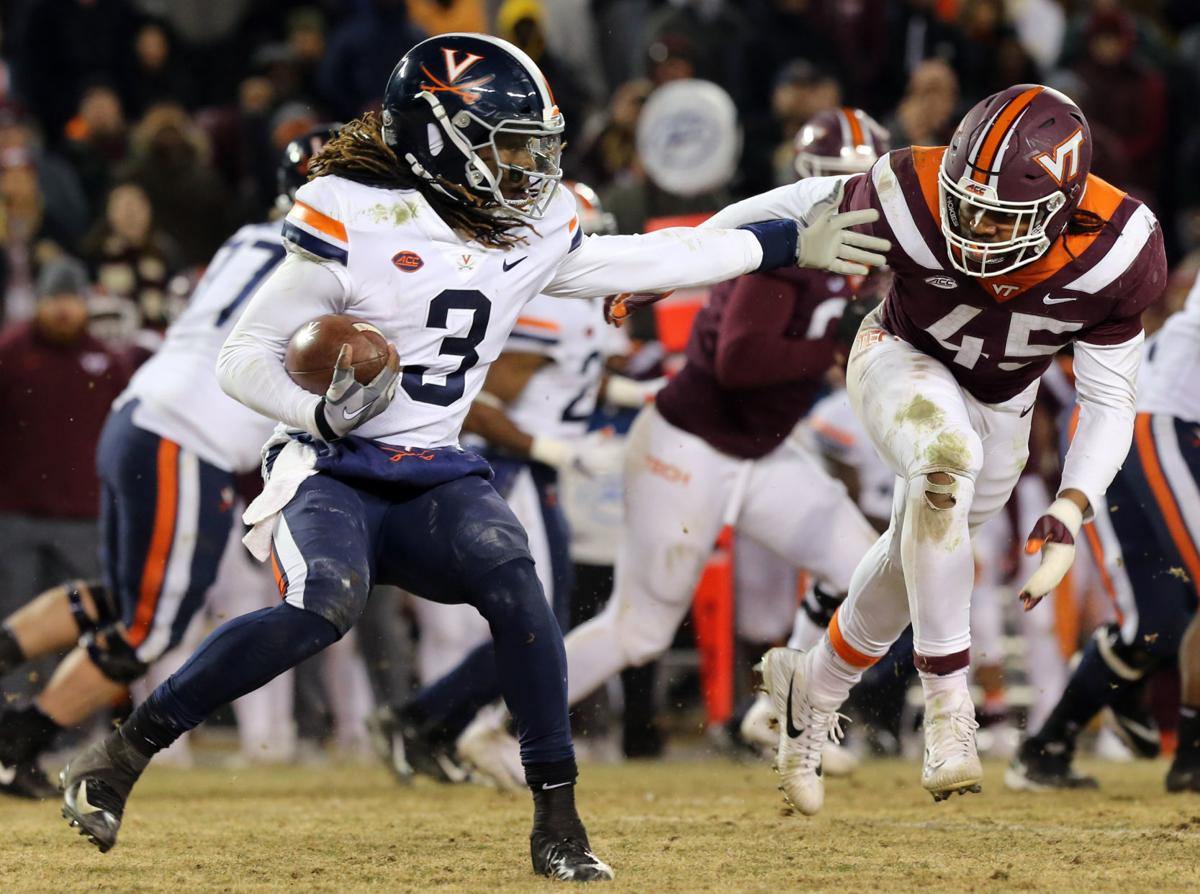 BLACKSBURG — Virginia Tech quarterback Braxton Burmeister will play a key role in the team's preparations this week for the Commonwealth Cup.
Burmeister, who isn't eligible this season as an Oregon transfer, has run the scout team offense all year, but coaches will let him loose this week as he tries to emulate Virginia's talented dual-threat quarterback Bryce Perkins.
"He'll definitely help us this week," Virginia Tech linebacker Rayshard Ashby said of Burmeister. "He's probably eager right now waiting for practice for us to get out there so he can run, because we've been kind of holding him back for a while now."
Burmeister helped Virginia Tech prep for Georgia Tech's mobile quarterback James Graham two weeks ago. Graham carried the ball eight yards and finished with two yards. Three of his carries were stopped at the line of scrimmage and only one carry went for more than 4-yards.
"It's always going to be difficult to simulate what a mobile quarterback does and just how that mobile quarterback plays and the way he runs, but Braxton is probably as good a mobile quarterback – we have to tell him to stay in the pocket for when guys don't scramble like that, because he's fast, he's quick, he can outrun a lot of us," Ashby said.
Perkins will be the best mobile quarterback Virginia Tech's defense has faced this season. Tech defensive coordinator Bud Foster rattled off superlatives in discussing Perkins — savvy, instinctive, dangerous and even compared him to former Syracuse great Donovan McNabb.
Foster is also impressed with the way Virginia has designed its offense to take maximum advantage of Perkins' skill set.
"Everything they have, it seems like, every throw game it seems has a designed quarterback run with it," Virginia Tech defensive coordinator Bud Foster said. "... It presents tremendous challenges."
Perkins has run the ball 177 times for 523 yards with nine touchdowns this season. He finished just shy of 1,000 yards in 2018. He's rushed for more than 100 yards twice this year and both of those performances have come in the last three weeks. He's leading the team with 16 carries per game.
"We're going to have to do an awesome job of keeping him leveraged, keeping rush lanes tight, being able to come off blocks, not get run by people," Foster said.
One way Tech will simulate the improvisational nature of many of Perkins carries is by running a scramble drill throughout the week. Foster will tell Burmeister (without his defense knowing) to purposely pull the ball down on certain reps and take off. 
"We'll pick some times that we want him to scramble, create a little scramble drill, so we make sure we match up people and then we get our people that need to be secondary contain and ... those type of players that need to do that will close on the ball and the other guys need to stay in coverage, because that's where he can create some things," Foster said.
The hope is to avoid adding footage to Perkins' impressive highlight reel that Fuente watched this week. 
"I just watched film after film, opponent after opponent, guys just fall off of him as they are trying to get the angle," Fuente said. "He does a great job, he cuts back on people all the time. Braxton will do that job for us to the best of his ability. I don't know that you could fully simulate how efficient he's been."
Mike Niziolek is the Virginia Tech football beat writer for The Roanoke Times. Follow him on Facebook and Twitter.