BLACKSBURG - The bio for offensive lineman Christian Darrisaw on Virginia Tech's website is 48 words long.
There's a brief mention of him making the 2016 Maryland Crab Bowl all-star game, the semester spent Fork Union and that he's an only child.
It's easily the shortest bio of the 26 freshmen on scholarship from the Hokies' 2018 signing class, so who is Christian Darrisaw?
"You'll see him before you will hear him in most cases," Darrisaw's mother Kim Cherry said, with a laugh.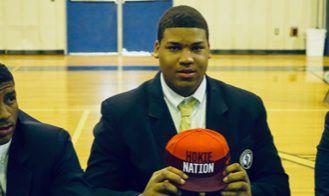 Darrisaw's coaches through the years all describe him as a soft-spoken. He's big-bodied offensive lineman with a strong work ethic that went through high school with little fanfare, but came out of nowhere to make ESPN's mid-season freshman All-American team, a real bright spot amongst the Hokies' struggles.
Darrisaw is a diamond in the rough in an era where they have become increasingly rare to find on the recruiting trail. 
"Few and far between right now," said Virginia Tech wide receivers coach Holmon Wiggins, who was Darrisaw's primary recruiter. "You talk about social media and all that kind of stuff. People can blast out everything. Now it's like a snowball effect, one guys gets one thing and it accumulates over time."
That never happened with Darrisaw. A Google search shows few stories from his time at Riverdale Baptist with his commitment to Virginia Tech — the first and only FBS team to offer him — taking up the bulk of results.
"I started to kind of question myself at times," Wiggins said. "Is no one seeing what I'm seeing? How? It was one of those things where I got to trust my eval and trusting the process. It ended up working out for us."
---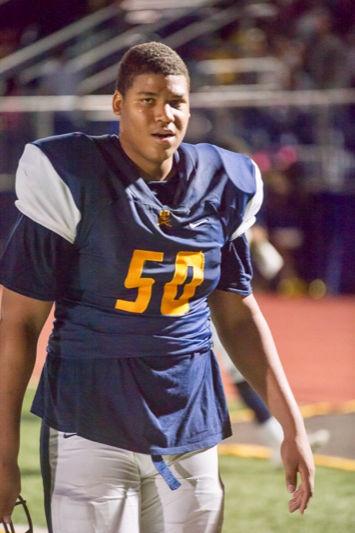 Darrisaw's football career began at age 5. He was on the offensive line at 8. There was brief flirtation with playing tight end, but he eventually embraced his place in the trenches. Darrisaw made varsity at Riverdale Baptist as a sophomore and started for three years.
Schools didn't beat down his door with offers. The offensive lineman attended various junior days and made a series of unofficial visits at the FBS level, but none resulted in an offer.
Riverdale Baptist coach Caesar Nettles said Power 5 schools took a "wait and see approach" with Darrisaw. The lineman had the test scores to qualify at the collegiate level, but needed to do work academically.
The level of caution FBS teams showed still frustrates Nettles.
"I'd been singing his praises since his sophomore year," Nettles said. "He was always competing against four or five FBS level defensive ends or linebackers, so he had really good film. I was kind of shocked by some of the people in the area [not offering]. He really could have benefited a lot of those programs."
Darrisaw blipped onto Virginia Tech's radar the spring of his junior year. Wiggins made a visit to Riverdale Baptist to get a look at defensive back Tyreque Casterfield, an eventual Penn State signee.
But then, he located a "gem."
"I couldn't take my eyes off him," Wiggins said.
Wiggins next step was to get Darrisaw in front of offensive line coach Vance Vice. That happened at one of Virginia Tech's satellite camps in Northern Virginia, but Darrisaw's appearance didn't go quite as expected.
"He might have been sick," Wiggins said. "I asked Vice, 'what did you think of my boy?' [He said:] 'I don't know, I didn't really notice him.' We thought we were going to see something."
Turns out, Darrisaw was battling an injury, but Wiggins didn't give up.
The Hokies got him to another camp and kept tabs on him. Vice signed off on offering Darrisaw after watching some more film. Darrisaw verbally committed four days after receiving an offer. His only other offers at the time were from Morgan State, North Carolina Central and Central Connecticut.
"It got to a point where I was like this dude is a no-brainer," Wiggins said. "We knew he was going to be a little green from the standpoint of playing the position, but he's big, he's athletic, he's strong and when he starts to figure it out it can be scary how good he can be."
Darrisaw ended high school with a 3-star rating on 247 Sports' composite rankings and wasn't not among the top 30 recruits in his home state Maryland. Nettles remembers Darrisaw being lower than that through his high school career before receiving a Virginia Tech offer.
"Nothing changed," Nettles said, with a laugh. " Virginia Tech saw the talent in him, they weren't shy about who had and hadn't offered. They let their eyes tell them the story."
---
A stop at Fork Union Military Academy was always part of the plan for Darrisaw in order to improve his academic standing.
Like all who enroll, Darrisaw gave up his cell phone on arrival — possession of cell phones, or any device that can take pictures is prohibited under the student handbook — and he wasn't allowed to bring a personal computer.
It was more than a week before he was permitted to talk with his family, but by that time he had adjusted to the academy's strict rules.
"He was like, 'I'm going to knock this out and move on,'" Cherry said. "He missed those luxuries, but he knew at the end of what the reward would be."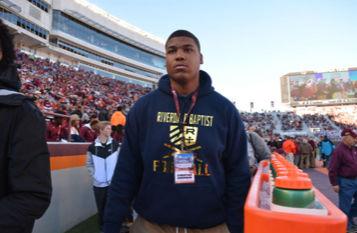 On a team with plenty of personalities — "We have a lot of mouthy dudes," Fork Union football coach John Shuman said — Darrisaw was a "level-headed" presence that the coaching staff appreciated.
"He was consistent," Shuman said. "Worked hard in barracks, cleaned his room, shined his shoes, said 'yes sir, no sir,' shaved every day and did a good job marching."
Darrisaw was pushed "pretty severely" in the classroom at Fork Union as well. He was required to study two hours per night with teachers. The curriculum included an English and writing class. Shuman doubled as one of Darrisaw's teachers.
"He absorbed everything we tried to teach him in class, outside the class and on the field," Shuman said. "His time here helped his mind catch up to his talent."
When Darrisaw returned home after the semester, his mother noticed an immediate change. It inspired her to send a handwritten thank you note to Shuman for helping Darrisaw realize his potential.
"I just wanted to write him a note to tell him what he's doing is making an impact," Cherry said. "It's more than just football. It's about developing character."
That semester helped make Darrisaw's transition to Virginia Tech a "seamless" one according to those close to him.
"Most people know about the school's strict rules — bed being made, room being clean, those type of things," Cherry said. "All that helped his maturity level. Him being disconnected from the outside world — no Twitter, no Instagram, no SnapChat — helped him mature as well. When he got to Virginia Tech, it made him appreciate a regular life after spending a semester at Fork Union."
---
Darrisaw's goal when he arrived in Blacksburg as an early enrollee in January was to make the travel roster. He was well on his way to accomplishing it when Cherry visited her son for the spring game. Darrisaw ran with the second-team offense at tackle.
Nettles, who kept tabs on Darrisaw throughout the offseason, received encouraging updates from members of Tech's coaching staff.
The positive buzz pointed to a bright future for Darrisaw, but an injury to fellow offensive lineman Silas Dzansi in the days leading up to the opener against Florida State created an opportunity. Virginia Tech kept Dzansi's injury under wraps — the Hokies announced Dzansi as the starter during the week — but the coaching staff immediately knew Darrisaw would get the nod.
When Cherry sat down to watch the game with a couple of family members, she wasn't privy to that information. She only invited a few family members over because she didn't expect her son would play unless the game was a blowout.
To her surprise, No. 77 trotted onto the field with the first-team offense to start the game.
"It was overwhelming," Cherry said. "I was yelling and crying."
Darrisaw fessed up to hiding the news from his mother for much of the week, but she wasn't the least bit upset.
"It was a proud mother moment," Cherry said.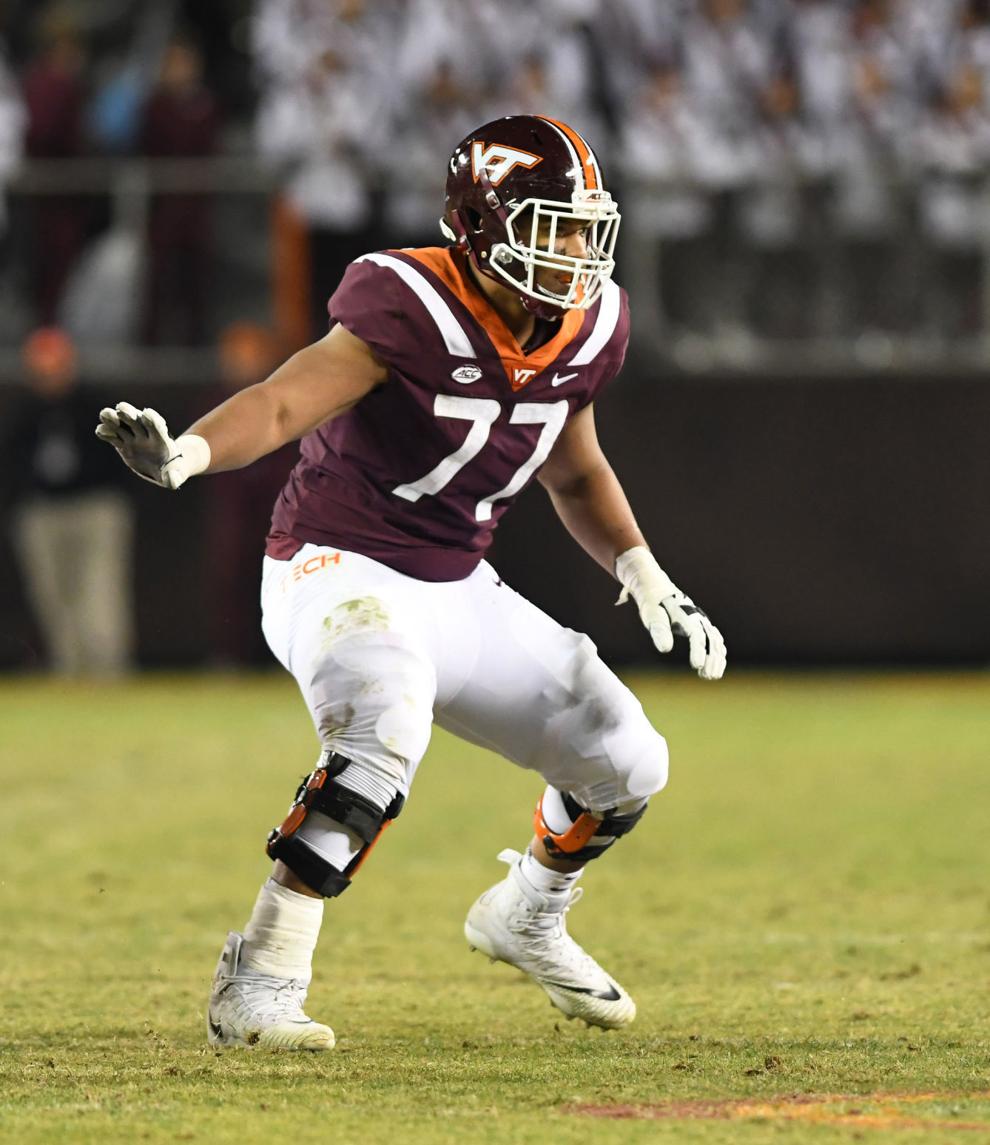 "Candidly, the fact we played a true freshman at left tackle and we are not answering questions about why we gave up 25 sacks, I think he did a pretty darn good job against that defensive line," Virginia Tech coach Justin Fuente said. "Are there things for him to improve on? Absolutely, but he certainly didn't look out of place. The moment wasn't too big for him."
Fuente is just as excited about Darrisaw more than two months later.
"I've been really impressed with his maturity level, his intelligence to play as a young player," Fuente said in October. "Obviously he's a talented young man. We felt like that was the case when recruiting him."
Nettles has already seen Darrisaw making strides on the field this season. The 6-foot-5, 295-pounder is getting lower, relying more on technique than size as he needs to do against stronger competition. If Darrisaw can continue to be detail-oriented, Nettles sees his former player "taking the next step."
The lineman's quick ascent up the depth chart also has Wiggins feeling vindicated for lobbying on the lineman's behalf throughout the recruiting process.
"It feels pretty awesome," Wiggins said. "I pushed for it. Once he got to Fork Union, they had a little workout day where coach Vice and Fuente got to go by and see those guys compete. After they left there, they said we see what you are talking about."
And everyone agrees that Darrisaw won't let the success go to his head. Cherry continues to hammer home the same message she delivered to her son at the start of the season.
"Keep grinding, but remain humble," Cherry said. "He's just a freshman, so he has a long way to go. Don't let this be your ceiling."
Mike Niziolek is the Virginia Tech football beat writer for The Roanoke Times. Follow him on Facebook.