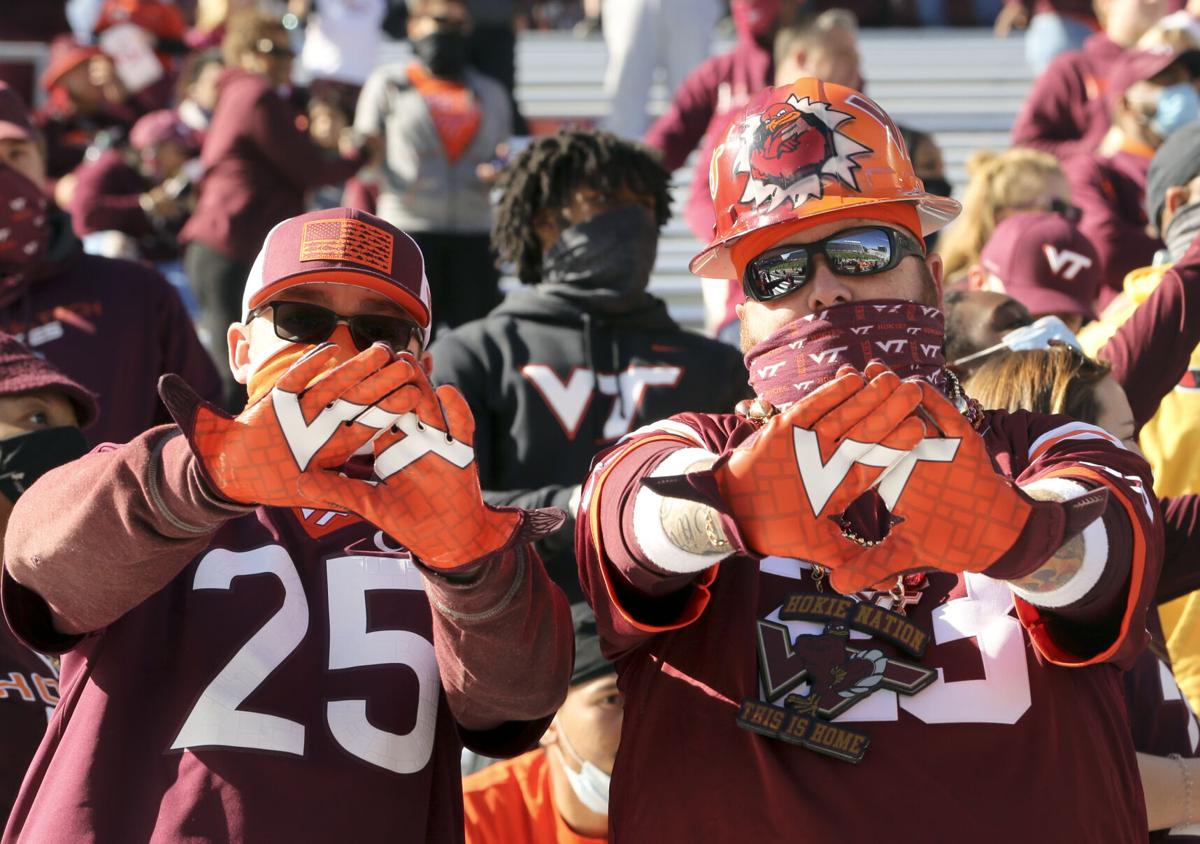 BLACKSBURG — Virginia Tech coach Justin Fuente is pressing the right buttons to get his team ready for the Commonwealth Cup. He gathered players for a team meeting before Tuesday's practice to show them footage from last year's 39-30 loss to Virginia — a loss that ended Tech's 15-game win streak against its in-state rival— but this wasn't a standard film session.
"They played harder than we did last year," Virginia Tech defensive tackle Jarrod Hewitt said. "They wanted to win more than we did last year. When it came down to it, you can look at the statistics of the game, it was pretty matched as far as yards, as far as turnovers, that kind of thing. But ultimately it came down to they had more energy that day and they wanted to win more, and that's something that's eaten [at] us the last, whole year."
Fuente showed examples of Tech being outworked in one-on-one matchups, as well as clips of the Cavaliers showing more energy on their sideline.
"Just simple things like that," Hewitt said. "Not bashing anybody, but the eye in the sky doesn't lie, the video doesn't lie."
Hewitt said he was "enraged" by what he saw.
"You're disappointed that we let that happen last year, and as a senior this year, it's not going to happen under my watch," Hewitt said. "There's no way they can play harder than we play in our stadium. It just can't happen."
The defense gave up 492 yards in the loss with quarterback Bryce Perkins going off for 475 yards (164 rushing, 311 passing) and scoring a pair of rushing touchdowns. Perkins has graduated, but the Hokies will face another one of the ACC's top dual-threat quarterbacks in Brennan Armstrong, who has put up back-to-back 400-yard performances.
"The talk after meeting — it's on, it's on," Hewitt said. "Just plain and simple. Nothing else needs to be said. We need to have a good game plan and a good week of preparation, but the simple fact that we gotta go. We gotta play. From the first play, we gotta go."
Tech had won six of seven games going into last year's Commonwealth Cup. This year the teams are trending in opposite directions. The Hokies having dropped four straight (and are guaranteed to finish with a losing regular-season record for the first time since 1992), while Virginia is riding a four-game win streak that started out with an impressive victory over North Carolina.
The rivalry game was originally scheduled to play on Sept. 19, but Tech was forced to postpone the matchup as it dealt with issues related to COVID-19.
It's been a frustrating road for the Hokies, but Hewitt said the team isn't dwelling on their missteps.
"It doesn't matter if you lose by a point or a hundred points, losing is not fun," Hewitt said. "This isn't the right sport for you if you're OK with losing, and it's definitely unacceptable … but we're playing UVa this week. If we can go out and beat them, it's not the year that we wanted, at all, but at least it will be a good note to end on if we can go beat them."