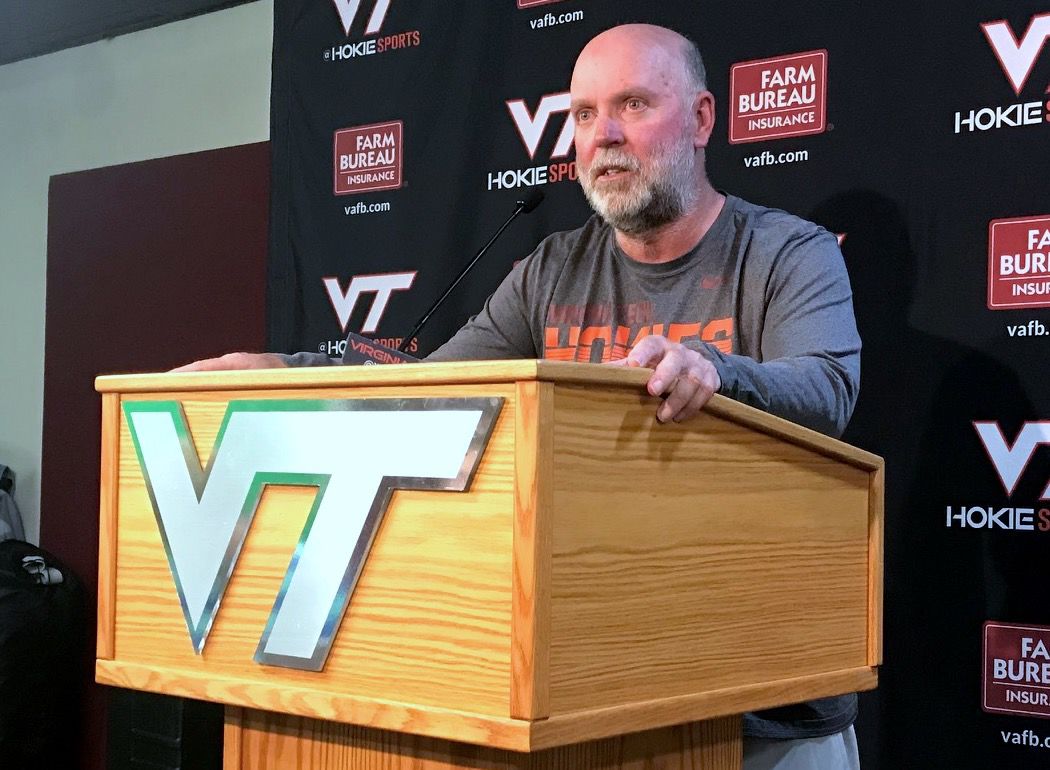 Gary Patterson was the one person Jerry Kill couldn't turn down.
The Hokies offense had a resurgence after a rough start and won six of seven games with Hendon Hooker taking the reins at quarterback. They ended the season with disappointing losses to Virginia and Kentucky, but Kill believed (and still does) the future was bright.
"It was a great time in my life I can tell you that," Kill said in a phone interview with The Roanoke Times.
When Fuente asked him to stop by for a visit during fall camp last year, Kill wasn't sure if he would ever get into coaching again. Kill's ongoing battle with epilepsy forced him to step down as Minnesota's head coach in 2015. He returned to the sidelines for a brief stint as Rutgers offensive coordinator in 2017, but had multiple seizures during the season before retiring.
The special assistant role that Fuente carved out allowed Kill to return to coaching without some of the stresses of a normal assistant position.
Kill was already focused on helping Fuente prepare for the 2020 campaign, but a phone call from his best friend of 30-plus years changed all that. Patterson, who happened to be Fuente's one-time mentor, asked Kill to join his TCU staff in a similar role.
"I wasn't going to do it at first then changed my mind," Kill said. "Gary had a lot to do with that just talking to me. It was a gut-wrenching thing. You can't find two better people that I respect in college football than those two."
It's why Kill still has a hard time talking about Virginia Tech in the past tense as he reminisces about his time in Blacksburg.
"Everybody asks me why did you move then? Nobody will ever understand, this is my best friend that I've known for all my years of coaching I'm working with and I'm in the state of Texas, which is only about five and a half hours from where I grew up," Kill said. "I wouldn't do what I'm doing for anybody. It just happened to be Justin [Fuente] and Gary Patterson. I would work for those guys any day of the week. It was a hard decision."
---
The Hokies averaged 152 rushing yards in the first three games and ranked No. 84 in FBS. The team's 3.7 yards per game was ranked No. 99 in the country (out of 130 teams). Kill was the architect of some dominating running programs during his time as head coach particularly during his stint at Northern Illinois when it was the No. 7 ranked rushing offense in 2010.
Tech still struggled at times, but put up more than 200 yards five times in the second half of the season. The team averaged 188.2 yards in the final eight games of the season.
Kill was tight-lipped about the advice he offered throughout the season. He attended practices and participated in daily staff meetings (he helped break down film and contributed ideas to the game plan), but wouldn't discuss the suggestions he offered to help get the offense back on track.
"When I got there, coach [Fuente] said just jump in and I did," Kill said. "There's a lot of ways to do things, all I did was share ideas and things that worked in my 36 years of coaching and being around the game, different things that would help."
Kill appreciated the collaborative atmosphere in Tech's staff meetings, and was quick to praise Fuente as a "tremendous offensive football coach."
He mainly attributed Tech's turnaround to the team's young offensive line maturing — true freshmen Doug Nester and Bryan Hudson started 10 games last year and redshirt freshman Luke Tenuta was the team's primary right tackle down the stretch — and the "critical move" of putting Hooker in at quarterback.
---
Part of Kill's role involved taking some administrative duties off Fuente's plate.
He played a role in helping Fuente reshape the team's coaching staff after Tech let go of three assistants in December — running backs coach Zohn Burden, defensive line coach Charley Wiles and defensive backs coach Brian Mitchell — and had to hire a defensive coordinator and linebackers coach to replace Bud Foster.
Fuente took advantage of Kill's extensive list of contacts to put together a list of candidates for each position and Kill did the same thing for Tech's vacant director of football operations position.
"I guess when you get older you get to know people," Kill said with a laugh. "I think it was a joint thing where I identified some people and I'd say, 'coach, do you know this person? What do you think?' We just had a good relationship. It was a deal where we just worked together on trying to do what was best for Virginia Tech to get the best people in there that fit exactly what he wanted to do down the road."
One of those hires was Tracy Claeys, who spent more than two decades working with Kill.
Claeys got his start on the collegiate level coaching the defensive line for Kill at Saginaw Valley State in the late 90's. Kill promoted Clayes to defensive coordinator when they left for Emporia State and they had a successful partnership moving up the college ranks, and ultimately landing in the Big Ten in 2011 at Minnesota.
"He brings good perspective," Kill said. "To get him to be a linebacker coach, he could be a coordinator now. He just wants to coach football and coach with good people."
Kill described the addition of Claeys as Tech's linebacker coach and Bill Teerlinck as co-defensive line coach as "big gun hires" for a youthful staff led by first-time defensive coordinator Justin Hamilton. Teerlinck spent the last three seasons coaching the Buffalo Bills defensive line.
"Those two right there are guys that Justin [Hamilton] can lean on a bunch," Kill said.
"We all have stuff to learn, and Justin will learn, but the only way you learn is to get an opportunity," Kill said. "He's a first class act, a good recruiter and evaluates personnel well."
Mike Niziolek is the Virginia Tech football beat writer for The Roanoke Times. Follow him on Facebook and Twitter.
Be the first to know
Get local news delivered to your inbox!