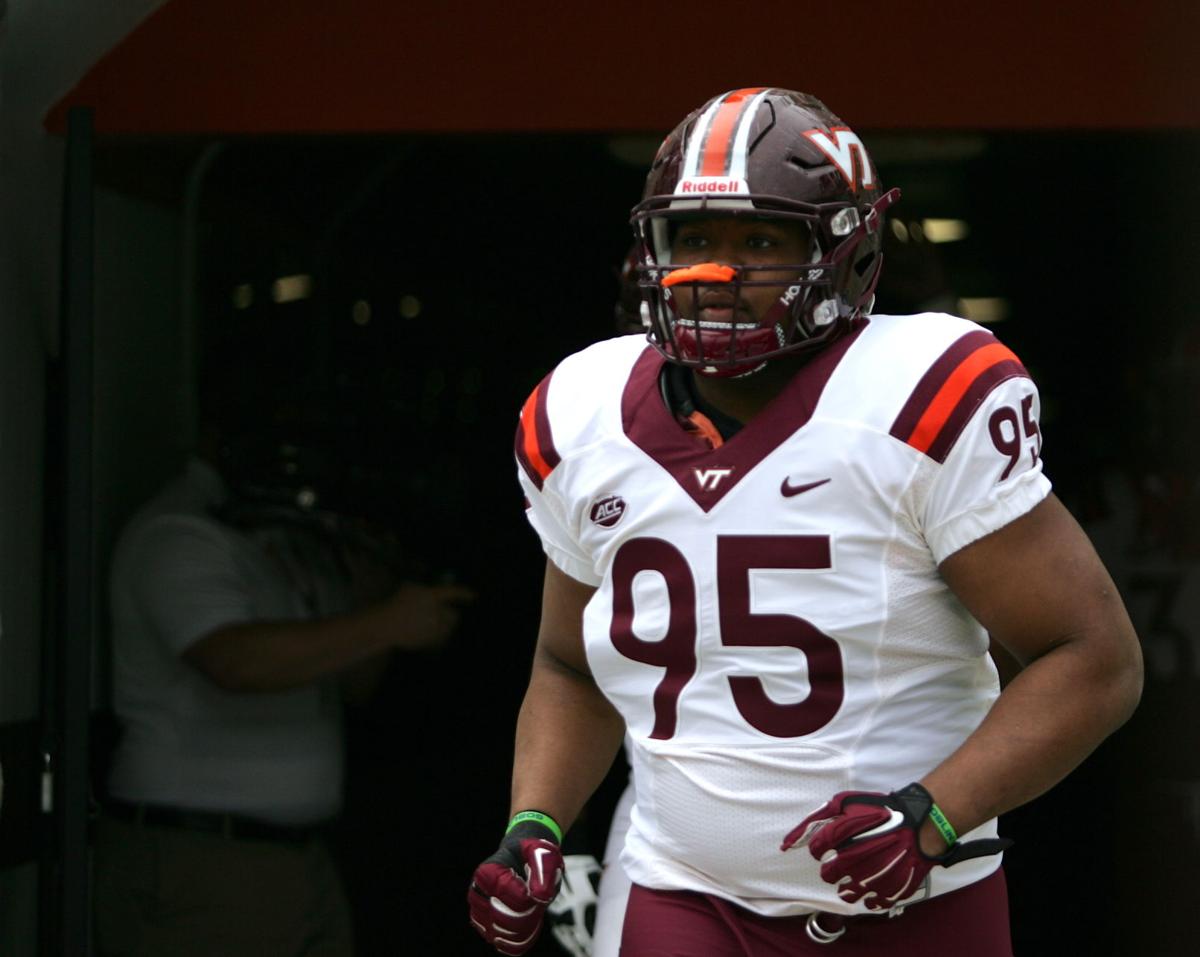 BLACKSBURG — Virginia Tech defensive tackle DaShawn Crawford did a nice job plugging up the middle of the line in the team's spring game on Saturday.
The Hokies first-team offense struggled to run the ball throughout the practice. Running back Jalen Holston had nine carries for 17 yards with much of his workload coming against the first-team defense.
Crawford also helped collapse the pocket against the pass. The first-team defense had at least three sacks (Virginia Tech didn't keep official stats) on Saturday.
"Every day he's getting better," Virginia Tech defensive end Emmanuel Belmar said. "Learning a new system, all that. But he takes coaching well. Every single day he's working and I think he's going to be good."
Crawford spent the last two seasons at Jones County Junior College in Mississippi. He had 38 tackles with 15 for a loss and 2.5 sacks in 2018. Crawford attended Bay Springs High School in the state where he had 243 career tackles and 16 sacks. He was the 2A defensive player of the year as a senior.
Virginia Tech is thin at defensive tackle after Ricky Walker and Vinny Mihota graduated.
The Hokies have five returning scholarship players at the position — Jarrod Hewitt, Rob Porcher, Eli Adams, Jaevon Becton and Xavier Burke — but Burke missed the spring rehabbing an Achilles injury he suffered during the season. The team's third-team defense relied on walk-ons during the spring game.
Crawford's strong performance this spring doesn't immediately solve Tech's depth issues, but he's come in as a mid-year enrollee and shown the coaching staff he's capable of being the team's week-one starter.
"I've been pleased with DayDay -- that's what we call him, DayDay -- and his picking up the scheme and doing things," defensive coordinator Bud Foster said. "He's probably ahead of where I thought he would be, which I'm excited about."
The coaching staff came into spring practice encouraged by the way the 6-foot, 280-pounder handled the team's winter conditioning program.
"He's always around. I think he's very grateful for the opportunity," Fuente said. "He's been working hard, doing a good job. Some of these guys jump into these offseason programs, it's harder on the bigger guys. And it's a shock to the system a little bit. And those guys have continued to push through and done well."
Crawford's level of play during spring camp has only reinforced those positive first impressions.
"This was practice 12 for him," defensive coordinator Bud Foster said. I've been extremely pleased. From a football IQ stand point, I've been real pleased. From his technique and fundamentals, I've been real pleased. From his ability to be good at the point of attack, I've been pleased."
Mike Niziolek is the Virginia Tech football beat writer for The Roanoke Times. Follow him on Facebook and Twitter.