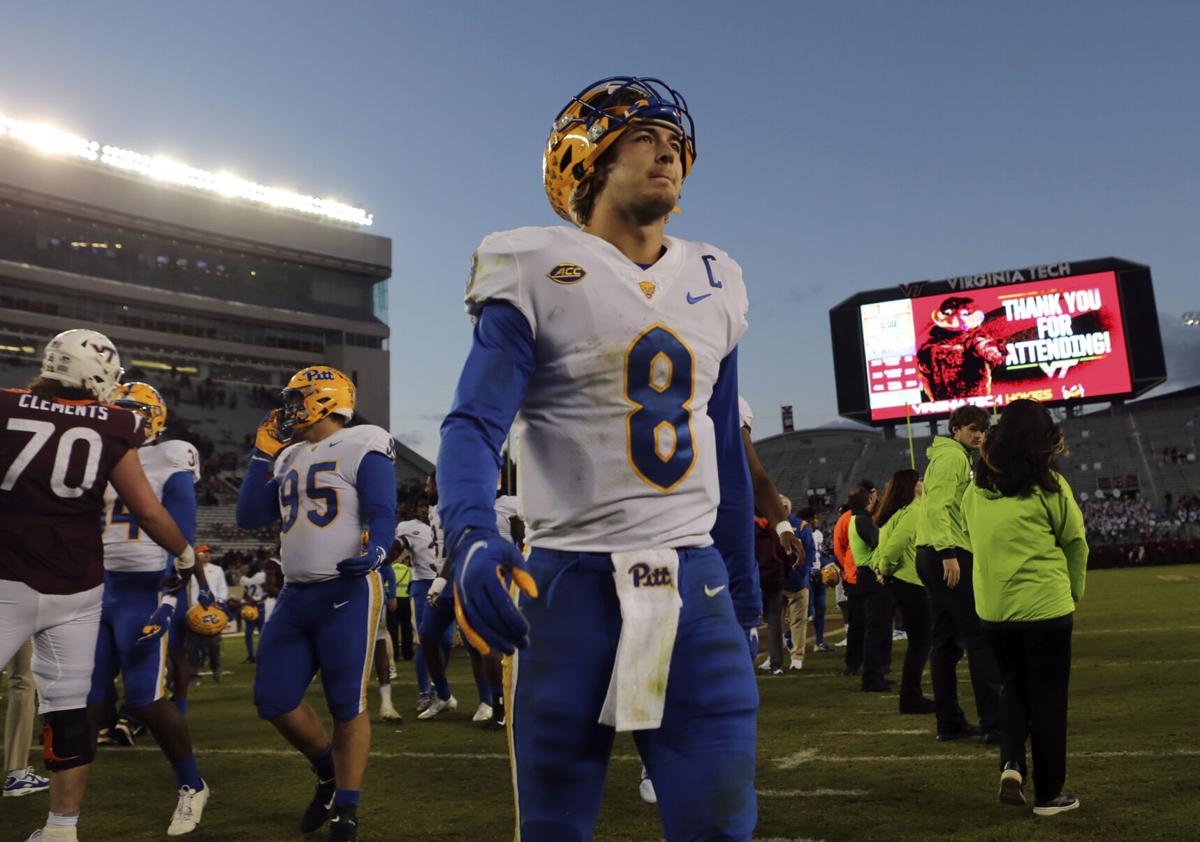 BLACKSBURG — Regardless of what the ESPN debate shows and social media suggest, sporting events are rarely black and white. There's nuance. There are mitigating factors. There are splashes of success even in failure that engender hope.
Saturday, though? This was black. Pitch black.
Virginia Tech lost a game it had to win, and the Hokies did so thoroughly. They chased away much of their crowd by halftime. Their offense felt as dangerous as an English muffin.
Virginia Tech football's season starts to unravel with ugly offensive performance in loss to Pitt
Pitt 28, Virginia Tech 7 was the kind of result some Tech fans have secretly been pining for. Because it's the kind that ultimately could cost Justin Fuente his job.
Not Sunday or Monday or midweek, mind you. There are six games to play, and the Hokies will play them with Fuente as their leader. But a coach who entered this season with immense pressure to win had to get the pivotal games right. This was a pivotal game, probably THE pivotal game.
And Fuente got it all wrong.
"It's my responsibility and it's my job to get us to play as good as we can play, whatever that level is," Fuente said. "And at times this season, we've hit that level. And really at no time today did we hit it."
Bingo. There's no use debating play calls in the red zone or two-point conversion decisions — those autopsies required in losses against West Virginia and Notre Dame. The Hokies failed so spectacularly Saturday that such minutia doesn't exist.
This is a macro problem. And all cards and letters should be addressed to the macro guy.
"That's the head coach," Fuente said. "That's the head football coach's responsibility. I let 'em down, and I'm disappointed and mad at myself."
What, exactly, did he do wrong leading up to this game to have this group so unprepared to compete? That Fuente couldn't say, at least not 15 minutes after shaking hands with Pat Narduzzi and walking off the field. Fair enough.
But he's going to have to figure it out quickly, because the second-half schedule — including four road games in the final five — will be merciless to Tech if he doesn't.
Tech's defense actually played respectably, as it has for most of this season. The Hokies held the Panthers 24 points under their nation-leading average of 52.4 per game, which was padded in massacres of Massachusetts and Rhode Island.
Tech's offense, though, has gone backwards, and offense is Fuente's thing. Remember all those records that fell in Fuente's first season? It's hard to, given what we're looking at now.
There's no physical component to Tech's offense. The Hokies can't run the ball downhill effectively. Fuente's hand-picked quarterback, Braxton Burmeister, is a tough son-of-a-gun who cares and tries and plays through pain, but the fact is he's struggling to push the ball downfield and having trouble with accuracy on intermediate passes. And the times he does hit his target, the receivers aren't always rewarding him with catches.
Add it up, and you get these ghastly first-half numbers Saturday: Zero points, five three-and-outs, six punts, one interception and one turnover on downs in which the Hokies couldn't get a single yard.
Their 34 plays netted just 74 yards. That's 2.2 per play against a Pitt defense that came in here yielding an average of 5.2 yards per play.
That put Tech in a 21-0 canyon. And a second half played to a 7-7 stalemate had very little drama and drastically fewer witnesses, closing a black day in Blacksburg.
"We'll have to look at everything," Fuente said. "As I sit here before you, I don't have an answer. I know it's my job to try and find it so we can play as well as we possibly can — whatever level that is."