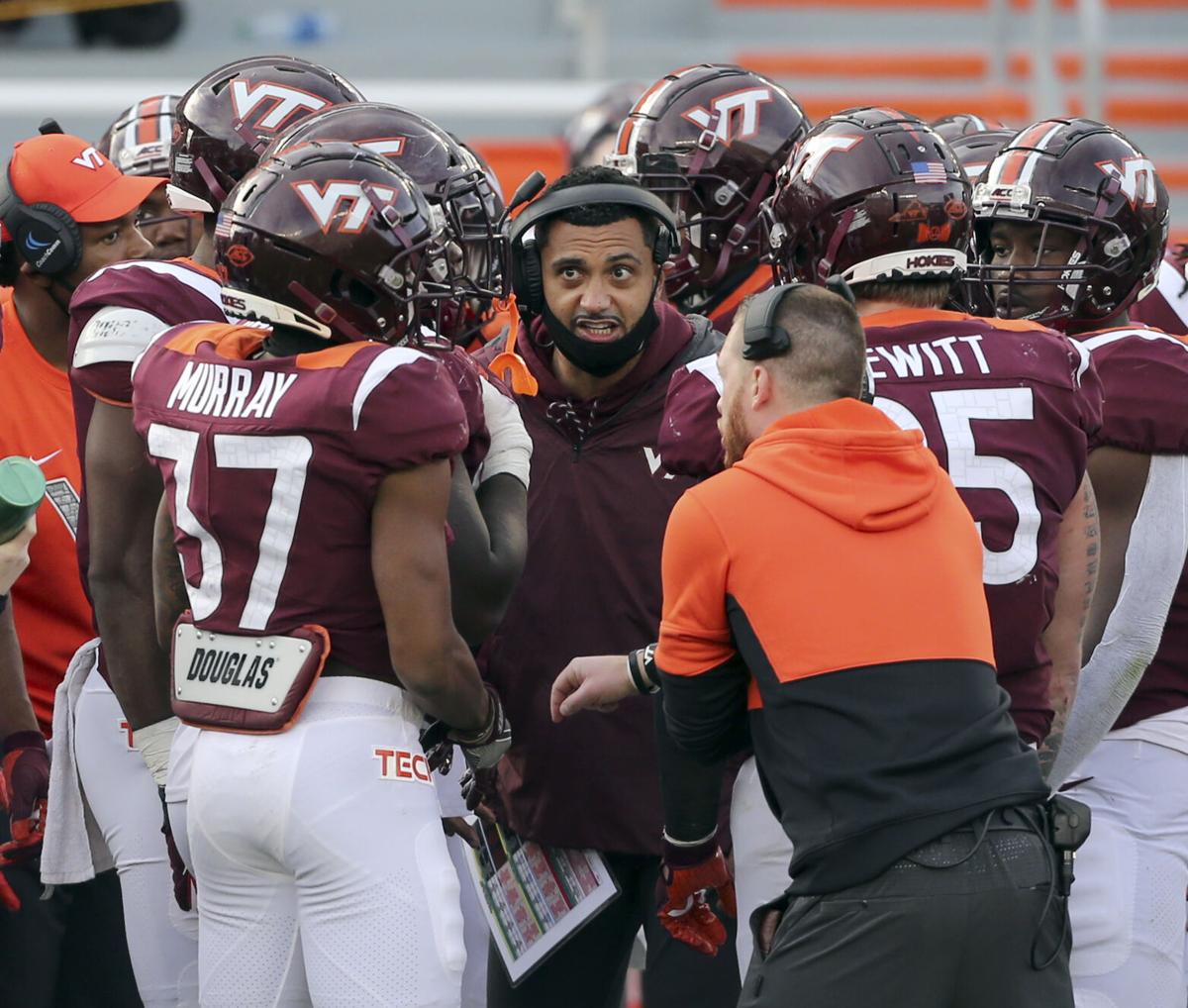 They hit on something last week.
Despite their 25-24 loss to Miami, the Virginia Tech Hokies played arguably their finest defensive game of the season. Pro Football Focus graded their rushing defense at 70.8 — their best of the year and well north of the 47.9 grade they received the previous week against Liberty. PFF also gave Tech a season-high grade of 78.0 on tackling.
To hear the players tell it, this wasn't due to some new wrinkle. Quite the opposite, actually. Defensive coordinator Justin Hamilton simplified the scheme, returning to tactics closer to what Tech utilized in recent seasons under Hamilton's predecessor, Bud Foster.
"It felt good running the old stuff," Tech linebacker Dax Hollifield said. "I really like that old stuff. We were just playing really, really fast, and when you play fast you make more plays. That's the key to the game."
Indeed, no player took to the changes better than Hollifield. Registering a season-high 13 tackles, he received a PFF tackling grade of 86.8. His previous season high had been 67.5.
He expects they'll stick with what worked again this week against Pittsburgh.
"You have to keep the offense on their toes," Hollifield said. "I really don't think the quarterback for Miami knew what we were giving him, and I really think that played to our advantage. I looked back there, and he didn't know if we were going to be in zone, man, and I think just keeping them on their toes and not knowing what we were going to throw at them really helped us out a lot."
The natural question is why Hamilton didn't make this move before. It's a fair one. But it's also understandable that he wanted to put his own stamp on this defense, combining elements of Foster's defense with his own ideas.
The problem, of course, was the pandemic. With no spring ball and limited in-person meeting time with players, overhauling the defense turned out to be overly ambitious. Credit to Hamilton for realizing this, albeit later in the season than anyone would have liked.
Despite being a three-point favorite heading into Pittsburgh, the Hokies will need all phases humming to get out Heinz Field with a victory. They haven't covered the spread in any of their past six visits to that stadium. In the past 12 meetings with Pittsburgh overall, Tech has covered the Vegas number only twice.
This isn't a Pitt team of recent vintage, the kind that will just line up and bludgeon you with beefy running backs. The Panthers are averaging just 2.99 yards per rushing attempt — a statistic that should give the Hokies confidence that they can carry over last week's run-stopping success.
But Pitt's rushing defense remains stout. The Panthers have allowed just 2.22 yards per rushing attempt this season — a formidable counter to Tech's greatest offensive strength.
"They actually put more people in the box than Miami, and you have to change your measurement of a successful run when you play Pitt," Tech coach Justin Fuente said. "There are that many people in there that getting 3 or 4 yards is a pretty big task.
"So you've got to change your measurement of success when you're playing these guys, because there are just so many people in there."
The X-factor will be Hendon Hooker's ability to pass the Hokies down the field. He's certainly capable of that — see the Louisville, Boston College and Liberty games — but he'll need to bounce back quickly from last week's subpar performance against the Hurricanes.
At least he can place a little more hope in the defense this week. They hit on something, and now it's time to show it wasn't an anomaly.