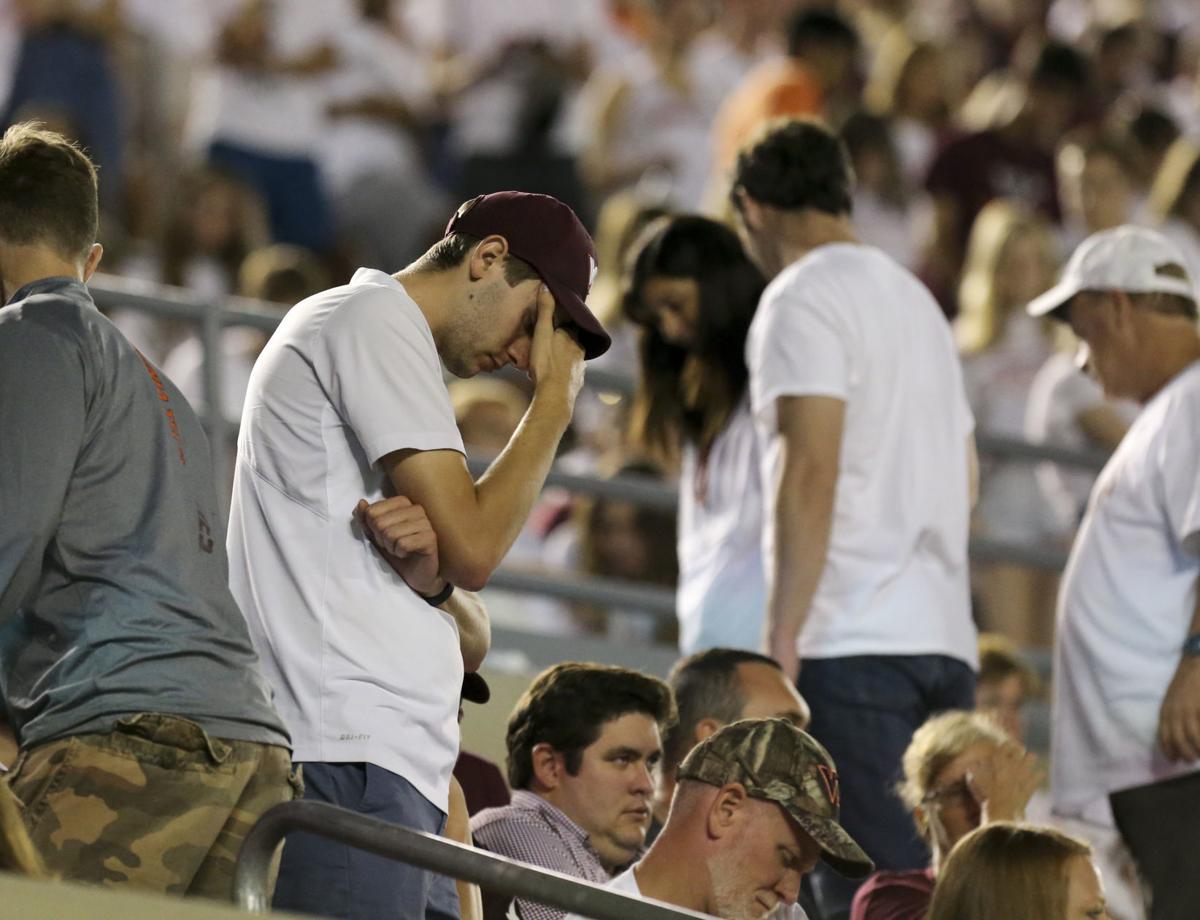 BLACKSBURG — This was supposed to be the night Virginia Tech celebrated the best team of its football past.
Celebration? Here? Friday night? No chance. Unless you were part of that coterie of Duke supporters up in the corner of a fast-emptying Lane Stadium, where the Blue Devils blasted the Hokies 45-10 in one of the most sobering results in this program's proud history.
The loss at Boston College was disappointing. The struggle against Old Dominion was troubling. The fright against Furman was a bucket of ice water to the face. The Hokies had problems here, a lot of them, and everybody knew it.
But this? There can't be much worse than this, when an audience of nearly 60,000 that included Michael Vick and Frank Beamer watched the Blue Devils deliver a wrecking ball to the Hokies in all aspects of the game.
Duke completed the offense/defense/special teams depantsing midway through the fourth quarter, picking up 28 yards on a fake punt on fourth and 2 at midfield. That was before Duke's backup quarterback scampered in for a 9-yard touchdown that created the humbling final margin.
"I've got to find a way to get more out of them in all three phases of the game," Tech coach Justin Fuente said.
ESPN cameras caught it all — the fumble that triggered Duke's confidence, the surgical Blue Devils scoring drives, the complete lack of a response from Tech's offense.
Those images were delivered to a nation that might not get another look at the 2019 Hokies in prime time.
Not that anybody who tuned in to Friday's performance would be pining for one.
"We can't be like this," Tech defensive coordinator Bud Foster said.
Unfortunately, right now, they are.
They will talk of regrouping and refocusing and moving forward, because that is the best they can do. But the first open week has passed, and the Hokies did not get better. They got demonstrably worse.
If only it were one position or one unit or even one facet of the game. It's not. Tech used all three of its top quarterbacks and got a rare 100-yard performance out of one of its tailbacks (Deshawn McClease).
Yet the offense as a whole gained only 259 yards.
What should be the strength of this team — an offense with experience at the skill positions — has been a monumental disappointment.
"Like any good offense, you have to have an identity," said Fuente, who added that the responsibility falls on him. "And we're struggling to find that identity."
Tech's defense looked rapacious early, limiting Duke to less than a yard per play in the first quarter. But old problems began to resurface — busted coverages, a long touchdown run by a dual-threat quarterback, big holes yawning when defenders didn't control their gaps.
"We didn't respond to adversity very well," Foster said. "We were good at times, we were bad at times, and I was even worse."
The saddest moment wasn't seeing much of the crowd, so excited and loud at 7 p.m., stream out of here when any realistic hope for a Tech victory vanished early in the second half.
Nor was it Tech sending a tailback up the middle for no gain on the game's final play, releasing the players to make their somber trek to the locker room.
No, the saddest part came earlier.
After the band played its abbreviated halftime show, members of the 1999 Hokies lined up along the south goal line. These are men in their early 40s now, many of them with wives and children, but they were once the group that stunned the college football world by advancing to the BCS National Championship Game, launching a 13-year run in which Tech averaged 10.2 wins per season.
A brief video on the jumbo screen showed highlights from that magical team, so full of talent and nouveau swagger. The players smiled and waved to the crowd, which did its best to salute them.
Fans could only muster so much, though. At that point, the 2019 Hokies were trailing 21-3 to a team they'd never lost to under Fuente, and suspicions that this game might get worse soon were confirmed. They were about to fall to 0-2 in ACC play for the first time ever.
In that context, there was no hope for an appropriate celebration. A reminder of the past only made it more painful to acknowledge the now.
Be the first to know
Get local news delivered to your inbox!