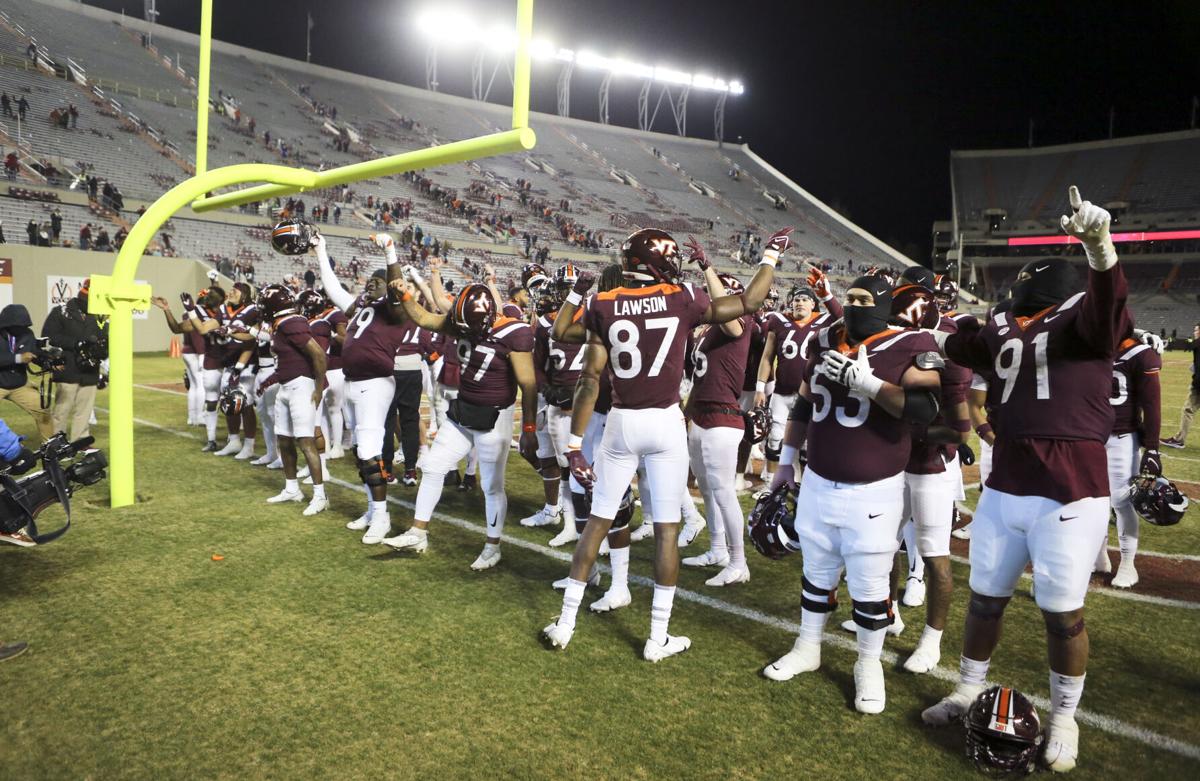 BLACKSBURG — Virginia Tech defensive end Tyjuan Garbutt answered the final softball question in this cursed chamber — this meeting space that has served as part interrogation room, part Catholic confessional all season — and stepped away from the podium.
"I just can't stop smiling, to be honest with you," he said.
Good. Let him. Let them all.
The Hokies didn't win a division Saturday at Lane Stadium. They didn't clinch a bowl berth or crush a hated rival. But in outclassing Duke 48-17, they rediscovered something just as important as all those things: the simple joy of playing football.
They could dance along with the marching band's tunes and hug each other and celebrate every little moment, secure in the notion that the phones in their lockers weren't filling up with notifications they wouldn't want to see.
"A hundred percent," Garbutt said. "A season comes with tough times. It's a long season. Adversity hits a lot of guys that are supposed to be out there, and this does feel good. When you get a win like this where the offense is rolling, the defense is rolling, special teams is rolling, it feels like with all that work and all that adversity you face as a team, we're finally starting to click as a team. It does feel good."
This was the desired reward coach Justin Fuente kept talking about in the interview room after gut-wrenching losses to Notre Dame and Syracuse. This exuberance. This release.
Virginia Tech football takes out season's worth of frustration out on Duke in blowout win
Those were the spoils he wanted to see his guys collect after watching them regroup week after week following losses that could have been wins.
"I just think it's a healing process," Fuente said of their weekly recoveries. "They don't come in here be-bopping on Sunday fully healed, either good or bad, quite honestly, from the game before. But you just see the leaders try to take charge and get it recalibrated. Guys go about getting to feel better and getting focused on the opponent.
"To put forth the type of effort that they've been able to do — they being our entire team — through all that's gone on, I think is remarkable. I think it's something we could all learn lessons from, quite honestly."
Duke helps all this, of course. The Blue Devils have now lost six in a row, all but one of them pretty much like this one. But when that Vegas line came out with Tech as an 11-point favorite, there couldn't have been many fans feeling confident that the Hokies would cover it.
Tech did so and then some thanks to its best offensive performance of the season. It included 573 total yards, a career-high three touchdown passes from Braxton Burmeister and big rushing performances from Raheem Blackshear (117 yards) and Keshawn King (90).
Tech's special teams took their turns, as John Parker Romo booted a pair of field goals with a combined 94 yards of distance and Tayvion Robinson set up a touchdown with a long punt return.
And if this was indeed Fuente's final game on this field — the most likely scenario — then he got to enjoy it, too.
"It's harder on them," Fuente said of the ups and downs of this season. "It's not very hard for me. I wake up early in the morning, I get in my car, I drive to work, I stay at work all day, I go home to my house. It's easy for me. For these kids, it's difficult, with all the interactions and opportunities to converse with people either digitally or in person.
"There are just a lot more connection points for them throughout an entire week. There's a lot more things going on. I think it's remarkable that they're able to compartmentalize that and still put forth great effort."
With it being senior night, Tech free safety Tae Daley brought family members with him into the postgame interview room Saturday. They took a seat and watched a short interview. There weren't a lot of problems — missed tackles, blown coverages, crushing touchdowns allowed in the final minute — that needed to be discussed like there have been in the past.
Daley was asked what his favorite part of this night was. He paused for several seconds, thinking it over.
"I would probably say," he said finally, "seeing everybody's smiling faces after the game."
Good answer. The only answer. And one all too foreign to this room.