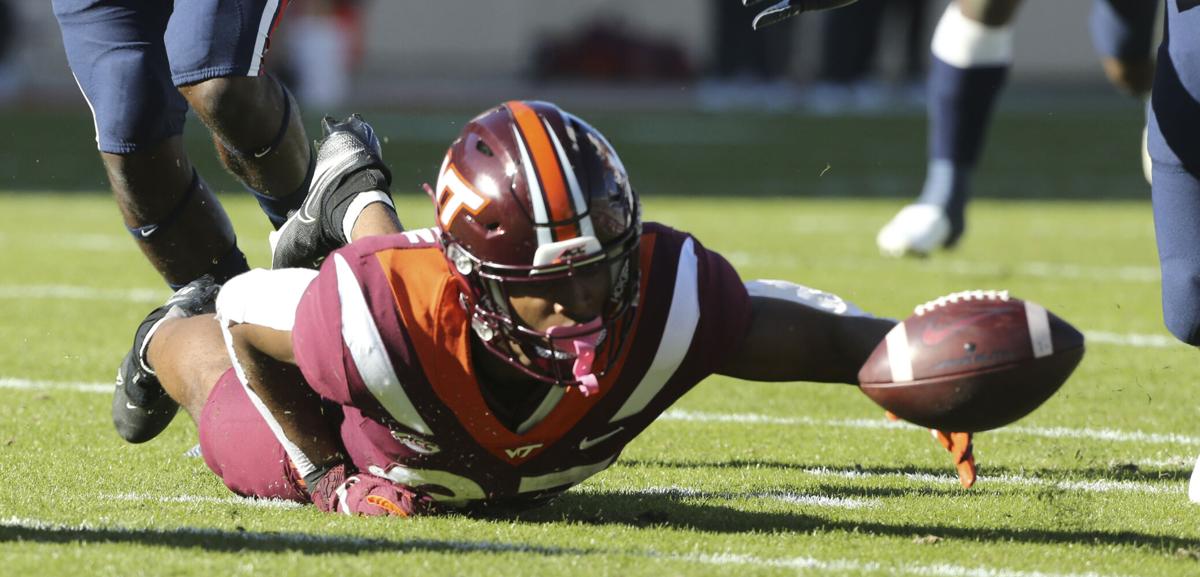 BLACKSBURG — Only a few players knew.
The rest of Virginia Tech's team was sprinting toward the end zone, following the apparent hero to glory. Jermaine Waller had the ball and nobody between himself and the end zone. The Hokies were about to win the game on the craziest of finishes.
Back behind the play, around midfield, a couple of Hokies stood frozen in place with their palms out. They'd heard it: The whistle that will echo in Justin Fuente's memories for a long time.
"I wish," the Tech coach said, "I had never called timeout."
When have you seen something like this? Essentially, Virginia Tech and No. 25 Liberty traded walk-off home runs within three plays of each other Saturday.
Only one counted: Alex Barbir's career-long 51-yard field goal with one second lift that handed the Hokies one of their most crushing losses in years, 38-35.
Make no mistake: The Flames earned every bit of this victory. Tech, which closed as a 17-point Vegas favorite, fell behind early and never led by more than six. Liberty did almost everything right, getting itself into short-yardage situations on third and fourth downs and then picking them up, utilizing outstanding quarterback Malik Willis to the fullest.
But the Hokies had a chance to steal this one. That's what it would have been, pure thievery, had Waller's blocked-punt return not been nullified by Fuente's timeout.
"I told the team: 'It's on me,'" Fuente said.
The field-goal attempt in question was a 59-yard fielder from a kicker who'd never made one from outside of 42 yards. In other words, traditional "icing" did not seem necessary here.
Fuente said that wasn't what he was trying to do anyway.
"It's more about making sure you've got the right guys out there to go execute a block," Fuente said. "I don't know about the whole icing-the-kicker thing. Whether it's 59 yards, 51 yards or 21, you call timeout to make sure everything's straightened out."
But as we discovered, the Hokies already had the right personnel out there to make the block, because they did it. The 6-foot-5, 330-pound Silas Dzansi got in the way of Barbir's low liner and redirected it into the hands of Waller, who was off.
"I never wait that long" to call the timeout, Fuente said. "I never have. If I'm going to take a timeout, I take it early so they don't get the chance to snap. I said, 'Timeout.' He didn't hear me. I screamed 'Timeout!'
"The ref blew the whistle, they snapped the ball and we blocked it, and obviously it didn't count. It's pretty crushing."
It's crushing because the way that it ended, but the result is troubling beyond that. Losing as a huge favorite has happened all too often under Fuente. At Old Dominion. At Syracuse. Against Georgia Tech. At Wake Forest earlier this year.
And now this, at home, against an in-state opponent in its second year as a FBS program.
Typically, when an upset like this happens, the quarterback of the losing team plays poorly. That certainly was not the case here.
Hendon Hooker was fantastic, throwing for 217 yards and three touchdowns while running for 156 yards and another score. He never came close to turning the ball over. When Tech had to go 75 yards in 1:41 to tie this game, the Hooker-led offense needed less than a minute to do just that.
Hooker had engineered a tying drive earlier in the quarter, too, which he punctuated with an improvisation two-point conversion pass.
That, however, only gave Tech the possibility of a pilfering. One that was denied by a whistle that had a resounding effect, even if only a select few heard it.
Be the first to know
Get local news delivered to your inbox!