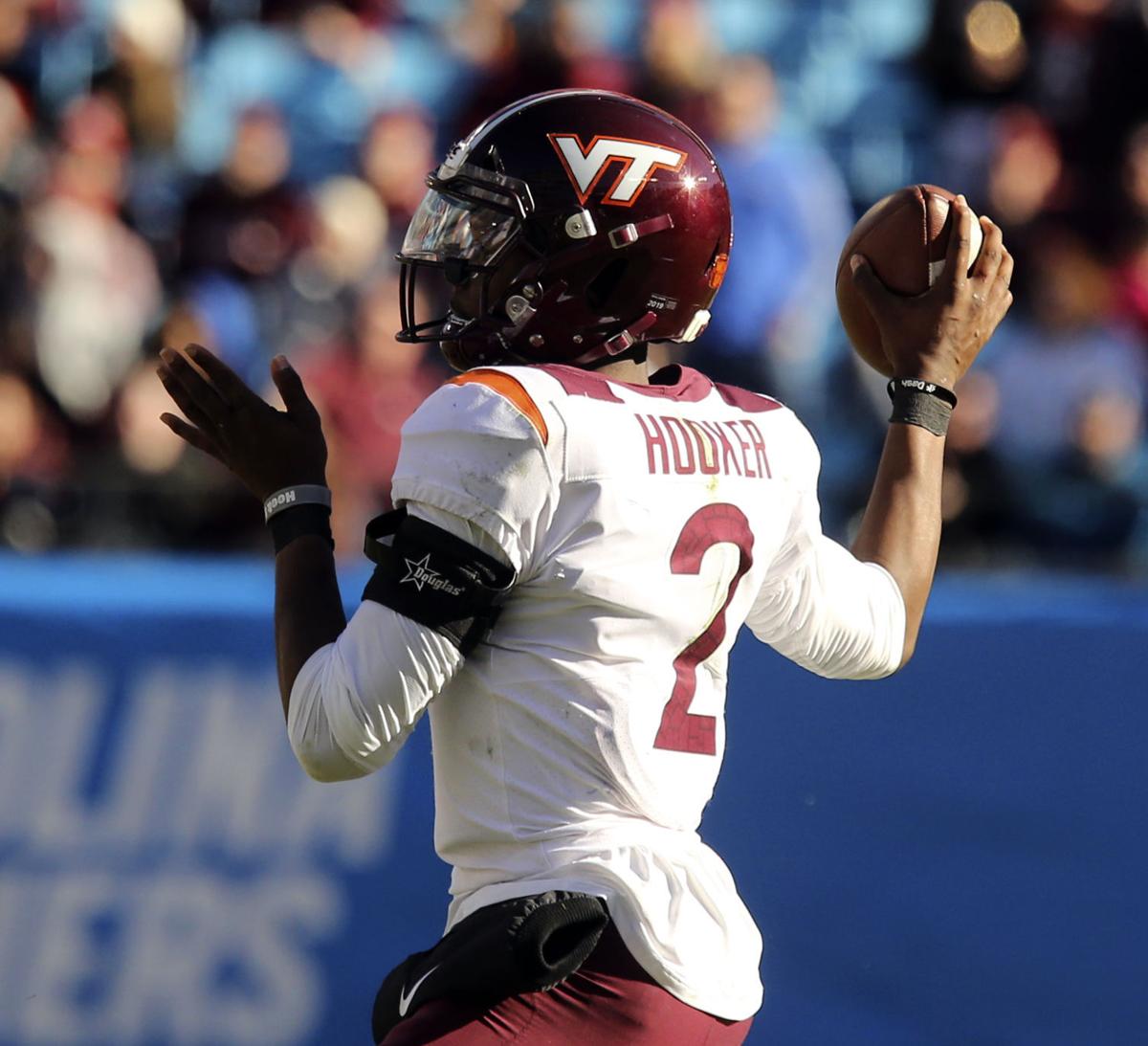 Ah, sweet, sweet bookies.
Who else could make this world feel right again? With restricted crowds and quasi-bubbles and some major conferences punting on the fall football season, it's nice to know there are still folks out there trying to return a sense of normalcy to our autumn proceedings.
Enter SportsBettingDime.com. The site's oddsmakers recently sent out some interesting prop bets for the ACC, including a handful that are specific to Virginia Tech.
Now, a caveat: I don't know that you can actually bet on any of these props even if you want to. SportsBettingDime.com is not a gambling site, per se. Rather, it's a site that "provides expert picks and unique odds on sports and entertainment for fans seeking insight into various scenarios and online betting options." Most actual sports betting sites and brick-and-mortar casinos don't have these kinds of props up yet, if they will at all.
So this exercise truly could be for entertainment purposes only — a concept I'm normally vehemently against. But we all could use a little more entertainment these days, so here goes (all figures based on an 11-game regular season):
1. Odds Caleb Farley is picked in the first two rounds of the 2021 NFL Draft: 1-to-2
Betting $2 to win $1 isn't a whole lot of fun, but this seems like easy money. Farley's decision to opt out of the 2020 season and enter the draft shouldn't hurt his stock, and it all but eliminates the biggest potential impediment to him going in the top two rounds: injury. Lay the lumber.
2. Hendon Hooker over/under passing yards: 2,176.5
Hooker threw for 1,555 yards in 11 games last season, starting eight of them. At the pace of 194 yards per start, he would throw for 2,138 yards if he started all 11 games in 2020.
Hooker was outstanding last year — his passer rating would have ranked second in the ACC behind only Trevor Lawrence if he'd had enough attempts to qualify — and we can assume he'll make some improvements now that he has significant game experience.
But I'm still going to go under here. Too many unknowns with the coronavirus pandemic potentially shaking up the lineup, not to mention the typical injury risk that can cost a guy some starts. Plus, coach Justin Fuente is pretty high on Braxton Burmeister and might work Quincy Patterson into the mix as well.
3. Hendon Hooker over/under passing TDs: 17.5
Hooker threw for 13 TDs last year (with only two interceptions, hence his great efficiency rating). Extrapolate that to 11 starts and you get 17.9 TDs in 2020.
All the same concerns, though, apply to No. 3 that did to No. 2. Under.
4. Tre Turner over/under receiving yards: 675.5
Under Fuente, Tech's receiving leaders have been Isaiah Ford (1,094 yards in 2016), Cam Phillips (964 in '17), Damon Hazelton (802 in '18) and Hazelton again (553 in '19). Turner is the obvious No. 1 target now that Hazelton has transferred to Missouri.
Even with fewer games in 2020, the over feels like the obvious play here.
5. Heisman odds for Hendon Hooker: 115-to-1
Big numbers are always tempting, but this seems like a donation. Pass.
6. Khalil Herbert over/under rushing yards: 745.5
The Hokies have yet to have a running back eclipse 850 yards under Fuente. A graduate transfer from Kansas, Herbert will have to share carries with Rutgers import Raheem Blackshear (whose appeal for eligibility recently was granted) as well as incumbents Keshawn King and Jalen Holston.
7. Odds to play in the ACC championship game: 5-to-1
If Notre Dame weren't part of the league this year, this would be a much more enticing offer. As it is, Clemson and the Fighting Irish are the clear favorites to clash in Charlotte. I'd need to see these odds go up to around 8-to-1 before pulling the trigger on the Hokies.
8. Odds to win the ACC: 26-to-1
You know what? A couple of bucks on this one could actually be fun. Betting is all about value, and in a particularly volatile season, you never know what could happen to the perceived front-runners in terms of player availability throughout the year. I've seen Tech's odds as low as 18-to-1 for this bet at other sites. This 26-to-1 payoff is juicy enough to take a small chance on.
Tech's closing stretch of home against Miami, on the road against Pittsburgh and home against Clemson is a doozy, so you can't have more than one slip-up in the early going and feel safe here.
But this feels like an 8-3 team in 2020. Over, just barely.
10. Over/under average home attendance: 994
This last one is my favorite prop on the board. The governor's mandate currently limits crowds at outdoor events to 1,000, but Tech has made it clear it is ready to bring more folks into Lane Stadium if and when it is permitted to do so.
That would require conditions to improve — something we're all rooting for. All it would take would be one November crowd of 4,500 or so to make the over an easy winner here.
Even better, it would give more people the entertainment they really crave.