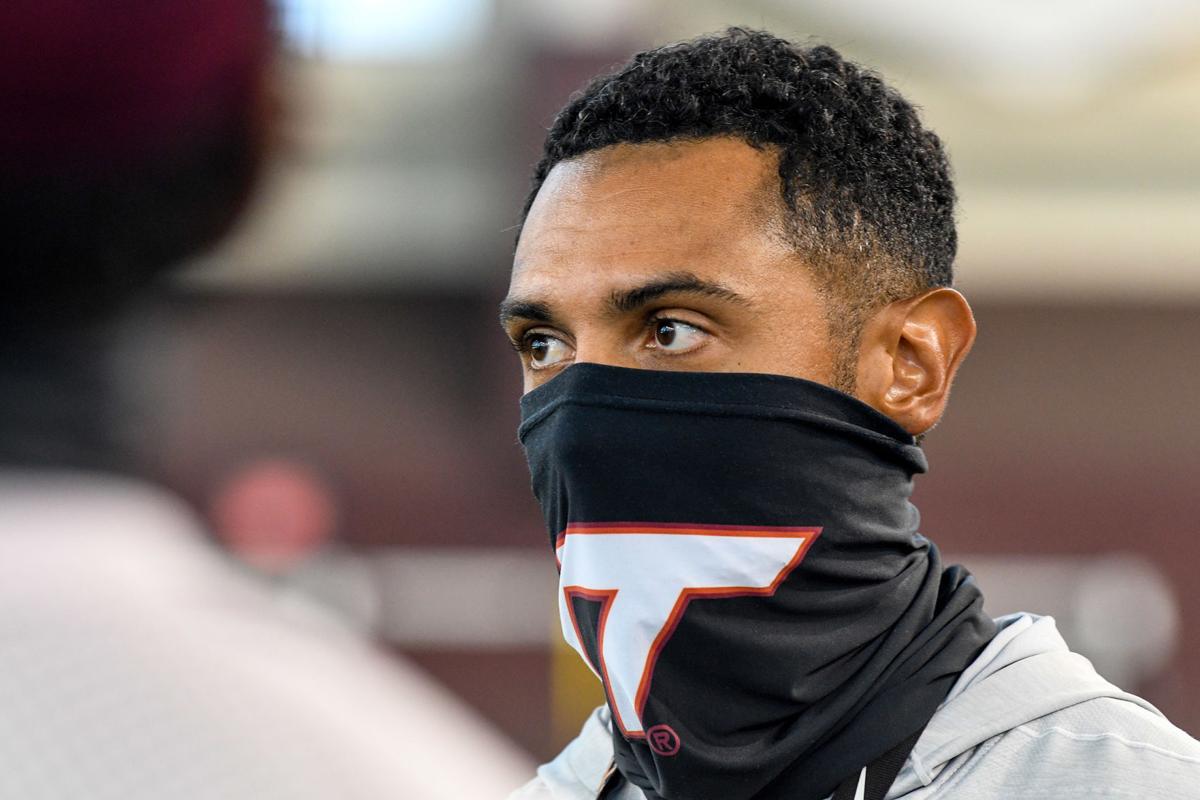 As we've seen, 2020 is all about adaptability.
Justin Hamilton already has had to do more than his share.
Not only does Virginia Tech's new defensive coordinator have the pressure of replacing the legendary Bud Foster, but he's without two key pieces he assumed that he'd have this season.
First it was All-ACC cornerback Caleb Farley opting out to focus on his professional career. Then, this week, starting safety Devon Hunter was suspended indefinitely following his arrest on two assault charges, including felony strangulation.
Hamilton, who turned 37 on Thursday, has plenty of support on staff to help him navigate these challenges. Head coach Justin Fuente said he has no doubt that Hamilton will have an effective scheme ready to go for next week's scheduled opener against N.C. State, but adaptability will continue to be the key.
"There's a lot of good ideas out there," Fuente said. "There's a lot of good defenses. The 50 defense is a very good defense. The 4-2-5, the 3-3 stack — all of them are good. The question is, in 20 seconds on the sidelines, what can you fix? When you're given something that's giving you a problem, can you fix it in 20 seconds on the sideline?"
A spring game would have been a nice dry run for this, but that was canceled along with all of Tech's spring practices because of the pandemic. Simulations in fall camp only provide so much feedback.
Hamilton's on-the-fly decisions will be something to watch against the Wolfpack.
"It doesn't mean your solution is always going to work," Fuente said. "You might not have the personnel to pull it off or whatever — there's a lot of other factors there — but schematically, do you have those answers? Justin's challenge is to get the scheme down to the [point] that he knows between him and his staff in 20 seconds that they can have the answer to whatever's giving them problems."
While Tech's players have been "significantly" affected by positive COVID-19 tests and associated contact tracing, Fuente said early this week that no members of the coaching staff were in quarantine.
That, too, could change, and he knows it.
"What we have is first in line, second in line, third in line," Fuente said. "So there's all the coaches' names on it, and it's sort of like the president. There's the vice president and the secretary of state and however that goes on down the line of next in power.
"Obviously we have some young coaches that are very talented that can fill in at a couple positions. I can fill in. I'm pretty versatile, particularly on the offensive side of the ball, to fill in to help. We've gone through the whole thing."
And they hope they won't need to use it.
Nothing says normalcy like a fleabag motel in Abingdon costing $220 per night during Bristol race weekend.
Saturday's NASCAR Cup Series race is sold out, but the annual lodge gouging seems a little much this year. Bristol was allowed to sell approximately 30,000 tickets for the event at a venue that seats 162,000. That's a Tuesday night April crowd at Fenway Park, not your typical throng for the night race at the "The Last Great Colosseum."
Still, it's something. A crowd of roughly 22,000 showed up to Bristol for the All-Star Race in July, and it made a significant difference in the atmosphere.
We saw something similar Thursday night, when about 6,000 people were admitted to FirstEnergy Stadium in Cleveland for the Browns-Bengals game. That venue has a capacity approaching 68,000, so it looked sparse on TV, but you could definitely hear the fans.
Tech and UVa would like nothing better than to welcome some fans back into their football stadiums.
For now, though, they're limited to 1,000, per the commonwealth's guidelines on outdoor gatherings.
Speaking of Tech-UVa, this week's news that the Commonwealth Cup game had been moved to Dec. 12 felt a little bit like those nonconference scheduling announcements we always hear. You know the ones: "Hokies to face Arizona in 2030!" or "VT takes aim at Alabama in 2034!"
Those are actual games on Tech's future slate, by the way, but they feel so abstract and distant. So, too, does the Tech-UVa game on Dec. 12, as both programs and the ACC have plenty of virus pitfalls to sidestep just to get there.
But if they do, it will be one whale of a celebration, regardless of the outcome. It will mean that they made it. Maybe there will even be some additional fans allowed in by then.
The only greater cause for revelry will come 19 days later. That's when all of us — Hokies, Cavaliers, gouged hotel patrons and sports agnostics alike — will join together and wave goodbye to this wretched year, once and for all.
Be the first to know
Get local news delivered to your inbox!